Ethereum (ETH), the second-largest crypto project by market cap, has achieved another milestone. The project has crossed 16 million staked ETH, four months after its historic transition to a PoS (Proof-of-Stake) consensus mechanism.
According to Etherscan.io, more than 16 million ether (ETH) has been put into the Beacon Chain staking contract on Ethereum. The 16 million ETH is worth around $22.38 billion at the current rates. Moreover, it represents more than 13.28% of the whole ether supply. The latest milestone is almost two years after Ethereum's staking contract went live in 2020.
Validators stake their Ether (ETH) for a chance to validate transactions on the Ethereum network. Validators cannot takeout their staked ETH until the upcoming Shanghai update. The Shanghai update will likely take place in late February.
The increasing number of staked ETH is a sign that the network's security is robust, and adoption is strong.
Theoretically, it should be more difficult for a single player to sabotage the Ethereum chain with a higher amount of staked ETH. However, a handful of significant actors presently own most of Ethereum's stake, raising worries that the chain's management is becoming overly centralized.
Data from Nansen suggests that there are around 92,500 distinct staking depositors, while BeaconScan shows that there are approximately 498,000 active validators.
Will there be an Ethereum sell-off after the Shanghai update?
There is a growing concern among many investors that there might be a sell-off of ETH after the Shanghai update. The update will allow the now over 16 million ETH to be withdrawn. This could lead to many wanting to sell their holdings.
However, there are other things to consider. Firstly, a majority of the staked ETH is currently at a loss. According to Dune, 71.7% of the staked ETH is underwater, and only 28.3% is in the money.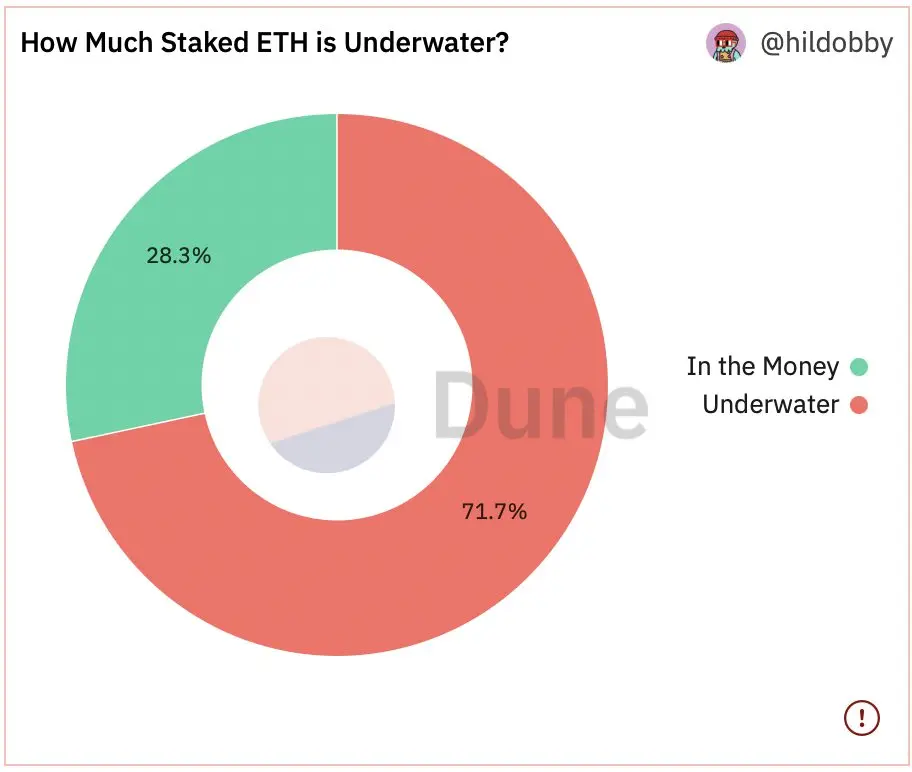 Under such circumstances, an investor is unlikely to sell their holdings. Instead, they might prefer to continue staking their ETH and earning rewards.
At press time, Ethereum was trading at $1,401.25, up by 5.3% in the last 24 hours.