The past few months have been quite turbulent for the crypto market. Of late, nonetheless, most large-cap cryptos, including the leaders Bitcoin and Ethereum, have been trading in green.
As far as crypto-related investment products are concerned, most of them registered losses in June. However, in July, the said trend reversed and most products have noted positive 30-day returns.
Ethereum bears the torchlight
Per a recently published CryptoCompare report,
"Ethereum-based products have been leading the bounce-back in July, driven by price movements in the underlying asset."
As of the beginning of this week, ETH noted a 30-day return of 13.6%. Ethereum-based products, on the other hand, have registered gains ranging from 25.9% to 37.8%.
Per CryptoCompare, Ethereum's cumulative AuM rose by 44.6% to $6.57 billion. Bitcoin's AuM, on the other hand, rose 16.9% to $18.6 billion. However, over the past month, Bitcoin's market share has noted a substantial cut and currently standing at 69.9%, down from June's 73.6%.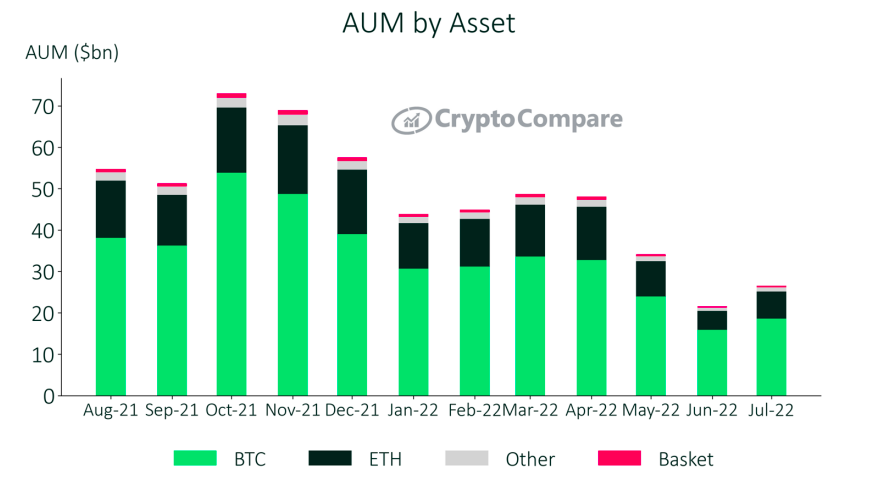 It's a known fact that Grayscale products continue to represent the vast majority of AuM, for they HODL a share of $19.8 billion (74.4% of the total). As far as Ethereum alone is concerned, on the monthly window, ETH under management by the firm has inclined from $3 billion to $5 billion. The trust shares' volume has also noted a significant improvement in the second half of July relative to the first half.

However, when zoomed out and viewed from the 1-year lens, the numbers remain to be undernourished. In and around the double-peak period last year, ETHE's AuM had risen to almost $15 billion, and volumes to over $2 billion.

Well, we've been in a macro bear run since the beginning of this year. And all the damages cannot be undone overnight. It is crucial to move ahead step by step and keeping the late mild recovery in mind, it does seem like we're heading in the right direction.
Also read: Ethereum shatters this 2018 record; Will it continue to rally?