With the global crypto market cap consolidating around $1.15 trillion, Ether's price has been hovering around $1800 over the past week. As a result, the market is neither greedy nor fearful. At press time, the Ethereum F&G Index flashed a neutral reading of 46.
From the beginning of 2023 until now, Ethereum's realized price has consistently hovered between $1,500 and $1,600. At press time, it was on the brink of $1700. The realized price is technically one of the most reliable on-chain analysis metrics. The price is arrived at by dividing the sum of all coin values at the time when they were last moved by the circulating supply. Usually, the realized price has acted as a support during bear markets. On the other hand, whenever the market price has dropped below the realized price, it has swiftly bounced back, suggesting the market sees Ethereum as undervalued during those moments.
Consequentially, this resilience indicates an underlying confidence in Ethereum's value. Such a setup points out that the broader market believes that ETH is worth more than its current market price. Highlighting what could be a good investment strategy, a recent CryptoQuant analysis pointed out,
"If you're someone with a long-term investment horizon, at least a year or more, and have confidence in the asset, considering buying and holding Ethereum whenever it nears the Realized Price Line might be a sound strategy."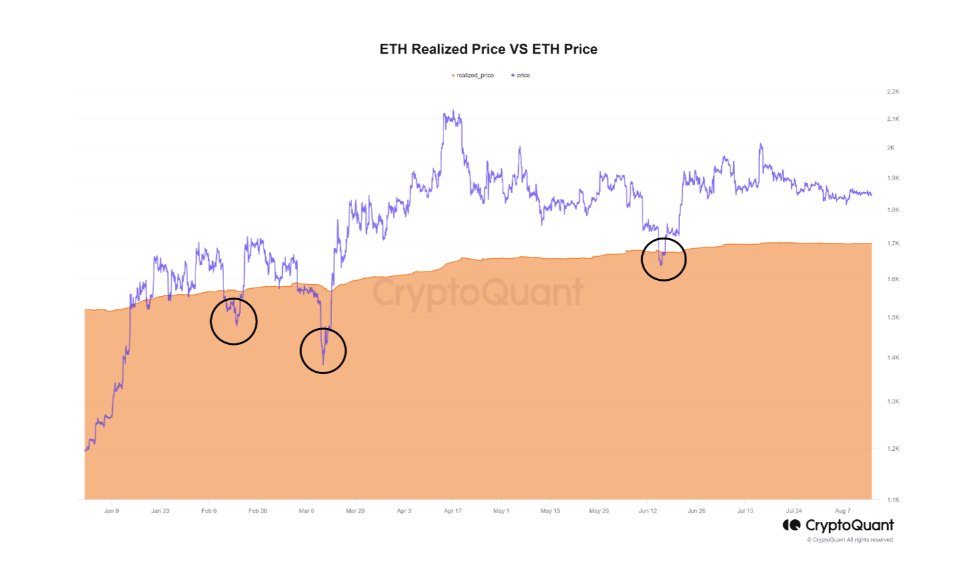 Also Read: 19 SEC-Flagged Crypto Tokens Witness Trade Volume Spike
Deposits to Exchanges Drop, ETH Premium Rises
Let us delve into a couple of other metrics to understand what other market participants are doing at this juncture. ETH's exchange deposit transactions have been on a downtrend since mid-June. From a high of 19,000 created on June 18, the number was hovering around 38,500 a day back, suggesting that fewer participants are selling their ETH holdings.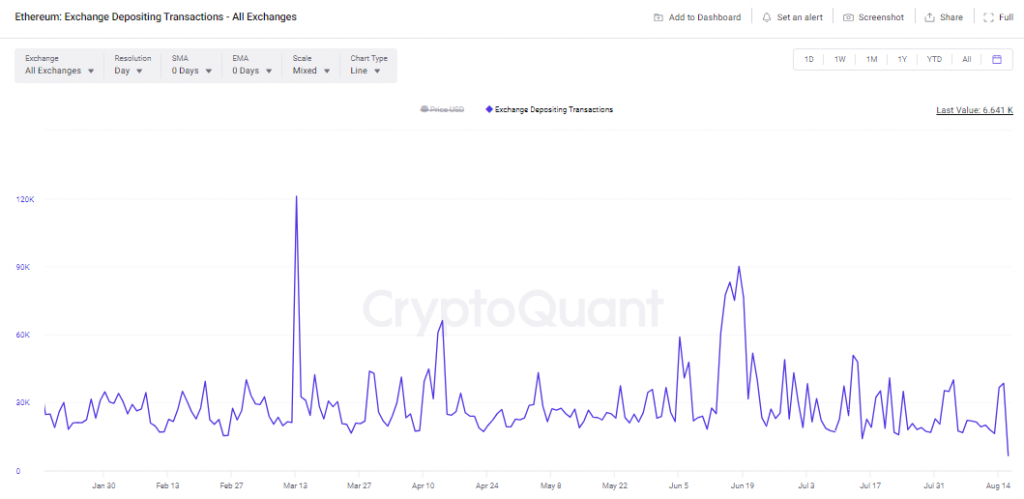 Also Read: Coinbase: 'Fresh' Whale Wallets Created in 2023 Drive Activity on Base
Parallelly, in several regions, users are paying a premium to acquire Ether. The Korean Premium Index for this asset was hovering around 0.36 on August 13. However, it flashed a value of 1.09 at press time. The rising premium value likely indicates that Korean retail investors are applying buying pressure by accumulating ETH.
Thus, it can be contended that the current activity by ETH holders is setting the stage for the asset to gradually recover. Thus, long-term holders could consider accumulating at this stage.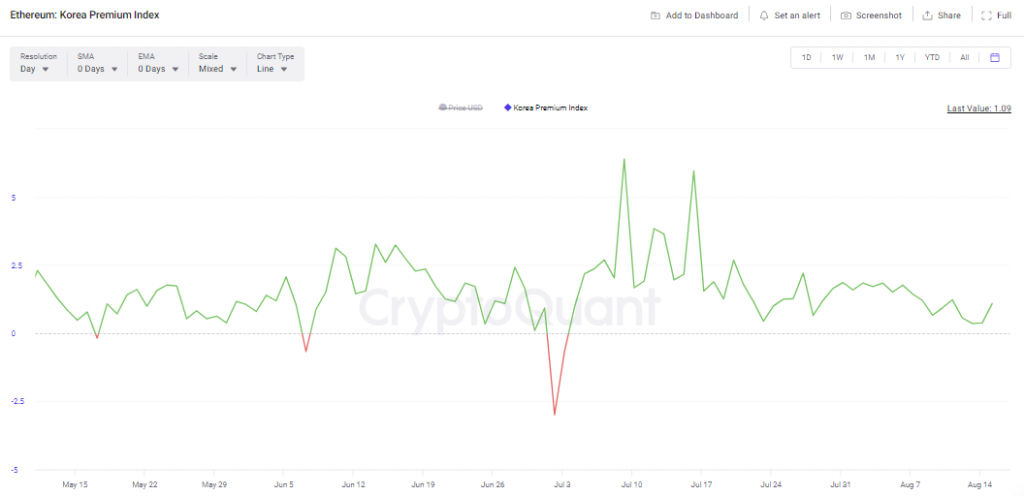 Also Read: Stablecoin Market to Grow From $125 Billion to $3 Trillion: Bernstein