Bitcoin [BTC] and Ethereum [ETH] have remained unrivaled in terms of their standing. Nevertheless, there has been a major shift in a lot of aspects. Data provided by IntoTheBlock indicated that Ethereum currently has 73.9 million long-term holders. However, Bitcoin has 33.6 million HODLers, showcasing a disparity of over 40 million between the two assets.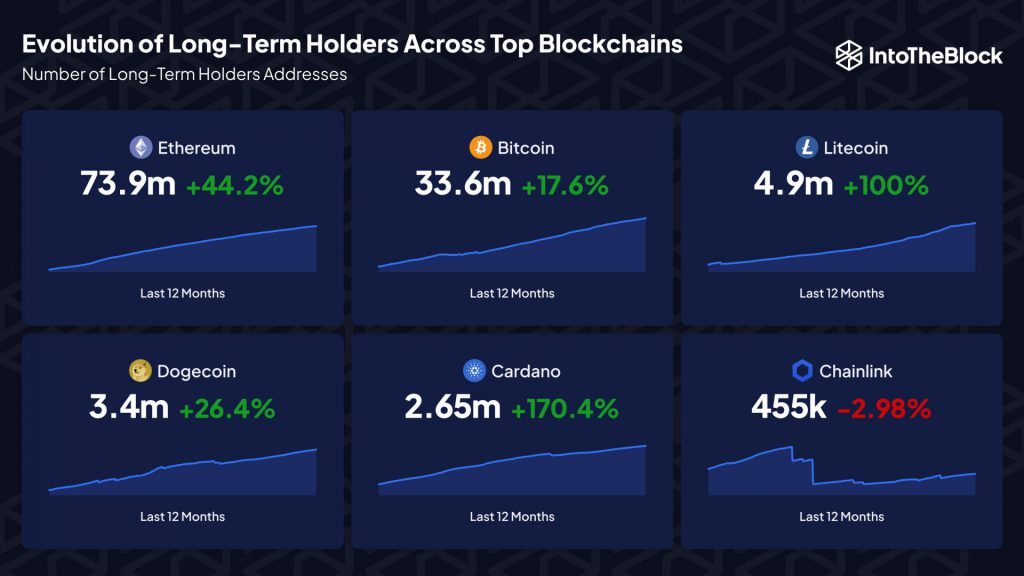 While both digital currencies encountered an expansion in this regard when examining year-over-year information, Ethereum once again outperformed with a significant surge of 44.2%, in contrast to Bitcoin's modest growth of 17%. The foremost position for achieving the highest percentage increase was claimed by Cardano [ADA], as it observed a remarkable upsurge of 170% in its long-term holders over the past year. Following suit, Litecoin [LTC] also exhibited a notable increase of 100%. Dogecoin [DOGE], the OG meme coin and one of the earliest cryptocurrencies, encountered a 26% rise. Currently, it entails 3.4 million long-term holders.
Ethereum vs. Bitcoin
There are multiple factors behind Ethereum's overtaking of Bitcoin. Firstly, the ETH network has continuously evolved since its inception. Ethereum's journey began with the intention of establishing itself as a programmable network. Notably, significant transformation was introduced through events like The Merge, which brought about substantial changes across the network. Conversely, Bitcoin has retained its role as a peer-to-peer payment network and a store of value for its stakeholders.
Ethereum's supremacy in the realm of decentralized finance [DeFi] stands unchallenged. The restricted capabilities of Bitcoin undeniably provide Ethereum with an advantage. The ETH network extends its functionality beyond merely serving as a digital currency. It encompasses features like decentralized applications and intelligent contracts.

Despite a significant drop in the amount of value that Ethereum has secured within the DeFi sector, it continues to maintain a lead over Bitcoin. Among the $38 billion that is locked within the DeFi landscape, Ethereum holds a substantial share of $22.31 billion. In comparison, Bitcoin has a relatively modest amount of $162.6 million locked within this domain.
Also Read: Ethereum Is Becoming 'Cheaper' Amidst Rising L2 Transactions
Price and profitability
Regarding price, Bitcoin has unquestionably outperformed as it predates the introduction of ETH. Bitcoin's price and market cap have remained unmatched for the longest time.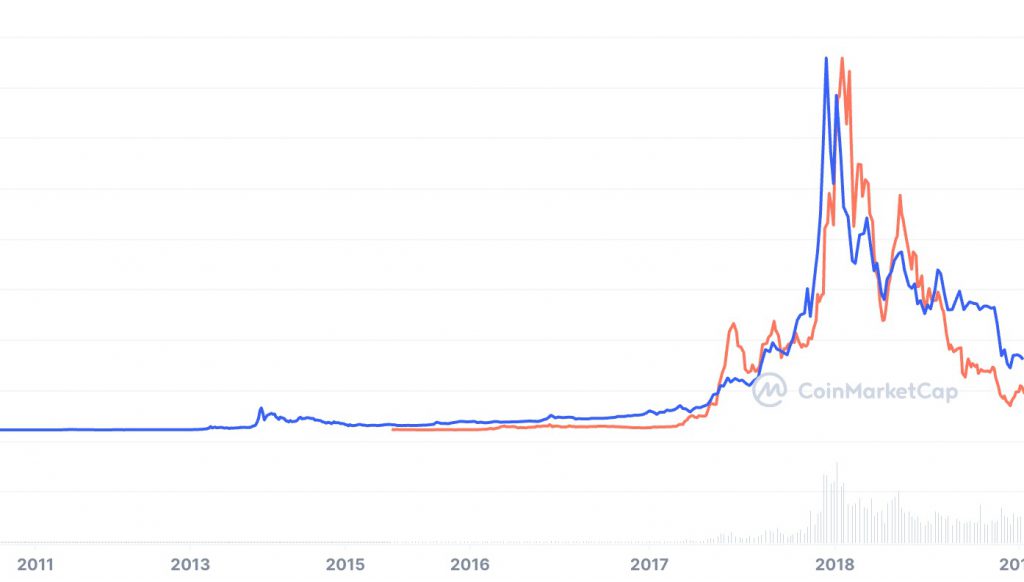 The second-largest crypto has witnessed a remarkable increase of 61,363.72% over its complete timeline. In contrast, BTC has achieved an even more extraordinary overall growth of 44.22 million. Similarly, a greater percentage of Bitcoin holders are in a profitable position when compared with Ethereum. Information from IntoTheBlock indicated that approximately 63% of BTC holders are currently in profit, while only 56% of ETH holders are experiencing gains at the present value of the asset. In spite of Bitcoin's performance, Ethereum has succeeded in attracting a larger number of long-term holders. This also suggested that the market's dynamics extend beyond valuation.
Also Read: Is Ethereum Better than Bitcoin?