Bitcoin and Ethereum are usually quite closely-knit and move in a similar fashion on the charts. However, Bitcoin seems to be lagging lately. Over the past week, Ethereum has registered a 5.3% uptick. On the other hand, Bitcoin has dropped by 1.8% in the same timeframe.
In fact, quite an interesting trend has unfolded on the ETH/BTC chart. As analyzed recently, the trading pair created a triple bottom, and Watcher Guru predicted that an uptrend was most likely on the cards because bears were losing strength. Well, the said scenario has now materialized already.
The ETH/BTC pair's uptrend brings to light that Ethereum is getting stronger when compared to Bitcoin, or perhaps, Bitcoin's dominance is getting challenged. In either case, Ethereum now seems to be in the driving seat.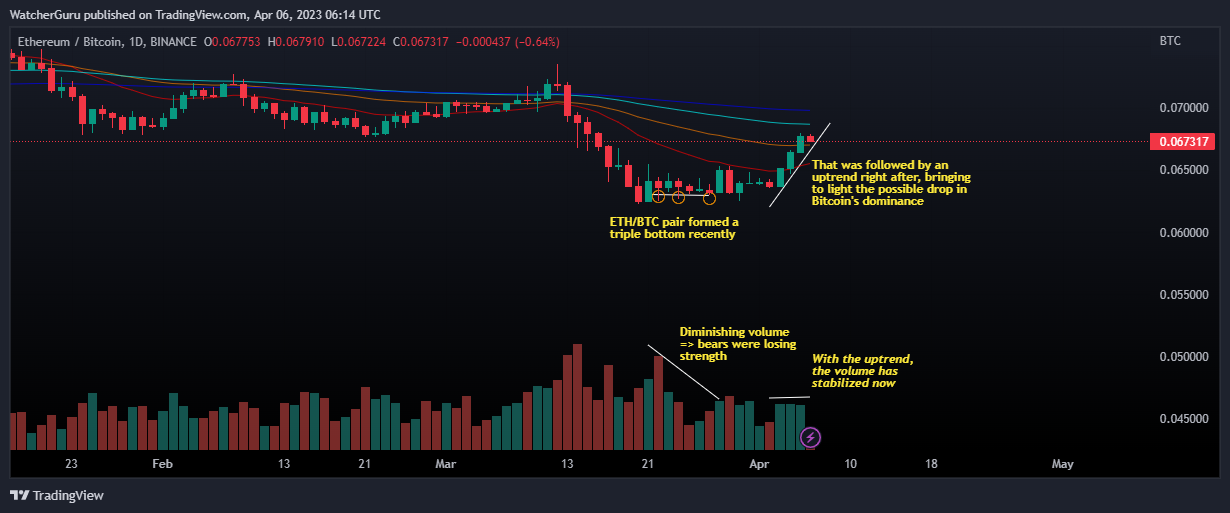 Also Read – Bitcoin: What To Expect From Q2 2023?
In fact, the latest numbers from Santiment brought to light another interesting trend. As shown below, the exchange and non-exchange addresses' supply, are heading in opposite directions. In fact, the ten largest exchange addresses are near all-time low levels. On the other hand, the ten largest non-exchanges' supply continues ascending. Thus, it can be inferred that whales and other participants have been buying and draining the balance on exchanges. Specifically, the top-10 non-exchange wallets now hold 3.44 times the supply possessed by the top-10 exchange wallets.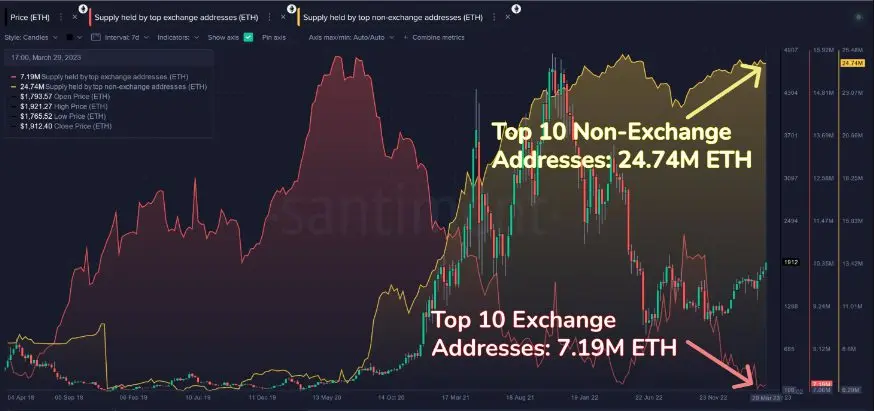 Is it the Altcoin season yet?
Altcoins usually tend to follow Ethereum's footsteps more closely. Even though Ethereum is likely comfortable at the moment, Altcoins seem to be in a sticky position. According to the Season index, the market continues to be in the midst of a Bitcoin season and is not even close to its Altcoin season.
Typically, an Altcoin season transpires only when 75% of the top 50 coins perform better than Bitcoin over the last season, i.e. 90 days. That said, the current state of affairs shouldn't be perceived as a setback, because Ethereum's rising dominance is merely in its formative stage. When the trend amplifies, other coins will likely follow suit. When that happens, the Altseason bells will finally ring, for it usually doesn't take time for the tides to reverse in their favor.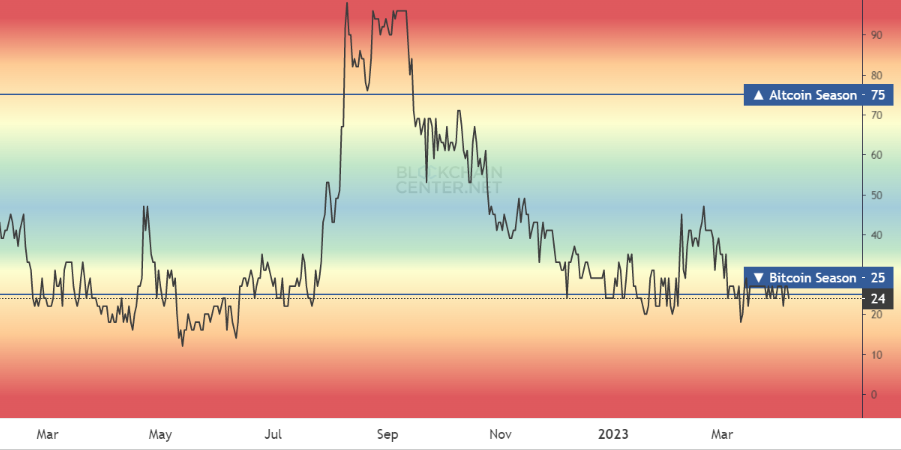 Also Read: Bitcoin Whitepaper is 'Hidden' on Every Apple MacBook with Recent Versions of macOS