2023 has been the year of change so far. The crypto industry witnessed the focus shift from Bitcoin [BTC] to BRC-20 tokens and Shiba Inu [SHIB] to PEPE. Similarly, the primary focus of the Ethereum [ETH] network seems to be limited to staking at the moment.
Ethereum has propelled staking to the forefront of the crypto industry. As a result of this growing interest in staking, there has been a notable drop in the overall supply of ETH held on exchanges. According to recent data, the percentage of Ethereum's supply on exchanges has reached 14%, marking the lowest level in seven years since July 2016.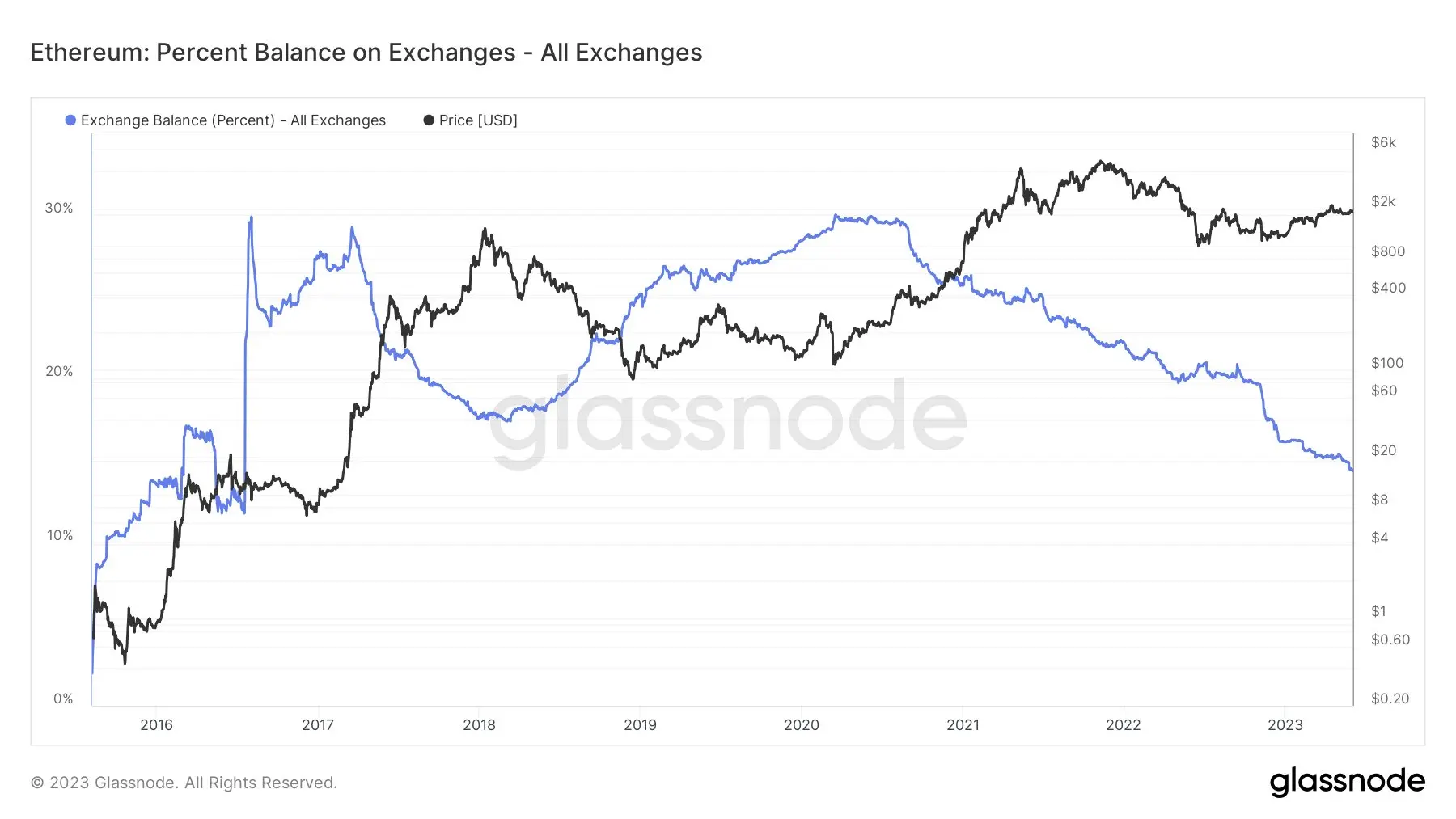 The current data suggested that about 16.04% of the total Ethereum supply is currently being staked. As reported by OKLink, the current staked amount of ETH stands at around 19.29 million. Since the Shanghai upgrade, only 3 million ETH have been unstaked. This indicated that most of the ETH has remained locked in the network.
The decrease in the Ethereum balance on exchanges can also be attributed to the decline of centralized exchanges during 2022. The collapse of FTX, in particular, instilled a sense of fear among cryptocurrency investors. Consequently, the supply of ETH and other cryptocurrencies on exchanges has become less prominent and has taken a secondary role.
Is this declining supply good for the Ethereum network?
The decline in Ethereum's supply on exchanges is generally seen as a bullish sign for several reasons. One key reason is that it implied there are fewer coins available on exchanges to be sold. This limited availability can create a supply-demand imbalance, potentially driving up the price of Ethereum. In addition, it also inferred that traders aren't looking to sell ETH at the current price.
Several other factors contribute to the potential surge in Ethereum's utility and price. One notable factor is the declining average transaction fees on the Ethereum network. Lower transaction fees make trading or purchasing Ethereum more affordable for users, attracting increased participation and adoption.

At press time, ETH was seen trading at $1,868 with a 1.22% daily drop. Despite this decline, a majority of ETH holders, comprising 67%, were in a profitable position, while only 29% were facing losses.