Unlike Bitcoin, the balance of Ethereum on exchanges has been on the rise. Latest data from Santiment brought to light that the metric is close to breaking its 2022 highs. As illustrated below, the exchange supply has risen by 14% and has been hovering around its highest level since 3 January.
Usually, a rise in the Supply on Exchanges hints toward a sell-off round. More often than not, it translates into a dip in price. Back in January and mid-February when this metric peaked, brief drawdowns followed right after.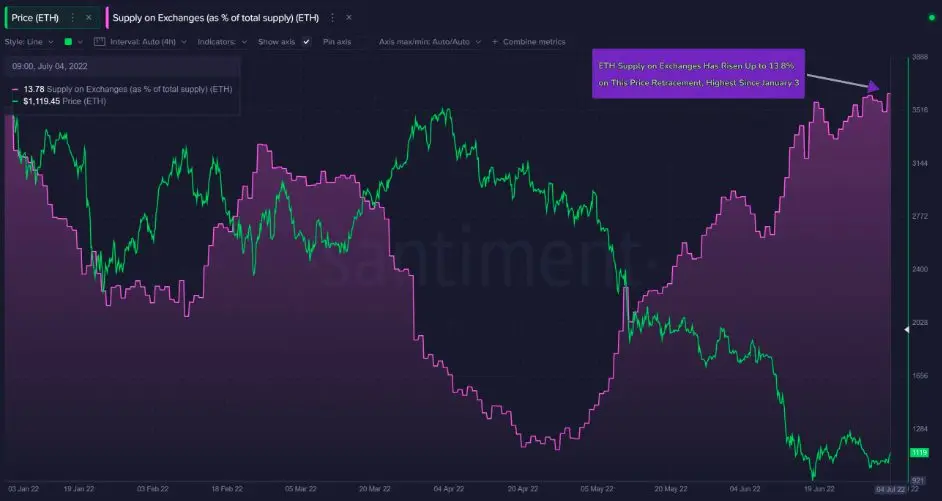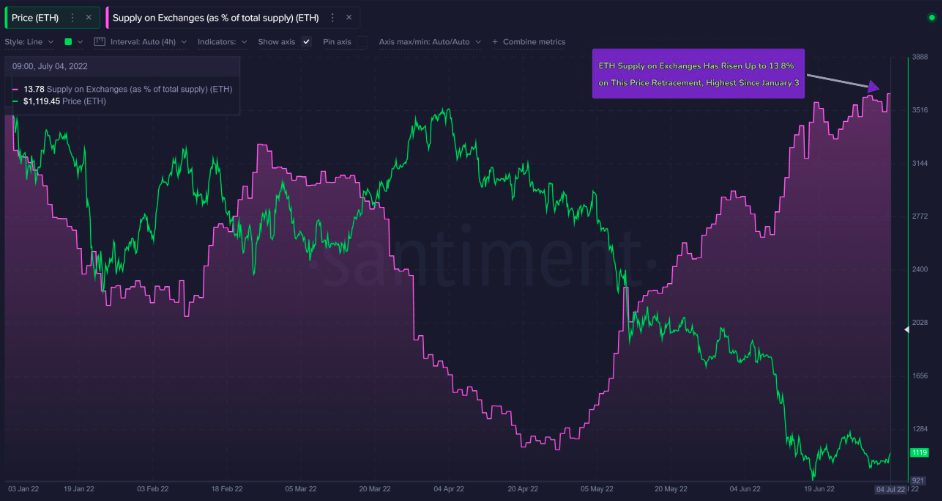 ETH is, however, up 10% over the past 24 hours. Evidently, markets are supposedly increasing sell pressure and the increasing price might come to a halt soon.
Is Ethereum's rally merely a dead cat bounce?
People on Crypto Twitter were quick to cherry-pick large transactions involving Ethereum. Less than a day back, WhaleAlert brought to light that 32k ETH were transferred to FTX. During similar transfers to FTX last time, Ethereum's price plunged. And looks like that will be the case this time as well.
The trader sentiment was not optimistic. Per derivatives data, it seemed like traders have started expecting a dump. On exchanges like Gate, Huobi, CoinEx and ByBit, the funding rate was negative. The same indicated that short positions were paying longs in anticipation of a fruitful return.
On other exchanges like Binance and FTX, the rate was positive. However, the same failed to stir in an affirmative bullish narrative, for they were hovering in the mild territory [0.002%, 0.0008% respectively].


Alongside, the long:short ratio has been flashing readings below 1. At press time, it stood as low as 0.68, indicating the rise in the number of short/bearish bets being placed.
Resultantly, on the shorter timeframe charts, Ethereum's retracement was seen materializing. In less than 3 hours, the alt-king has already depreciated by 3%. Alongside, the RSI was seen heading towards the oversold territory, highlighting the deficient bullish momentum in the market.
So, if buyers do not step into the scene, Ethereum's price would continue reacting to the recent dumpings. In effect, the recent relief rally could be nullified, becoming a dead cat bounce.