Since the beginning of this month, the Euro had been tumbling in value against the Dollar. However, on Monday, it was seen trading under $0.99—for the first time in nearly two decades.
At press time, the Euro-USD pair was trading at $0.9899, a level 8% lower when compared to 9 June's high of $1.077.
Goes without saying that a weakening currency will make imports more expensive for Eurozone countries, especially for goods priced in Dollars. In hindsight, the same could contribute to even higher inflation in the region, which already peaked at 9.1% in August. As reported back then, crypto and digital asset investment products have been noting outflows of late in Eurozone member states owing to the weakness persisting across the board.
Read More – Eurozone inflation reaches new ATH of 9.1% in August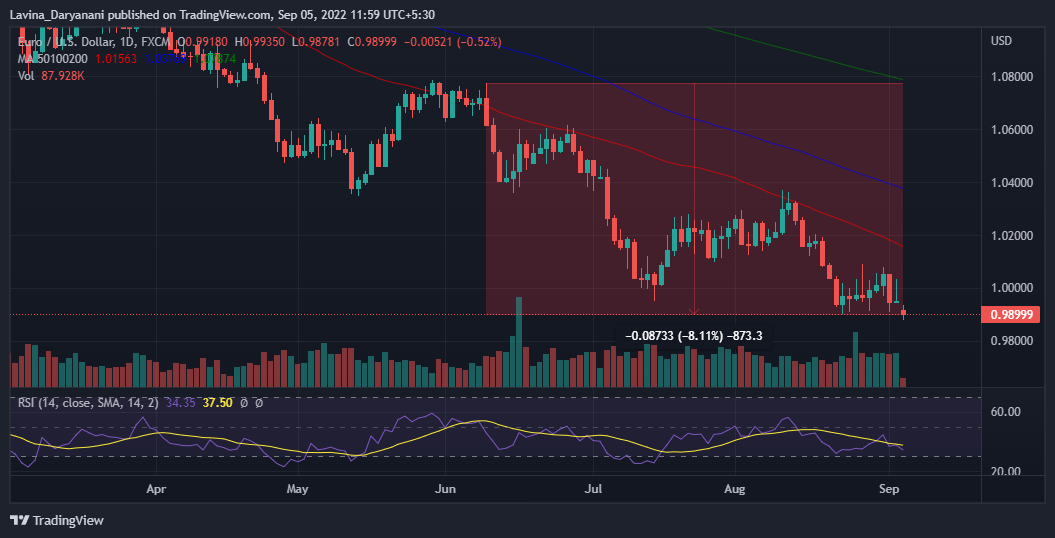 Euro's woes to deepen further?
Russia recently added fuel to the continent's energy crisis by shutting off key gas taps. The same will likely kickstart a long cold winter ahead for businesses and households. European nations, led by Germany, announced measures during the weekend to tackle inflation and rising energy prices after Russian state gas producer Gazprom PJSC told on Friday that it would indefinitely halt supplies through the Nord Stream pipeline.
Talking about the impact of the same, Rodrigo Catril, a currency strategist at National Australia Bank Ltd told Bloomberg,
"Euro has more downside given the full impact from the indefinite cut in Russia gas supply to Europe is yet to come. No gas means no growth and a hawkish ECB."
Notably, Russia's invasion of Ukraine pushed commodity prices sharply higher and damaged relations between the Kremlin and Europe, and as a result, the Euro to parity with the Dollar was pushed. So now, with the energy supply strains and rising consumer prices, there's evidently pressure on the ECB to tighten its monetary policy. Per Bloomberg, there are growing expectations for the central bank to raise rates by 75 basis points as soon as Thursday.
A group of Goldman Sachs analysts led by Kamakshya Trivedi cut their forecasts for the Euro to 97 cents over the next three months from 99 cents previously. They further propounded that the Euro will remain below parity with the Dollar over a six-month period. The analysts said in their note,
"While the euro area has made good progress in amassing gas storage for the coming winter, this has come at the cost of significant demand destruction via production cuts, and does not totally eliminate the risk of a more severe disruption over the winter."
Also Read – UK to enter recession in Q4 amid energy crisis: Goldman