Over the past two months, crypto-related exchange-traded product inflows have registered a sharp spike. Data from MorningStar revealed that ETPs based in Europe noted a net inflow of €150 million [$162.1 million] in June. This turned out to be the best month for ETPs since March 2022. July's net inflows dropped to €60 million [$64.8 million]. Nevertheless, the two back-to-back months of positive flows came on the heels of the €100 million [$108 million] of outflows registered in May 2023. As far as the top-performing ETFs were concerned, the report highlighted,
"Morningstar data reveals that it was WisdomTree Blockchain UCITS ETF USD Acc (WBLK) that topped the list of best performing ETPs in July, gaining 26% over the month. This was followed by another three ETFs exposed to digital assets and blockchain."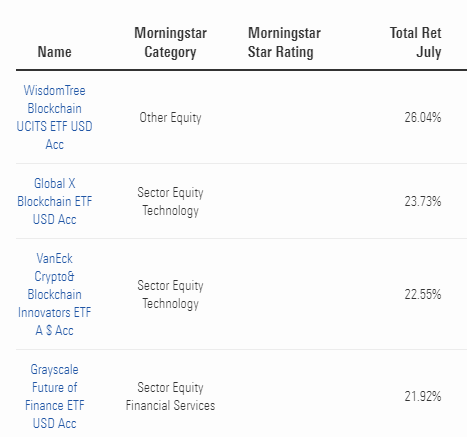 Also Read: FBI: Lazarus Group Might Sell $40 Million in Bitcoin
BlackRock Application Positively Impacted ETPs: HANetf Executive
Data from CoinShares pointed out a similar global trend. In the period before BlackRock filed its spot bitcoin ETF application, outflows of up to $400 million were recorded in nine weeks up to June 15. The trend reversed only after the application was filed in mid-June.
Talking to the Financial Times, Hector McNeil, the Founder and Co-Chief Executive Officer of HANetf, said that the largest asset manager's application had had a "very positive" impact on Bitcoin ETP flows and the price of the asset. He said that this was mainly because of the high anticipation of demand. McNeil added,
"But most importantly, it has helped move the asset class into the mainstream, when the world's largest asset manager, who has previously been negative, moves to raise their hand that they have changed their minds. Other asset managers have and will follow, as will more investor types."
Also Read: South Korea: Cheongju to Seize Crypto From Tax Evaders