OpenSea's former executive, Nathaniel Chastain, who quit the company in September 2021, is now in legal trouble for committing an insider trading scheme. Nate is charged with money laundering and wire fraud in connection with committing insider trading in non-fungible tokens.
He is being charged with using insider information on the platform about the NFTs that will be featured on the homepage of OpenSea. Nate has been using this insider information for his own personal gains.
The news was let out by the United States Department of Justice website. Nate was arrested this morning and was presented in the US District Court.
Nate used insider knowledge of OpenSea for personal gains
"NFTs might be new, but this type of criminal scheme is not. Today's charges demonstrate the commitment of this Office to stamping out insider trading – whether it occurs on the stock market or the blockchain."

U.S. Attorney Damian Williams
FBI Assistant Director Michael J.Driscoll said that Nate utilized an old insider trading scheme to use the confidential information from OpenSea. He used that knowledge to purchase dozens of NFTs for his financial gain.
The lawsuit stated that Nate was supposed to select the NFTs that would be featured on the OpenSea homepage. After an NFT is featured on the homepage, users will be willing to pay for the particular NFT, which in turn will boost the demand for that specific collection.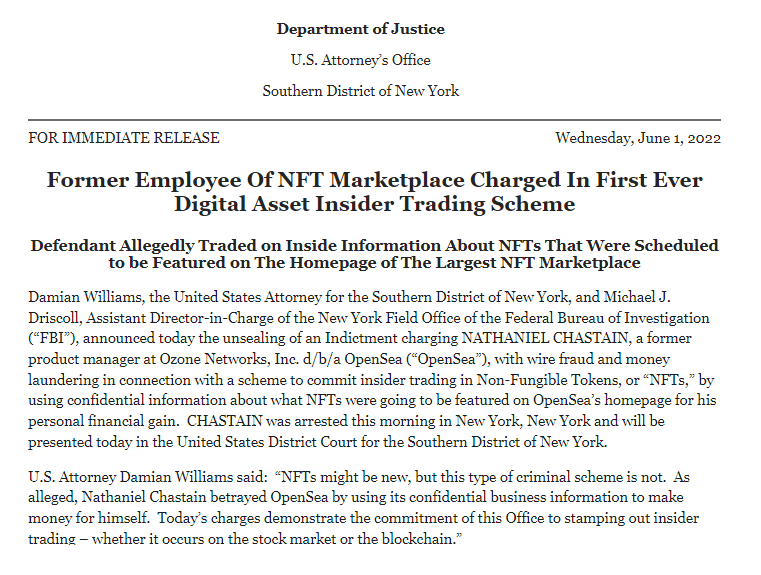 According to the charges, Nate has used the information from June 2021 to September 2021 to purchase the to-be-featured NFTs and later sold them for two to five times the purchase price. He used to trade and make purchases using anonymous wallets and anonymous accounts.
Nate Chastain is charged with one count of wire fraud and one count of money laundering each. Each of these charges carries a maximum sentence of 20 years in prison.