'Moonvember' dreams were shattered following the dramatic downfall of the FTX empire. Sam Bankman-Fried instigated a downtrend that pushed the price of Bitcoin to mid $15K. A plethora of other cryptocurrencies followed suit and lost immensely. Exchange tokens, however, topped this list. With no potential in these assets, major whales decided to dump their holdings.
A recent chart by on-chain analytics platform, Santiment pointed out how exchange tokens witnessed the biggest price drops over the last week. Following the FTX crash, whales and sharks holding the FTX Token [FTT] decided to dump 30.9 percent. It should be noted that this was done over the last ten days.
At the time of publication, FTT was priced at $1.61 with an 8.45 percent daily drop. Over the last week, the asset dipped to a low of $1.25.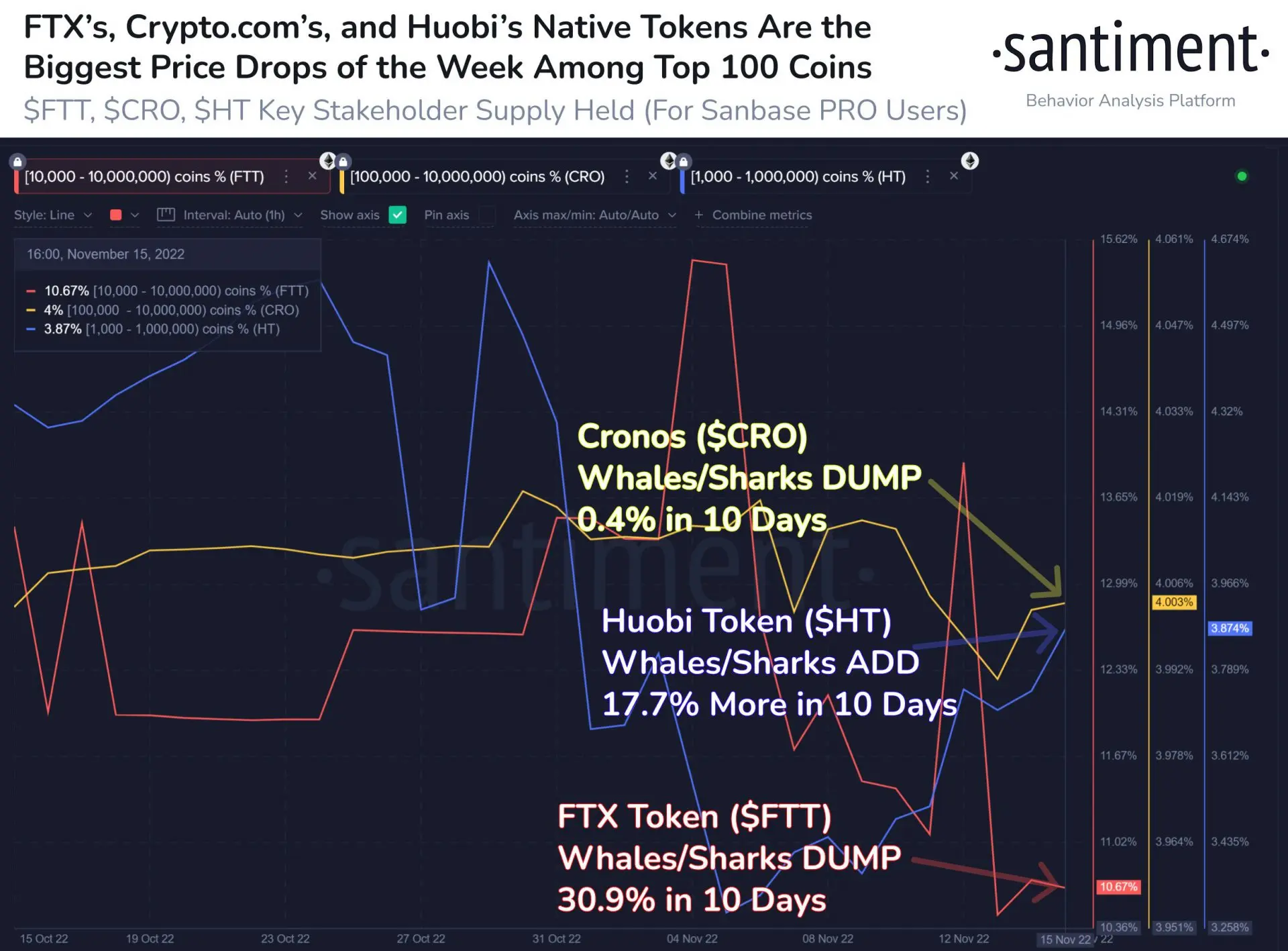 It seems like these whales and sharks were losing trust in other prominent exchanges as well. The scare around Crypto.com enduring the same fate as FTX haunted many. Despite the fact that Kris Marszalek assured that Crypto.com entailed minimal exposure to the FTX collapse, certain whales did not trust the platform.
As seen in the above chart, whales and sharks decided to get rid of 0.4 percent of their Cronos [CRO] holding over the last 10 days.
It should be noted that at press time. CRO was trading for a low of $0.07007 following an 18.78 percent drop throughout the week.
Huobi Token in the safe despite a significant weekly drop
Huobi Token [HT], amidst the whole FTX fiasco, was seen shining among whales. As Santiment shows in its chart, whales and sharks went on to add 17.7 percent more HT to their holdings over the last 10 days.
Despite this, the price of Huobi Token was on a downward spiral. The asset was trading or $4.55 with an 8.01 percent daily drop. The altcoin stood as one of the biggest losers of the week with a 22.50 percent plummet.