The decline of FTX had a damaging impact on the entire cryptocurrency ecosystem. Disgruntled investors are seeking justice, which involves the prosecution of Sam Bankman-Fried. Now according to reports, the U.S. Department of Justice [DOJ] is considering dropping one charge against him.
The DOJ has informed a federal judge that they will not be pursuing a campaign finance charge against the FTX founder. This decision was made after consultations with The Bahamas to ascertain if the charge was part of the extradition document from last year. U.S. Attorney Damian Williams stated that The Bahamas communicated their disagreement with extraditing SBF on the charge, leading the prosecutors to opt not to pursue it in the trial. In a letter to District Court Judge Lewis Kaplan, Williams wrote,
"The Bahamas did not intend to extradite the defendant on the campaign contributions count. In keeping with its treaty obligations to The Bahamas, the Government does not intend to proceed to trial on the campaign contributions count."
Many members of the community expressed dissatisfaction with this development. They further began to question whether supporting politicians could potentially conceal instances of fraud.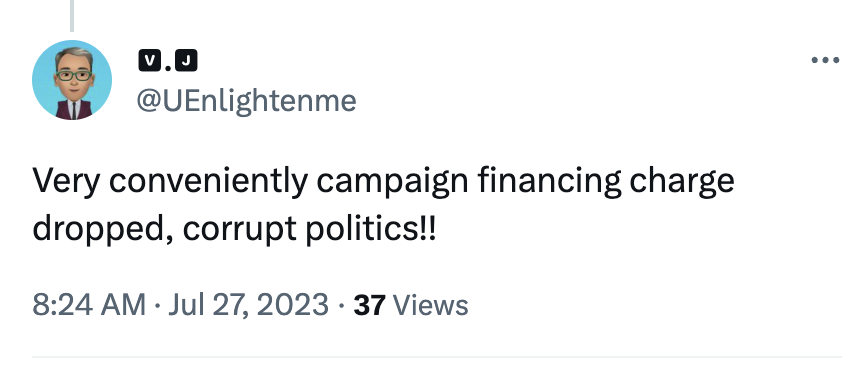 Also Read: FTX Claims Bankman-Fried is Paying Millions to Lawyers Using Stolen Funds
How many charges is SBF currently facing?
Initially, the DOJ charged the FTX founder with eight different counts. This was around late 2022. Subsequently, they added five more charges in February and March 2023. However, SBF's defense team contended that The Bahamas, where the former FTX CEO was originally arrested, had to consent to those additional charges as per the terms of the U.S.'s extradition treaty with the country.
Following the dismissal of the campaign finance charge, the former FTX chief has an additional 12 charges against him. This will encompass allegations of fraud, fraud conspiracy, money laundering, and bribing Chinese officials.
Furthermore, SBF continues to assert his plea of not guilty to all the charges. The government decided to divide the charges into separate trials. These have been scheduled for October 2023 and March 2024. This division was necessitated by prosecutors seeking a waiver from Bahamian authorities to try SBF on the five additional charges that were added after his extradition.
Also Read: Former FTX Executive Under Federal Investigation for Potential Campaign Laws Violation