On Monday, American video game retailer GameStop unveiled a new wallet designed for crypto transactions and NFTs ahead of the launch of its NFT marketplace later during the year.
The wallet utilizes an Ethereum layer-2 scaling protocol ZK-rollup technology, allowing for users to send, store, send, and receive crypto and NFTs at a cheaper and faster rate than using the Ethereum Layer 1 Mainnet. The wallet will also support NFT trading via GameStop's NFT marketplace which is expected to be launched in Q2 this year.
Currently, only the beta version has been launched and it's unknown when the complete rollout would take place.
GameStop's announcement comes days after the Wall Street Journal said that the Texas-based firm was assembling a team to build a marketplace for NFTs. The electronics retailer is also reportedly close to forming alliances with crypto firms that would co-invest in the development of blockchain and NFT games.
Not a great time for NFTs?
However, many have questioned the timing of GameStop's expansion. The crypto industry has played host to successive flash crashes this year, with analysts discussing the possibilities of an ongoing bear cycle.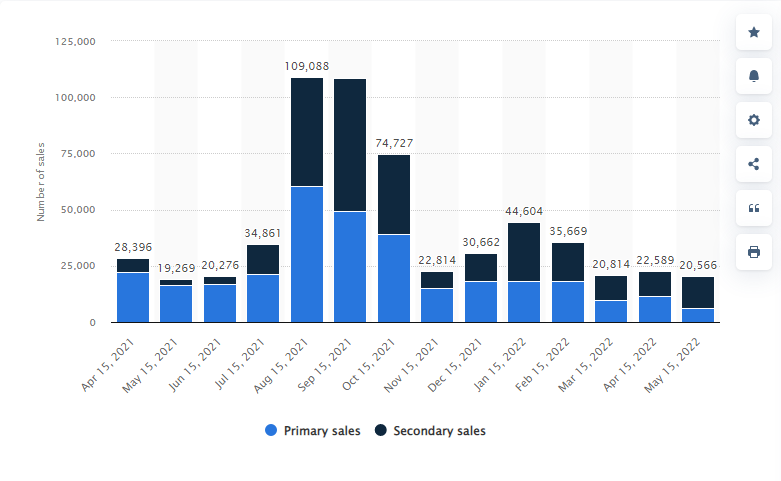 As a result, NFT sales have declined significantly in the year compared to a record performance in 2021. Data showed that overall primary and secondary NFT sales totaled 20,556 between mid-April-May, alarmingly lower than peaks observed in September and August.
Despite releasing its crypto plans, GameStop's share performance continues to dwindle amid an uncertain period for the share market. While GME's price rose by 3.5% at the time of its wallet announcement, gains were erased quickly later during the day. At press time, GME traded at $96.6 on the New York Stock Exchange, down by 3.5% on the day.