Germany's DZ bank has partnered with Swiss firm Metaco to provide digital asset custody services. Notably, DZ is Germany's second-largest lender by assets, following Deutsche Bank. As of the end of 2022, DZ Bank had €297 billion ($315 billion) worth of assets under custody. The official statement revealed that the bank will use Metaco's custody technology platform, Harmonize, to cater to its cryptocurrency services for institutional clients.
Also Read: N26 Bank To Expand Crypto Trading Services To Germany, Swiss, Belgium
Recently, the institutional sentiment associated with cryptocurrencies in Germany seems to be fading. CoinShares' latest weekly report brought to light that the region noted the loftiest share of outflows last week. As shown below, institutions let go of over $23 million worth of cryptocurrencies. Swiss institutions, on the other hand, increased their holdings by a total of $5 million in assets.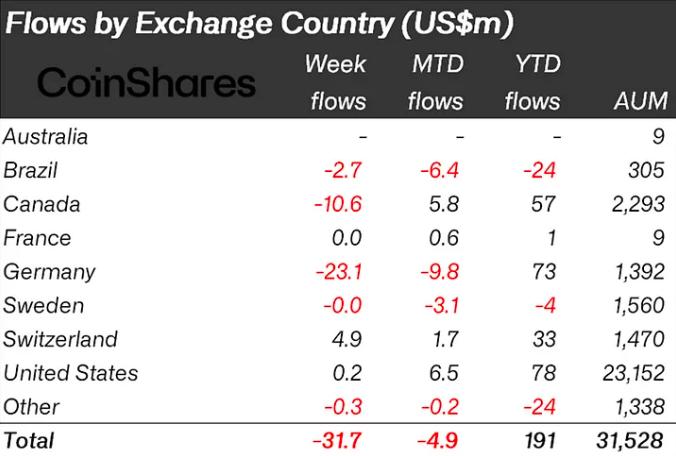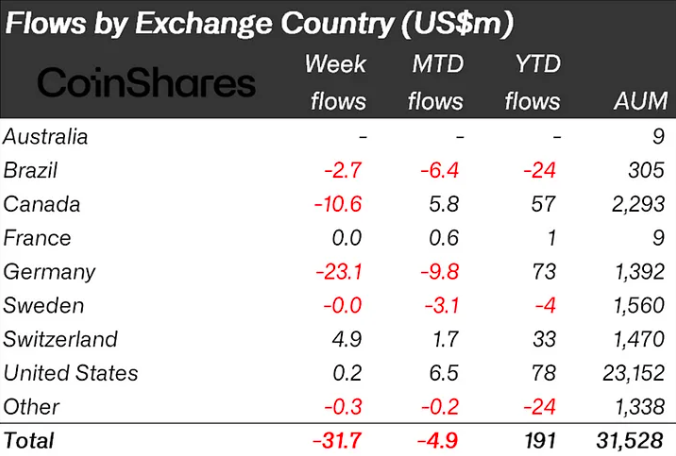 Also Read: Australia's Largest Cryptocurrency Gaming Firm Cuts Down 11% Staff
Deal to provide clients with Cryptocurrency, DeFi instrument solutions
Right from DekaBank, Citibank, and the UnionBank of the Philippines to Societe Generale and Togg, Metaco has struck deals with a host of well-known companies and financial institutions over the past few months.
Nils Christopeit, the Lead Solution Design Digital Custody at DZ Bank, said that Metaco Harmonize has proven to be a "powerful solution" that could support the bank's operating model. He added,
"With the offering, we can build by using this technology, we trust to create a durable and fast-growing business cooperation as well as an attractive solution for our clients that can also meet the requirements of digital currencies and decentralized financial instruments."
On the other hand, Craig Perrin, the Chief Sales Officer at Metaco said that the Swiss digital asset firm's technology infrastructure has been "purposely" designed to aid financial institutions in capitalizing on the cryptocurrency and digital asset ecosystem. Commenting on the latest development, the executive added,
"We are excited to announce this cooperation as it further establishes Metaco as a market leader in Germany, trusted by some of the country's largest banks and exchanges."
Also Read: Elon Musk Makes New Dogecoin-Related Confession, DOGE Spikes