Digital Asset, a New York-based fintech company, is working on a privacy-enabled interoperable blockchain network. According to the announcement, the project aims to give decentralized infrastructure to institutional clients. Digital Asset is calling the network "Canton Network."
The project has a number of institutional giants as partners. BNP Paribas (BNP), Deloitte, Goldman Sachs (GS), Broadridge (BR), and Microsoft (MSFT) are some of the big players, among others. The Daml smart contract language, developed by Digital Asset, is used by the network to connect various applications. Furthermore, the program will enable synchronization and interoperability between different financial market platforms.
The technology underlying the infrastructure, including the Canton protocol and Daml smart contracts, is provided and owned by Digital Asset. The network, however, is not owned by the firm; rather, it is owned by the partners.
Chris Zuehlke, partner at DRW and global head of Cumberland, one of the partners, said that the project will address the need to utilize blockchain tech, "while preserving fundamental privacy requirements." Moreover, the network will have the "ability to execute an atomic transaction across multiple smart contracts."
According to Jens Hachmeister, "Such solutions are a key building block for future digital and distributed financial market infrastructures." Hachmeister is the head of Issuer services and new digital markets at Deutsche Börse Group.
Institutional interest in blockchain and crypto to continue growing?
There is no denying the growing popularity and requirement of blockchain technology, with or without digital assets.
While speaking to CNBC, Cantor Fitzgerald's Elliot Han said that those who have stayed in the crypto space are investigating its various applications. He stated that,
"There's a lot of excitement in this space right now." Han further added that "There are a lot of companies here that are looking at it from many different perspectives and angles." 
Additionally, Han also said that institutional interest in the digital asset space is maturing. According to a Fidelity survey from October 2022, the percentage of institutional investors in the digital asset space has significantly increased since 2020. From 36% in 2020, institutional investors in digital assets grew to 58% in 2022. Moreover, 41% of the respondents said innovative technology was one of the top appeals of the industry.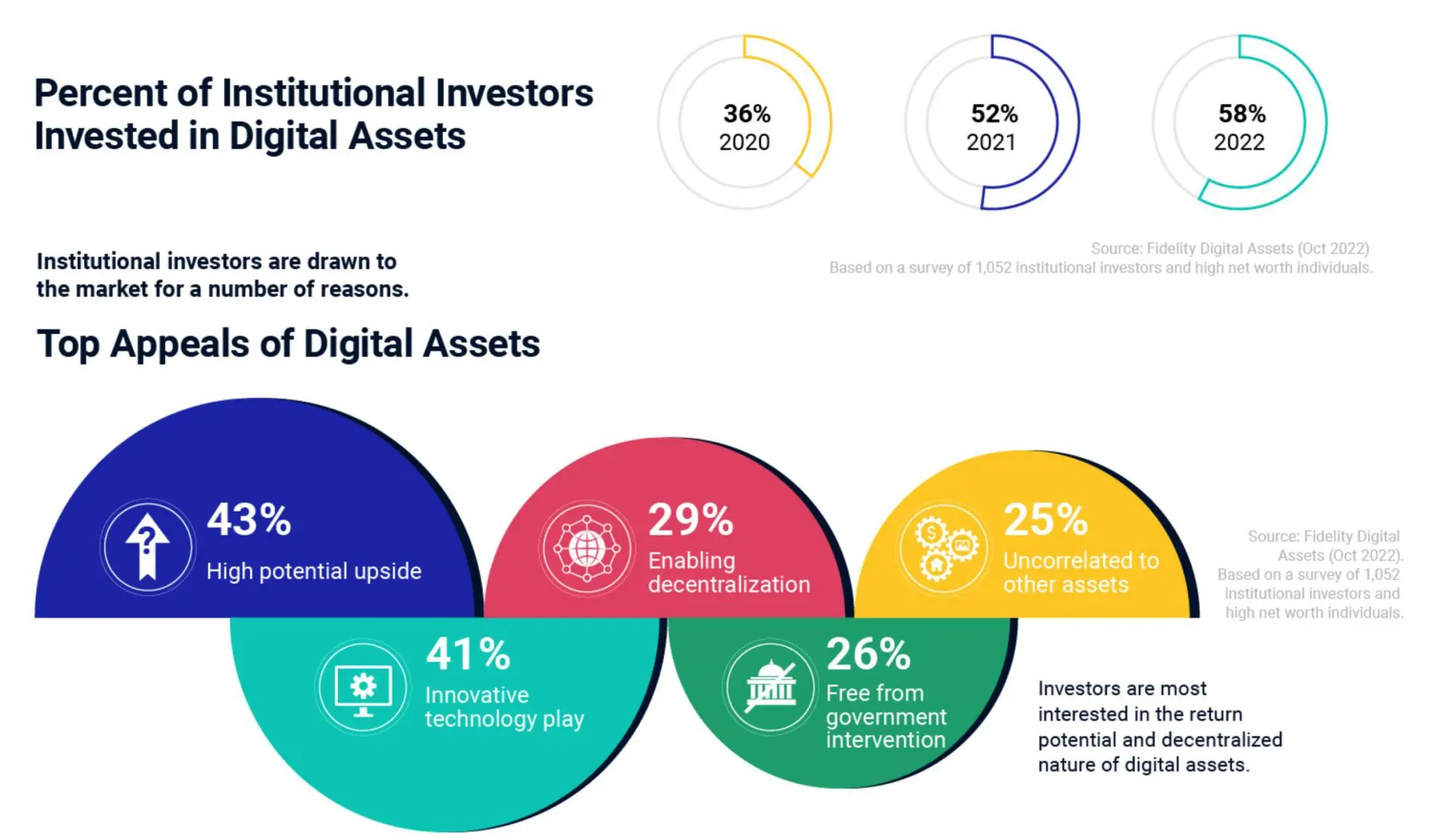 The interest among institutions in the blockchain arena is only expected to grow over time. Not only private firms, but government bodies are also looking into the technology to incorporate into their functions. The industry is fairly new but has made quite an impact on the way businesses could be conducted.