According to the year-to-date asset return report by Goldman Sachs, Bitcoin is their best-performing asset of 2023. The development follows what was a horrendous year for the cryptocurrency sector in 2022, with the number one crypto surpassing some of the largest assets in the financial sector.
The results of the Goldman Sachs report noted the comparative status of the asset. Moreover, the metrics have divulged Bitcoin's superiority over the likes of the S&P 500, gold, real estate, and even the Nasdaq 100.
Bitcoin Tops Goldman Sacs 2023 Assets
The year 2022 will undoubtedly be remembered as one of the worst years in the cryptocurrency industry. Marred by bankruptcies and plummeting prices brought on by macroeconomic and industry factors. The year sported what felt like an endless "crypto winter".
Despite all of that, however, Goldman Sachs has named Bitcoin as the best-performing asset of 2023. The developing story has arrived via a screenshot of the company's year-to-date asset return report. Moreover, the report notes that digital asset has stood far above assets like MSCI, energy, information technology (IT), and even health care.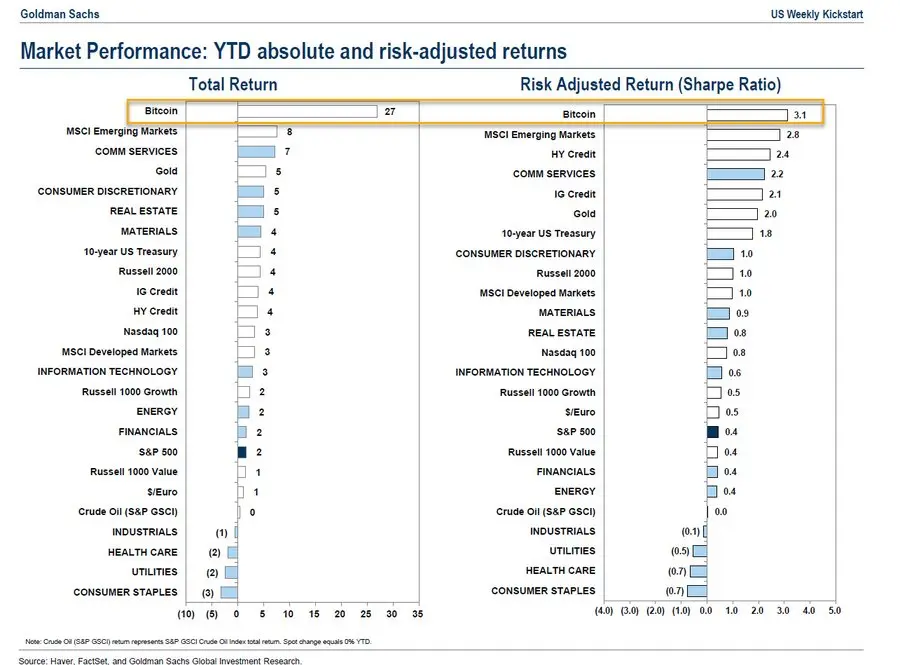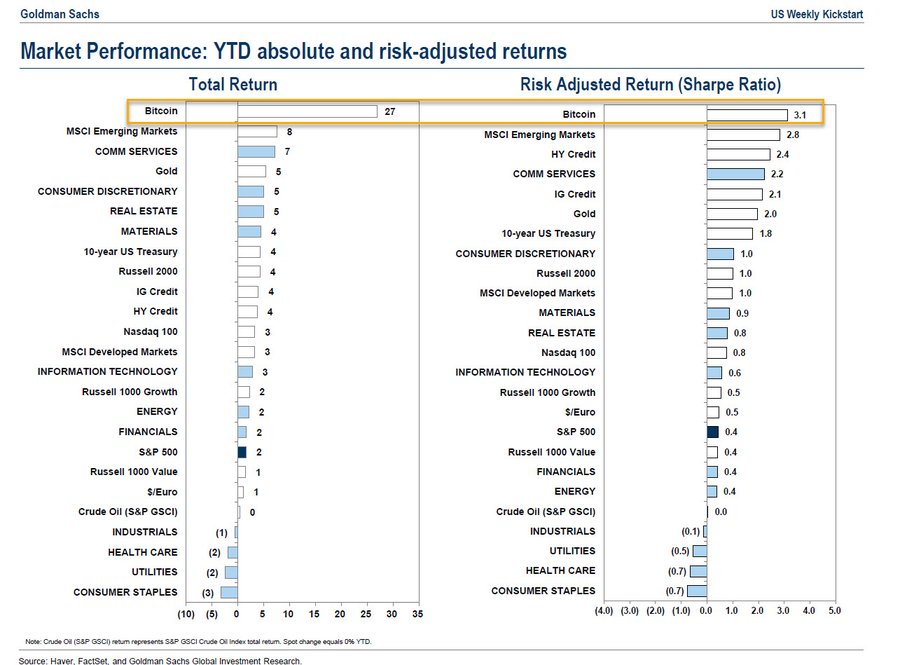 Bitcoin has occupied the top spot in the Goldman Sachs report by sustaining over 27% in total returns. Accompanied in the data by a risk-adjusted ratio of 3.1. Conversely, the subsequent assets in the revealed metrics are far behind the cryptocurrency, with MSCI as the second-highest total return of only 8%.
Finbold reported that Goldman Sachs, a former detractor of the digital asset, added Bitcoin to its returns report in early 2021. Introducing crypto services in the second quarter of 2022, following what is increasing demand, according to that same report.