Trends, or past precedents, usually play a key role in determining the future outlook. Analyzing historical behavioral patterns has helped market participants tread through periods of uncertainty. At this point, Bitcoin is clearly at a critical juncture. From Jan. 1's lows of $16.49k, BTC has already advanced to $22.56k. Nevertheless, the last two candles on the daily have been red, indicating that the asset is now in its correction phase.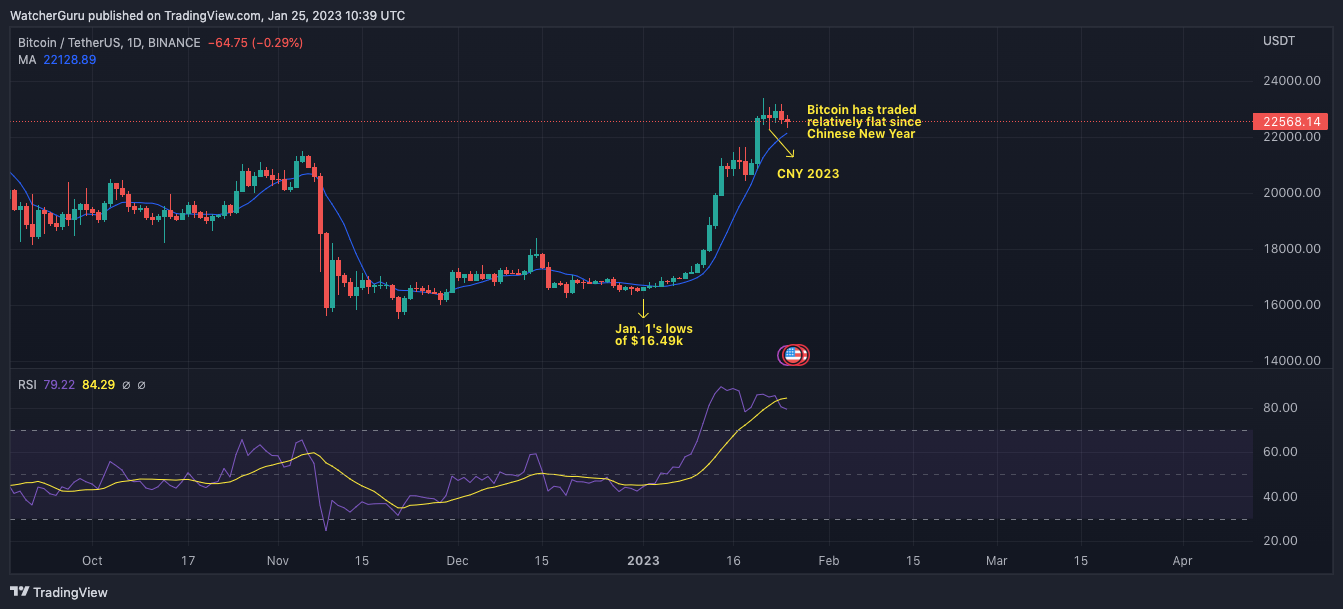 Also Read: Ethereum Drops 9% Against Bitcoin: Are Altcoins Suffering?
However, if history is right, this sluggish phase should end soon. Matrixport's Head of Research and Strategy, Markus Thielen, recently brought to light an interesting trend. According to the proposition, buying Bitcoin at the end of the first day of the Chinese New Year and selling it 10 trading days later has usually returned +9% on average to traders. Over the past eight years, i.e. from 2015-2022, the RoI figure has been positive.
Confirming the same, Thielen said,
"This is a hit ratio of 100% (8 wins, 0 losses)."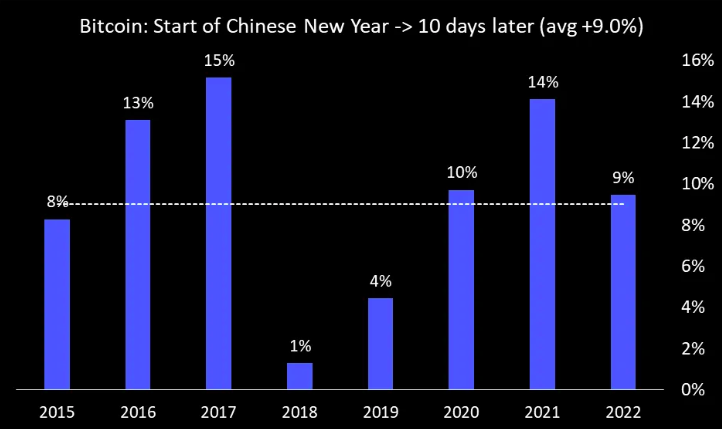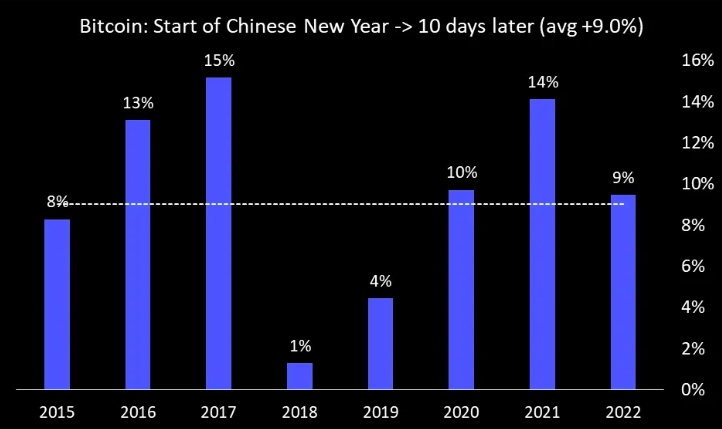 Also Read: Are Bitcoin Traders Turning Optimistic Right Now?
Other micro trends
The Chinese New Year already went by on Jan. 22. However, it is still not late to step into the market. The chart below illustrates the performance of Bitcoin from the Start of the CNY until five days later.
Thielen explained,
"The accumulated average Bitcoin return for the ideal timing is around 15-19 days, as prices tended to rally by +12% when bought on the first day of the Chinese New Year and they peaked out around day 15-19."


Also Read: Is a "Bigger Breakout" Looming for Bitcoin, Ethereum?
As far as the individual year-wise breakdown is concerned, 2018 alone was a spoilsport. Even so, it managed to rally during the initial few days. In fact, in almost all cases, the rapid rises have happened during the first week.
So, if the said trend manages to repeat itself, then Bitcoin could end up registering a brief spike over the next few days. Thielen further asserted,
"The beginning of the Chinese New Year has been an attractive entry timing for long positions."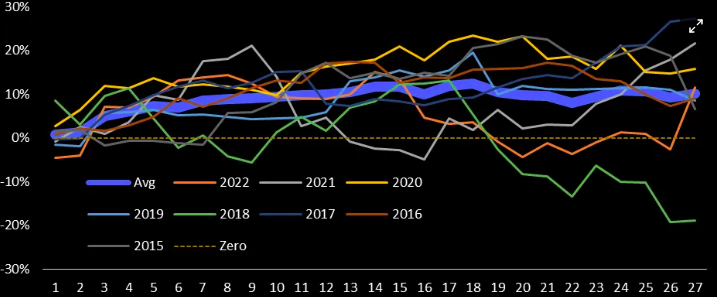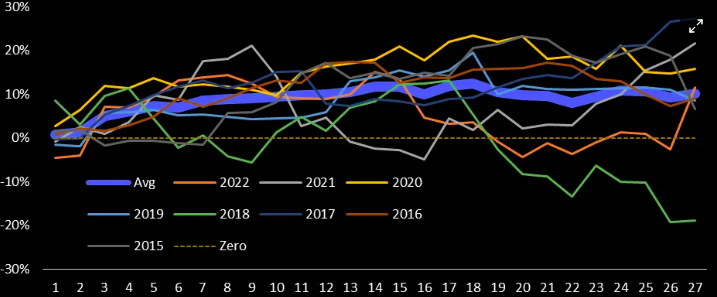 Also Read – Bitcoin: What Is $1 of BTC From 2009 Worth Today?
Even though the said trend stirs up hope, investors need to take the same with a grain of salt because the macro-economic landscape remains to be fractured and the market has never seen such severe conditions before.
Despite the of late losses registered by Bitcoin, it continues to trade in green on the YTD front. Charlie Bilello, Chief Market Strategist at Creative Planning, highlighted that BTC is up 36% so far in 2023, indicating that it is perhaps on the right track.
Also Read: SEC Regulations Are Hampering Bitcoin's Growth: Grayscale CEO