Axie Infinity, who has been a victim of one of the largest hacks, witnessed another attack where the hackers went for their Discord server. Axie Infinity, a non-fungible token-based online video game witnesses an event where their MEE6 bot was compromised.
MEE6 bot is a commonly used discord bot by several projects to automate various roles and messages. The attackers took control of the MEE6 bot, which was installed on the main server, and used the bot to add permissions to a fake Jiho account. The hackers then used the account to spread the news about a fake mint.
Axie Infinity was quick to react
The Axie developers were quick to react and removed the fake announcement and also the compromised MEE6 bot from the server. Axie's official Twitter account has also issued a warning for the users to stay cautious as some users might still be seeing the fake message until they restart their DIscord.
The Axie Infinity team also announced they would never do a surprise mint. The team also added that the MEE6 bot had faced similar issues to the current one with different projects.
The official MEE6 Discord support channel, on the other hand, rebutted reports of a hack. They claimed that they had checked with their developers and found no anomalous activity.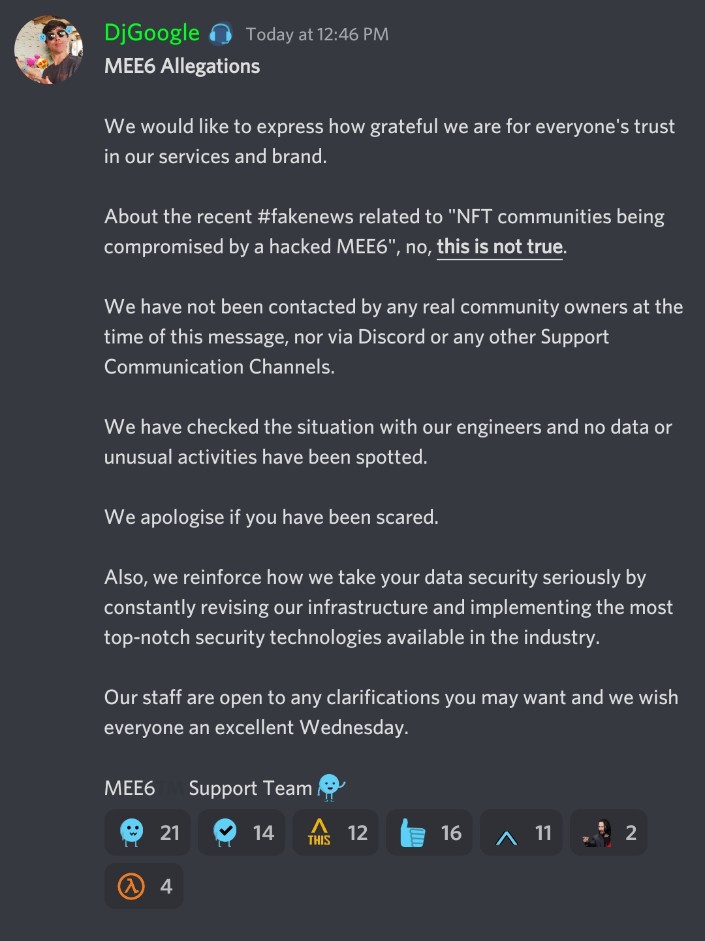 The hackers claimed to have initially taken control of the accounts of the admin to gain access to the alternate admin account using the bot. This allowed the hackers to hide the admin account and send the fake mint message simultaneously.
The Discord bot hack follows one of the largest heists on Axie Infinity's Ronin bridge, which resulted in the loss of nearly $600 million in crypto assets. The community considered Axie Infinity to be a groundbreaking endeavor in the gaming world. The series of hacks has shaken the community's confidence in the project.