Telsa CEO Elon Musk and his love for the OG meme crypto, Dogecoin [DOGE] has been brought to light an array of times. While several continue to wonder why Musk is inclined towards the coin, a few others were awaiting Twitter's integration of DOGE.
The potential Twitter owner has played a major role in the price of DOGE. Until very recently, a single DOGE-centric tweet from Musk boosted the price of the meme crypto. Now, however, times have changed and Musk seems to have lost his hold on DOGE investors.
In his latest tweet, Musk suggested that anyone that used the word "billionaire" as a pejorative was "dumb" and "morally wrong". Replying to this David Gokhshtein implied "Trillionaire sounds better."
Further taking this opportunity to bring in Dogecoin, Musk tweeted,
Normally a tweet like this would have acted as a prominent catalyst for Dogecoin's surge. This time, however, the meme crypto succumbed to the bears just like every other coin in the market.
Musk, however, managed to push Dogecoin's price up for a quick second. Right after this tweet, the asset managed to rise to $0.079. This clearly did not last very long.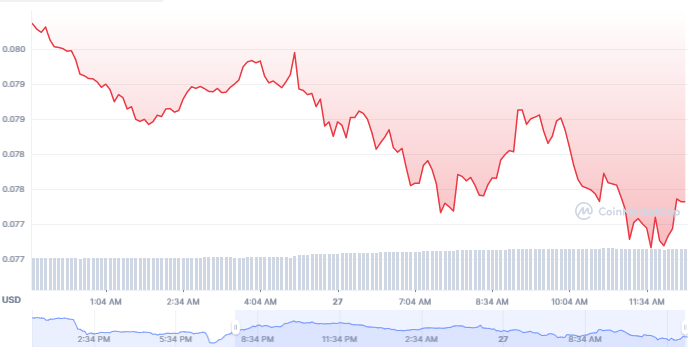 During press time, Dogecoin was down by 4 percent and was trading for $0.077.
Will $1 remain a dream for Dogecoin?
Despite attaining immense support from Tesla's CEO, Dogecoin has failed to hit $1. DOGE, one of the earliest cryptocurrencies to exist landed a spot on Tesla. Even though Bitcoin [BTC] was ousted from the platform, DOGE became the face of Tesla's crypto wing. Still, nothing.
Musk's Twitter announcements aided in boosting the altcoin's price. But this was temporary. Nothing seemed to be significant enough to help the asset in hitting $1. As Musk is inching towards closing the Twitter deal, the community awaits the inclusion of Dogecoin into the social media platform. Several speculate that this could be Dogecoin's ticket to $1.