What is SUSHI?
SushiSwap, or simply SUSHI, is an Ethereum-based decentralized exchange system called an Automated Market Maker (AMM). SushiSwap allows you to swap a massive array of tokens and engage in additional financial services.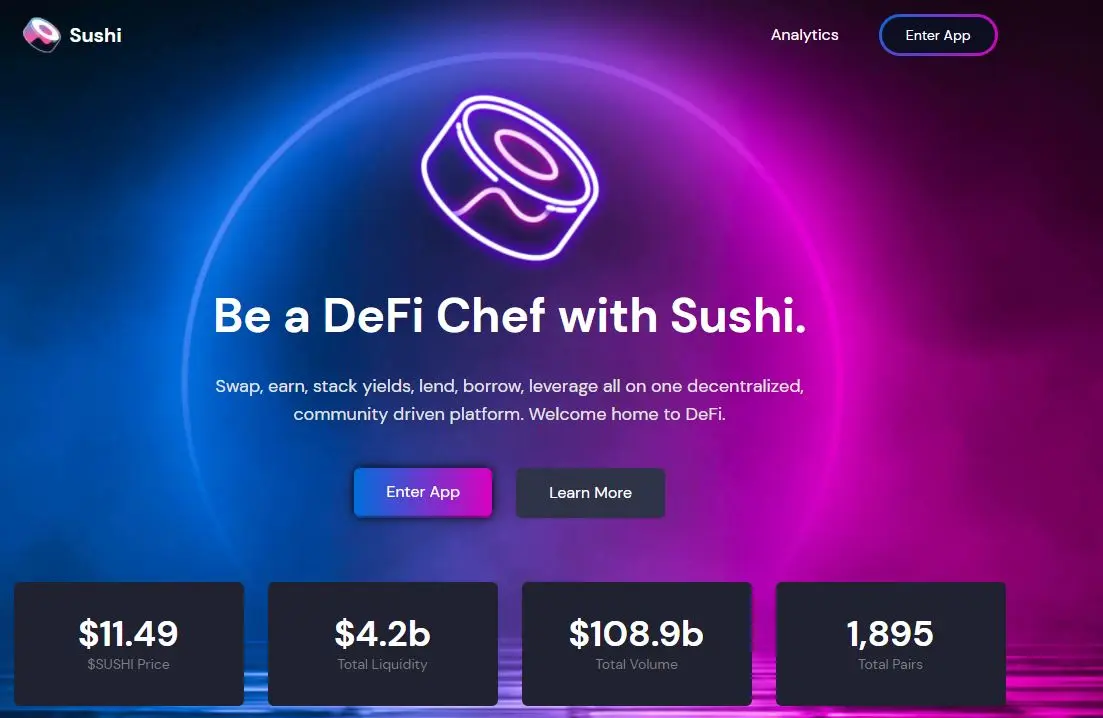 What are the Expectations of SushiSwap?
Here are some important aspects of SHUSHI that you should know:
The fundamental benefits of SHUSHI are the proficiency to yield farm and reap high annual interest rates. Lending and borrowing assets against collateral with interest received or a small amount of interest owed make swaps of hundreds of available digital assets with pools on SushiSwap.
SushiSwap does not have middlemen or centralized authority. Instead, it relies on smart contracts that automate its processes and liquidity provided by different platform users to complete trading activities.
SUSHI is also popular because of its large selection of liquidity pools. It is among the few decentralized exchanges that have significant liquidity to compete with centralized trading platforms.
SHUSHI also enables its users to get passive income and rewards with fewer risks involved.
Another benefit of staking SushiSwap is that one can gamble it in other DeFi protocols.
SUSHI is also very affordable compared to centralized exchanges like Coinbase.
SushiSwap charges a 0.3% fee, in which 0.25 percent of this goes to liquidity providers in the selected pool, and the 0.5 percent remainder goes to SHUSHI token holders who staked their coin in the SUSHI platform bar. This few is fairly considerable compared to others.
There has also been good support by cryptocurrency to the SushiSwap project since it was publicly launched. This, in turn, has boosted the SUSHI popularity.
How Does SushiSwap Work?
Using SUSHI is a simple task. All you need to do is to connect to the SUSHI wallet in the platform. Then select 'swap' in the sidebar on the left-hand side of the interface, choose the tokens you want to swap, set the amount and click 'Exchange'. Now you are ready to go.
Does SushiSwap Have a Future?
Forecast predicts that SUSHI will climb to $71.23 by the end of 2024 and $97.43 by the end of the year 2025. This is a very promising investment. On 6 September 2020, SHUSHI turned out to be a great success, with $1.27 billion already invested in SushiSwap Contracts. However, the problem arose when Chef Nomi, one of the network's creators, sold all his SUSHI tokens worth $14 million, which led to its sharp drop by 50 percent of their price.
Conclusion
SushiSwap helps users share cryptocurrency assets rapidly and efficiently while collecting payments by adding crypto to a liquidity pool. It is on the rise.