The Chinese government kicked out all things Bitcoin [BTC] and crypto from its country. The country was home to an array of crypto platforms as well as top Bitcoin mining farms. The level of decentralization that the industry offered was overpowering the government itself. As a result, China bid adieu to the crypto market. Or did it?
The big Chinese crypto crackdown put several businesses at loss and even forced many of them to shut completely. China entailed all the prominent Bitcoin mining farms. however, they were all dispersed following the crackdown. But now, it seems like the Chinese have found a way to work around the ban imposed by the government.
A recent report curated by the Cambridge Centre for Alternative Finance [CCAF]Cambridge Bitcoin Electricity Consumption Index [CBECI] shed light on the fact that China was still a major Bitcoin mining hub. BTC miners in the country accounted for a whopping 21.1 percent of the total BTC mining hash rate in January 2022. Therefore, China landed the second spot.
The United States grabbed the first spot. But, the disparity was relatively less. The US accounted for only 37.8 percent of the total hash rate.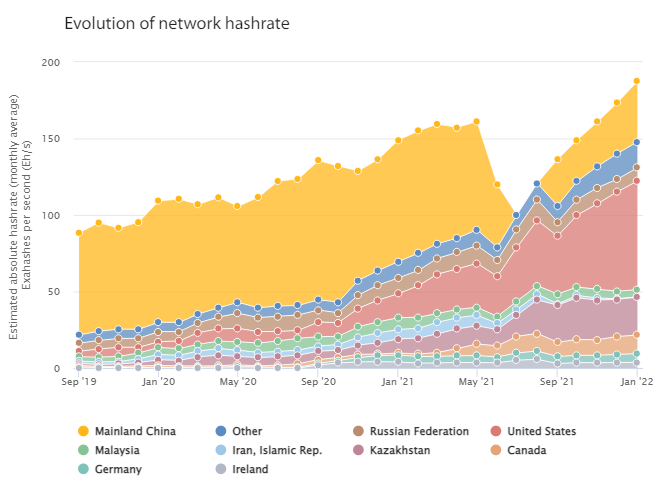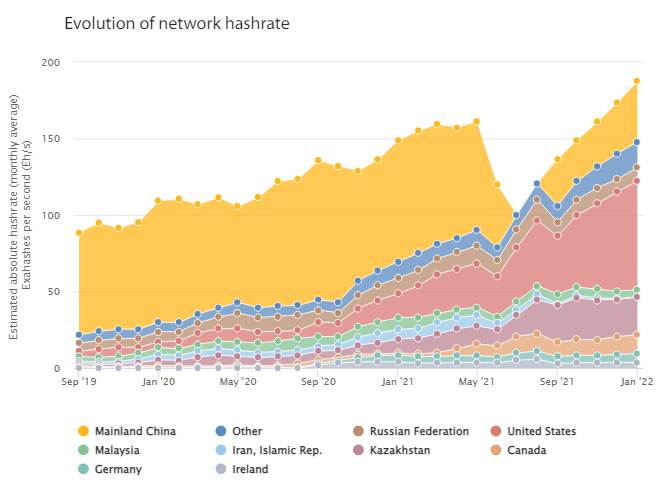 But how are they still mining Bitcoin?
Considering the stringent laws put forth by the government, it is most likely that the Chinese were carrying out underground mining. The mining industry is extremely profitable. The miner rewards that come with the process have lured in many. Chinese miners were bagging big bucks. However, the government destroyed the prominent Bitcoin mining farms.
Miners that have managed to push China on top of the list are reportedly carrying out underground mining via proxy services. These miners are reportedly shielding their tracks through VPN and local proxy services. A few of them try not to use too much energy from the same location as it would raise concerns.
CCAF added,
"It is probable that a non-trivial share of Chinese miners quickly adapted to the new circumstances and continued operating covertly while hiding their tracks using foreign proxy services to deflect attention and scrutiny. As the ban has set in and time has passed, it appears that underground miners have grown more confident and seem content with the protection offered by local proxy services."
China landing the second spot with just 21 percent of the global hash rate shed light on the fact that other countries weren't really diving into the industry. Back in 2019, China alone accounted for 75 percent of the global hash rate.