#200th ranked crypto HEX has evidently been gaining traction of late. On the price front, the Altcoin has risen by 13% on the weekly, and as a result, has moved up on the rankings chart. In effect, chatter [mentions] on social platforms has inclined by 23% over the past week. Alongside, the social engagements associated with HEX has also climbed by 30% in the same timeframe.
In fact, data from LunarCrush also brought to light that the volatility in the HEX ecosystem has risen by 92% over the past week. The same means the price movement in the coming days would likely be characterized by thrust and vigor.

Which direction to expect HEX to move?
Well, investors at this point have little to complain about. The Altcoin's Sharpe ratio has been inclining since the end of June. In fact, a few days back, it stood at its highest level this year. As such, this ratio measures the risk-adjusted returns. So basically, the higher the ratio, the better the performance of the portfolio.
Given the steep inclination of the curve over the past few weeks, it can be contended that HEX HODLers are being fetched with fairly high returns for the risk borne by them.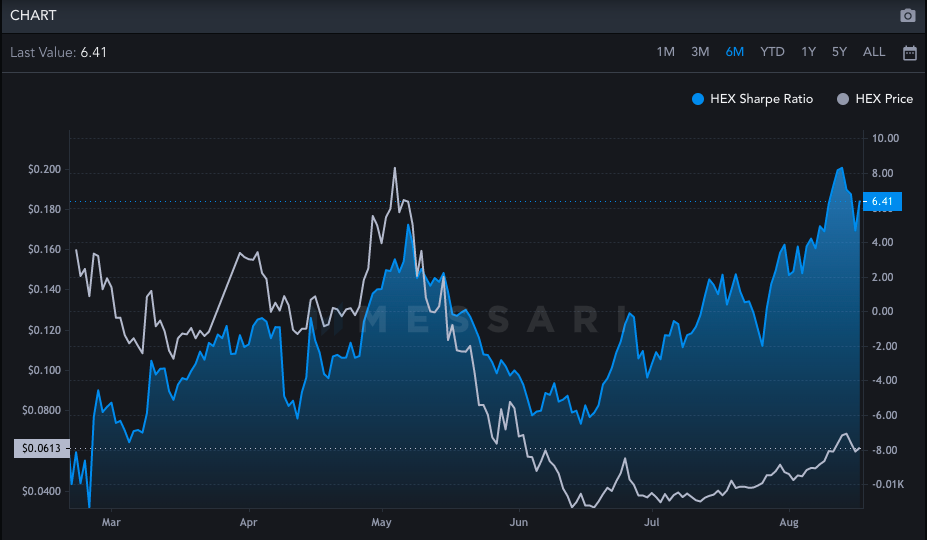 Alongside, it is worth noting that the whale interest with respect to HEX has also risen over the past week. Apart from analytics platform Santiment underlining the rise in whale transactions, HEX Whale Bot chalked out the rise in the individual HEX-related buy transactions that have taken place on DEXes like Uniswap. Keeping in mind the same, it can be contended that large participants are currently on their accumulation spree at the moment.
Parallelly, HEX-related staking interest has also been re-ignited. Half an hour back, for instance, a particular participant staked over 50 million HEX tokens. In fact, there have been several such staking transactions that have taken place over the past week.
Given the rising whale interest, refining social sentiment, and inclining Sharpe ratio, HEX's price can be expected to climb over the next few days. However, going forward if the sentiment flips to negative, and whales start dumping their tokens, participants should brace themselves for a trend reversal.