On July 26, the Saudi Central Bank [SAMA] and the Hong Kong Monetary Authority [HKMA] conducted a bilateral meeting to enhance the integration of financial services between the two nations. Now, Hong Kong will be broadening its financial cooperation with the Kingdom of Saudi Arabia.
In a meeting held in Riyadh, Saudi Arabia, and Hong Kong explored opportunities for collaboration in various areas. This encompassed financial infrastructure development, open market operations, market connectivity, as well as sustainable development.
The central banks also formalized their collaboration by signing a memorandum of understanding [MoU]. This aimed at fostering joint discussions on financial innovation. The MoU was signed by Ayman Alsayari, the Governor of SAMA, and Eddie Yue, the Chief Executive of the Hong Kong central bank. The two authorities signed the MoU to enable the exchange of expertise and knowledge in matters concerning regulatory issues, laws and policies, and practices in the realm of financial innovation. Eddie Yue further said,
"The MoU, in particular, will further enhance mutual cooperation as well as exchange of information and expertise between the SAMA and the HKMA in financial innovation and Fintech. We look forward to working with the SAMA to promote investment and financial market connectivity between the Middle East and Asia."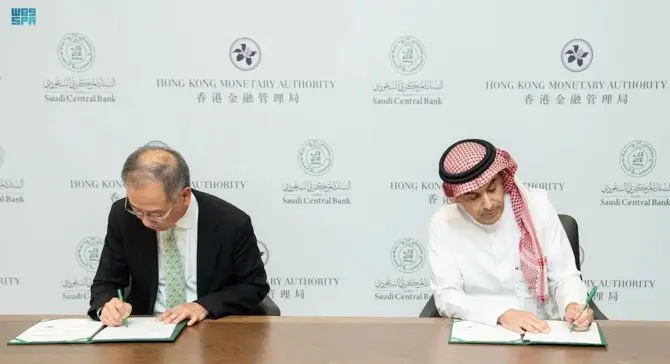 Additionally, Yue highlighted the substantial potential for collaboration between the Kingdom of Saudi Arabia and Hong Kong in various areas.
Alsayari touted Hong Kong and HKMA as important allies for the SAMA. He emphasized that the MoU will only foster the ongoing development of the relationship between Hong Kong and Saudi Arabia. The governor also suggested that this would also pave the way for future advancements.
Also Read: Hong Kong Encouraged to Enter Stablecoin Realm With HKDG
Will Hong Kong and Saudi Arabia look into crypto-related developments?
The recent announcement primarily centers around enhancing the financial sector, with no mentions of digital assets. However, it is worth noting that the latest development follows HKMA's partnership with the UAE central bank on May 30. This was aimed to enhance the financial service sectors, along with virtual asset regulations and advancements.
While Hong Kong has just started to embrace cryptocurrencies, Saudi Arabia has not shown the same level of enthusiasm. The government of Saudi Arabia has not provided clear indications of its inclination toward cryptocurrencies in recent years. In fact, in 2019, the country issued a warning that Bitcoin is not recognized by legal entities in the nation.
Also Read: Hong Kong Establishes Task Force to Drive Web3 Innovation