Although 2021 saw a meteoric rise in the use and popularity of cryptocurrencies, Bitcoin and Ethereum are seemingly slowing down as we enter the new year. However, the blockchain developer count is one metric that continues to show healthy growth. The crypto developer ecosystem has hit all-time highs in various parameters, including monthly active developers and the biggest number of new developers in a calendar year, according to research issued by investment company Electric Capital.
Which chains stood out in 2021?
To compile the 2021 Electric Capital Developer Report, the team at Electric Capital fingerprinted almost 500K code repositories and 160 million code contributions across Web3. As per the report, the number of Web3 developers is at an all-time high, and it's expanding at a quicker rate than ever before.
A key takeaway from the report is the fact that many emerging ecosystems seem to outperform Ethereum and Bitcoin at a similar point in their history. Polkadot, Solana, NEAR, BSC, Avalanche, and Terra are all expanding quicker than Ethereum did when it was at the same point in its past. This may be attributed to the fact that the incredible bull run of 2021 helped these newer ecosystems grow at an unprecedented rate.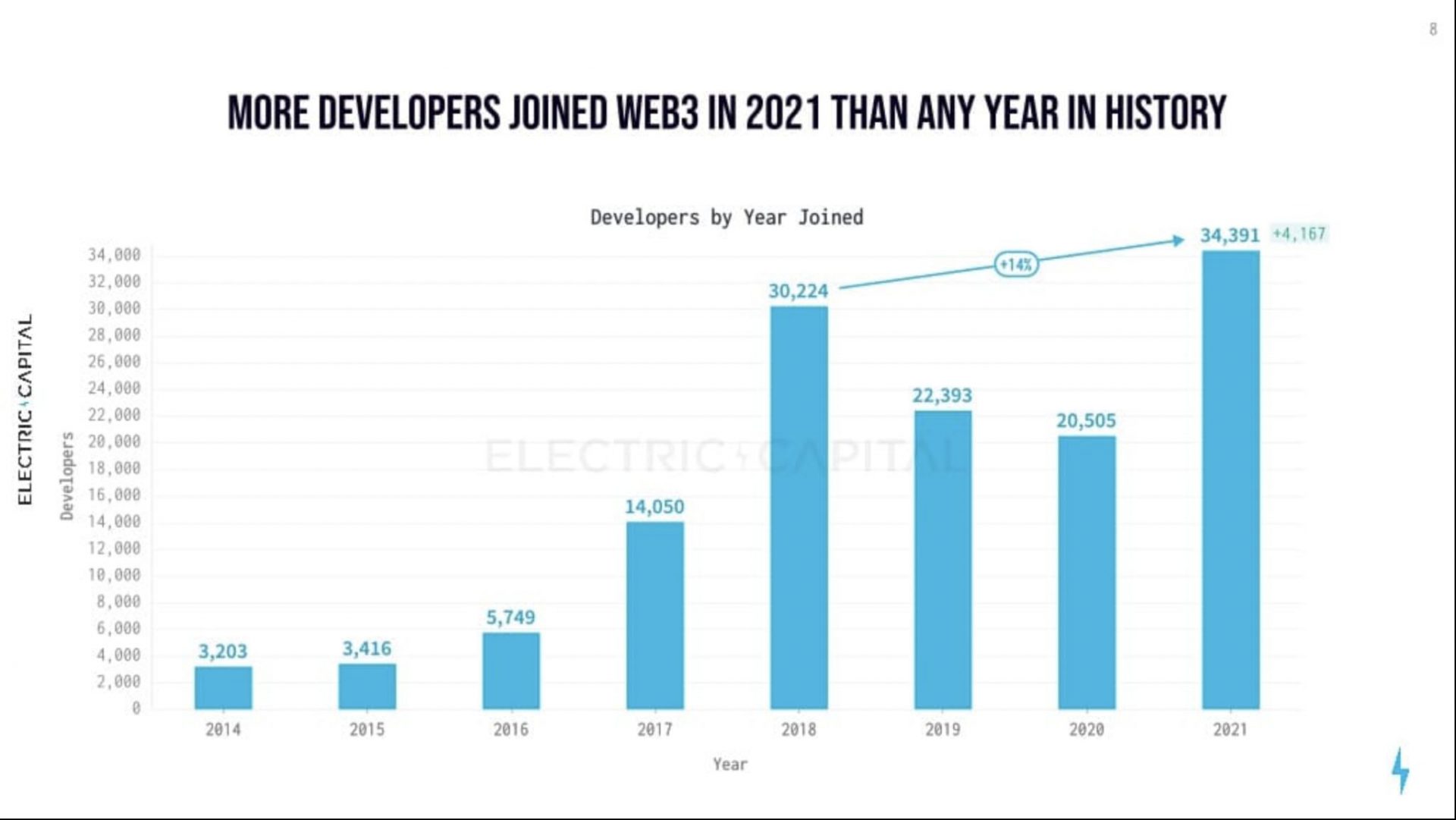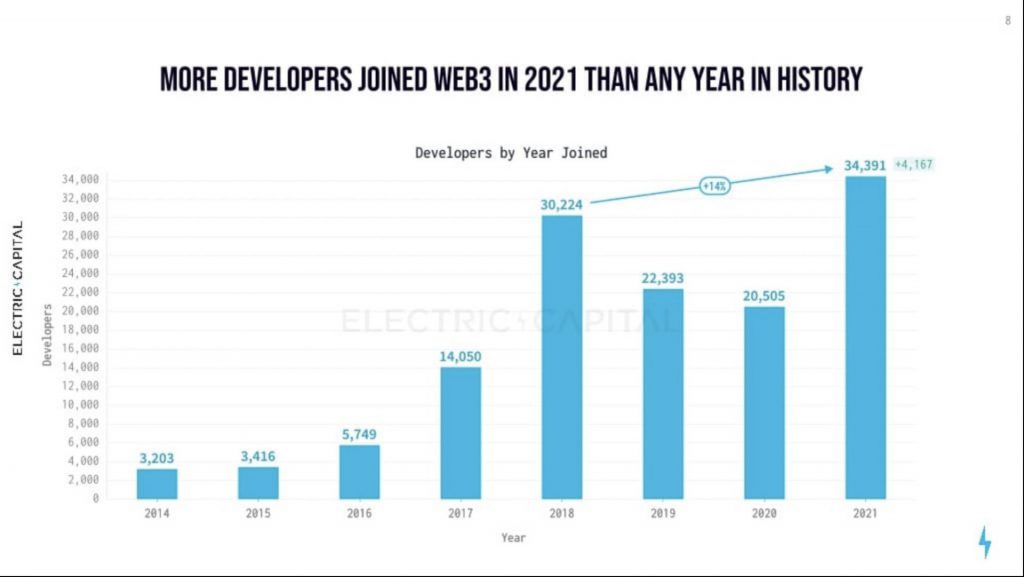 Solana expanded 4.9x+ in 2021 when comparing average monthly active developers between December 2020 and December 2021. With 4x+ growth, NEAR is currently the 6th biggest ecosystem in 2021. The number of monthly developers on Polygon increased by more than twofold, with Cardano up 90%, BSC up 80%, Cosmos up 70%, and Bitcoin over 10%.
How did Ethereum and Bitcoin fare?
Over the course of 2021, the number of developers on Ethereum and Bitcoin continued to increase by 42% and 9%, respectively. 30% of all full-time developers who joined after 2017 are still working with Ethereum, and its ecosystem continues to have the most tools, applications, and protocols. Ethereum is used by one out of every five new Web3 developers.
Bitcoin, on the other hand, had 100+ new developers join the Bitcoin ecosystem every month, with an average of 600+ monthly active developers in December 2021.
With 4,000 monthly active developers, Ethereum still easily leads all blockchains, but the advent of non-Ethereum layer 1's is a promising aspect of what the future might hold.
What about NFT's, DAO's and Gaming?
The data regarding NFT's, DAO's, and gaming was not extensively explored because aggregate developer metrics alone may be deceptive and not be the relevant leading signal to examine. A small number of developers may create reusable components in these marketplaces, and the quantity of smart contract code created will be tiny in comparison to community interaction.
What does mean for the future?
The report makes a note that the number of developers increased when prices rose and stayed steady while on a bearish run, which is a sight of confidence. According to Electric Partner Avichal Garg, it's a strong reflection of the industry's overall health and development. Despite the fact that big tech giants like Jack Dorsey and Elon Musk have been skeptical about Web3, the data seems to say otherwise. Throughout the year, more than 34,000 new developers worked on an open-source Web3 project, the biggest number of new developers ever, and 65% of all developers working in Web 3 joined the ecosystem in 2021.
Although Web3 developers have grown at an unprecedented rate, they still make up a tiny but quickly growing percentage of all software engineers worldwide. The Web3 era is still in its infancy.