The Chainlink [LINK] network appears to be breaking away from the broader cryptocurrency market, showing signs of independent growth. During September, this asset witnessed a noteworthy 20% increase in its value. Currently, LINK is trading at $7.26, having experienced a 1.4% daily gain. It's worth highlighting that the past two weeks have been particularly significant for this asset, as it climbed from a low of $6.53 to reach a peak of $7.30. But what triggered this rally?
Numerous factors have contributed to the recent uptrend in this asset. Santiment observed that the level of LINK available on exchanges has been a significant factor. According to the on-chain analytics company, whenever LINK is transferred to exchanges, it has historically triggered positive price movements. Earlier this month, LINK's supply on exchanges reached a peak for 2023, hitting 17.2%. Furthermore, this supply has now decreased to 16.4%, a development that is generally seen as favorable for any asset.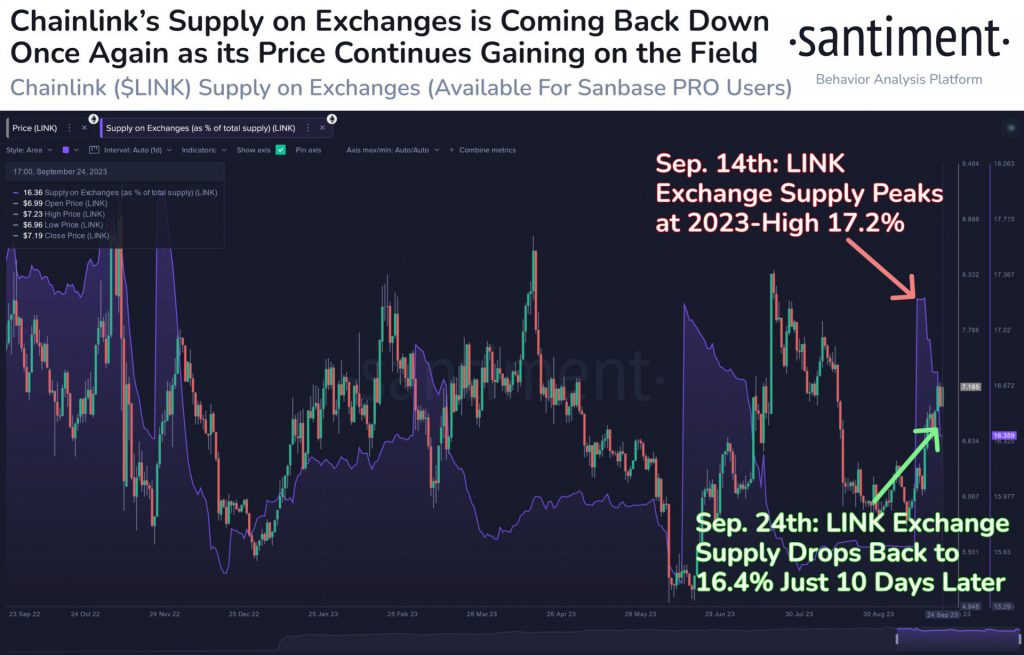 Furthermore, there has been an increase in the count of new addresses within the Chainlink ecosystem. Recently, a report from Lookonchain drew attention to a significant upturn in the creation of new Chainlink addresses. The data revealed that at the present moment, the number of newly established addresses has reached 81.
These addresses have withdrawn a total of over 4.7 million LINK tokens from the crypto exchange Binance. It amounts to a value exceeding $31.5 million. Additionally, when considering the daily tally of unique addresses engaged in activity on the Chainlink network as either senders or receivers, there has also been a notable upswing, with a 41% rise over the past two weeks.
Is LINK Moving Towards Becoming a Risk-Free Asset?
In tandem with this upswing, the Sharpe Ratio of LINK has experienced an increase. The Sharpe ratio is a widely recognized metric for assessing the risk-adjusted returns of an investment or portfolio. Ratios above 1 are typically regarded as favorable, indicating that the investment provides additional returns compared to its volatility. Currently, LINK's Sharpe Ratio stands at 4.41, reflecting a remarkable 124% surge over the past week. Notably, the asset concluded in August with a ratio of -6.57.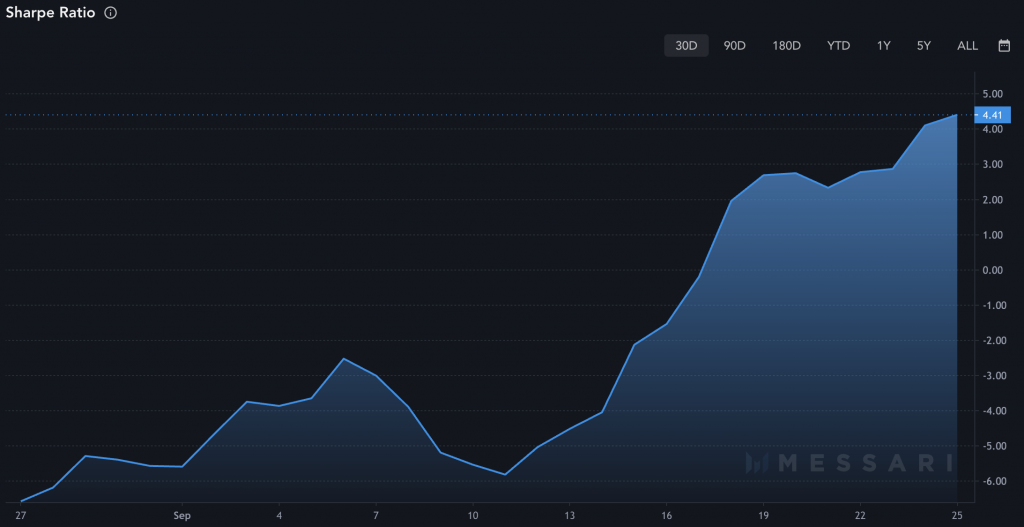 Also Read: 7 Chainlink Integrations Take Place on Ethereum, Base, Polygon
Chainlink's Stealthy Adjustment to Multisig Security
Chainlink has lowered the mandatory number of signatures on the multi-sig wallet from 4 out of 9 to 4 out of 8. This modification establishes a standard security protocol where four out of eight signatures are needed to authorize transactions from the protocol wallet. The community flooded the network with criticism as it discreetly implemented adjustments to its protocol.
Furthermore, a well-known cryptocurrency proponent, Chris Blec, took this up on X. He noted that this multisig has the capability to alter any Chainlink price feed in order to manipulate prices as desired, rendering it entirely centralized. However, the network confirmed that this was part of a periodic signer rotation process.
Also Read: Chainlink, Swift Successfully Transfer Tokenized Value