What is Floki Inu (FLOKI)?
Floki Inu is a dog-themed cryptocurrency owned by the public. The cryptocurrency was born in early 2021, but it became famous after Elon Musk tweeted that his Shiba Inu dog would be named Floki Inu. Currently, this digital currency is trading at $0.00000316 with over 85,000 holders and has a market cap of $474,986,268. Floki Inu developers bridged it with the Blockchain of Binance Smart Chain and Ethereum. This bridging makes the Floki very stable, and liquid gives. It also offers Floki holders access to the BSC and ETH community and blockchain. 
The Floki project is hoping to make the Floki Inu coin capable of making in-store purchases.
Here's how to get Floki inu on Metamask.
What is Metamask
MetaMask is a software wallet that allows crypto holders to interact with Ethereum Blockchain and store Ether and ERC-20 tokens. ERC-20 includes the Floki Inu. . You can use MetaMask as a browser extension or a mobile application. 
Getting Floki Inu on Metamask
You will need to install the MetaMask wallet. To install MetaMask
Go to the Metamask website.

Click on "Get Chrome Extension," and Metamask will install as an extension.

Click on "Add to Chrome" then "Add Extension."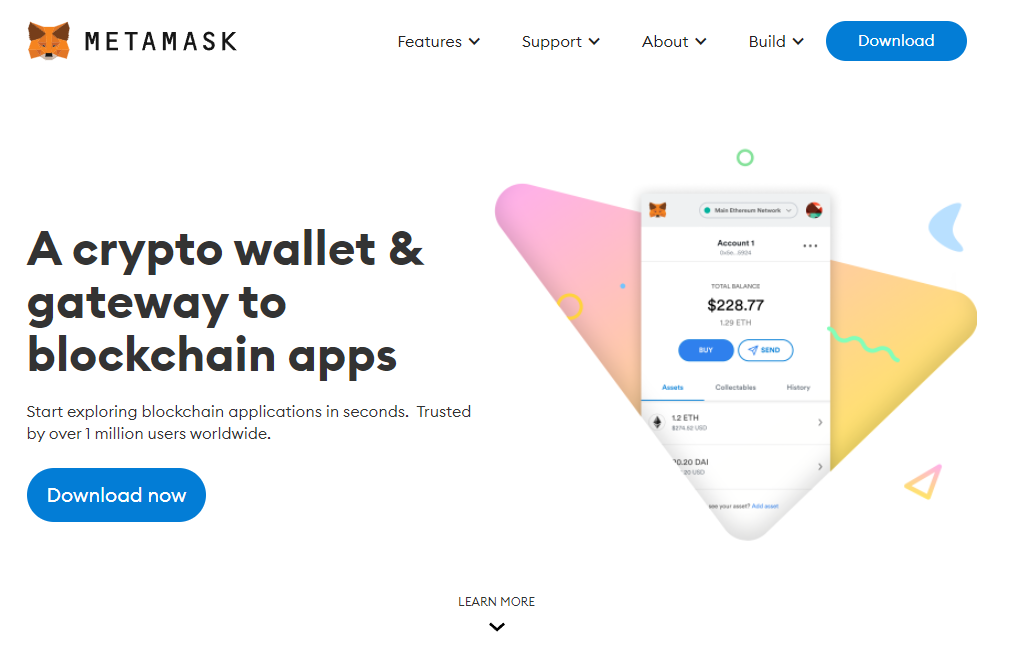 Once the Metamask has been installed, you will see a fox logo on the top right of your browser.
Activating your Metamask Wallet
After you have installed MetaMask in your browser, you will need to install a wallet that will hold your cryptocurrencies. Below are the instructions to do that:
Click on the Metamask logo (the fox) in your Google Chrome browser's top right corner.

Read and accept the terms and conditions.

A create password prompt will appear when you accept the terms and conditions.

Enter a password, then click "Create" and you will have created your Crypto wallet.

Your seed phrases will appear. This is a series of characters that will give you access to the crypto in your wallet. Think of this as a master password to your crypto. The seed phrase will always give you access to your crypto even if you lose or delete your wallet.

Buying Ether and BNB to Swap With Floki Inu
After you have your wallet, you can purchase Floki on either Uniswap or Pancake swap. These are platforms on which you can exchange one crypto with another, i.e. Ether with Floki. This means you will have to purchase Ether or BNB before moving to the next step. Luckily, you can buy Ether and BNB from MetaMask. You can get them from a crypto exchange platform like Coinbase and Binance.
When using a crypto exchange platform, you will buy BNB and Ether from the exchange to your MetaMask wallet. You will require your wallet address for this transaction. Your wallet address is always at the top of your wallet homepage.
Getting Floki on Uniswap
Go to the Uniswap
Click on "Connect Wallet."
Click on the "Metamask tab" and put your password
Allow Uniswap to connect to your wallet the put the amount of Ether you want to swap for the Floki
Getting Floki on PancakeSwap
Go to the PancakeSwap. 
Click on "Connect Wallet."
Click the "Metamask tab" the put your password
Allow PancakeSwap to connect to your MetaTask wallet and you can purchase Floki using BNB.
Is Floki Inu (FLOKI) a Good Investment?
Currently, Floki Inu prices have been moving due to the tweets of crypto whales like Elon Musk and the support of the Floki community is giving the token in the social media platform. Otherwise, Floki coin has not matured enough in the crypto platform to give conclusive investment data. 
However, the coin is bridged with Ethereum and Binance Smart Chain Blockchains, making it very stable and liquid. Its prices might be rising stably in the future.