The Shiba Inu [SHIB] ecosystem finally welcomed the network's collectible card game, Shiba Eternity. After limiting its availability to Vietnam and Australia, the game was made available to the entire globe earlier today. The Shiba Inu Army has been celebrating this launch and making the best of the 'Download Day.'
The lead developer of the Shiba Inu network, Shytoshi Kusama took to Twitter and announced the launch of the game.
The network decided to come up with the concept of 'Download Day' in order to spruce up the download rate of the game. Developers intended to create fervor around the game even before its launch. Speaking about the same, Shytoshi had previously stated,
"We're planning a Download Day and will ask everyone to download the game. Even if they never spend a dime. Then we can really start making moves."
In addition to this, with Shiba Eternity, Shytoshi revealed that both the download day as well as the game would elevate the ecosystem. The developer claimed that the community could propel the game to the top of the app stores by just downloading it. In turn, the game would be able to generate income from players who are not part of the Shiba Inu community.
So how many downloads would push Shiba Eternity to the top?
A recent report noted that it isn't as easy as it used to be to get an app to the top of Apple's App Store. To attain the No.1 position in the US on the App Store an app requires about 156,000 downloads on a certain day. This is a 37 percent surge since 2019 as back then only 114,000 daily downloads were needed.
However, the number of downloads alone does not push the app to the top. Other factors are also taken into consideration in Apple's ranking algorithm. Nevertheless, the number of downloads certainly plays a vital role.
It is estimated that in order to rank No. 1 on the App Store, applications must have a median of 156,000 daily installations this year, whereas Android apps only need 56,000 installs right now. Therefore, the likelihood of Shiba Eternity ranking on Google Play was higher.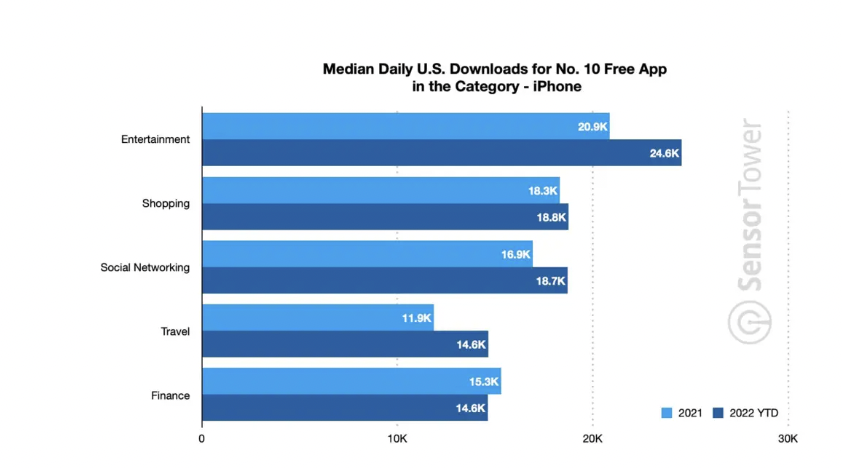 Since Shiba Inu's Shiba Eternity falls under the "entertainment" category, the competition surrounding the ranking would certainly be high.