Thanks to Elon Musk's Twitter takeover deal, Dogecoin has more than doubled in value over the past week. The rising tide has managed to lift most other coins in the same boat. Dogelon Mars rallied by roughly 70% in the same timeframe, while Baby Doge Coin appreciated by around 15%. The tale was no different for Shiba Inu.
The thirteenth largest crypto has inclined by more than 22% in the past seven days. The $6.75 billion market capped asset was trading at $0.0000123 at press time.

Also Read – Shiba Inu: SHIB team provides update on the upcoming metaverse
Per data from ITB, around 30% of SHIB HODLers are "in the money" or making money at the current price. The other 64% are still underwater, while remaining 6% are in a no-loss, no-profit [break even] position.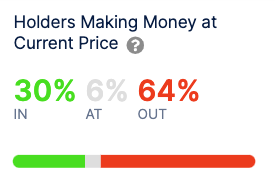 The numbers were somewhat the other way round for Dogecoin. As reported a day back, 62% of the DOGE holders were in profit from where they initially purchased the token. On the other hand, 35% of them were in loss, while the remaining 3% were "at the money."
Also Read: Sixty-two Percent of Dogecoin Holders in Profit as Price Soars
Shiba Inu HODLers rise by ~50%
Alongside the price rise, it is interesting to note that the number of Shiba Inu HODLers [participants HODLing the token for a period of more than one year] have risen by 49.1% over the past 30 days.
In the same time frame, the number of mid term and short term participants [cruisers and traders] have dropped by 19.9% and 2.4%. The afore-highlighted change marks the gradual elimination of weak hands from the Shiba Inu ecosystem, making the landscape favorable for an organic rally going ahead.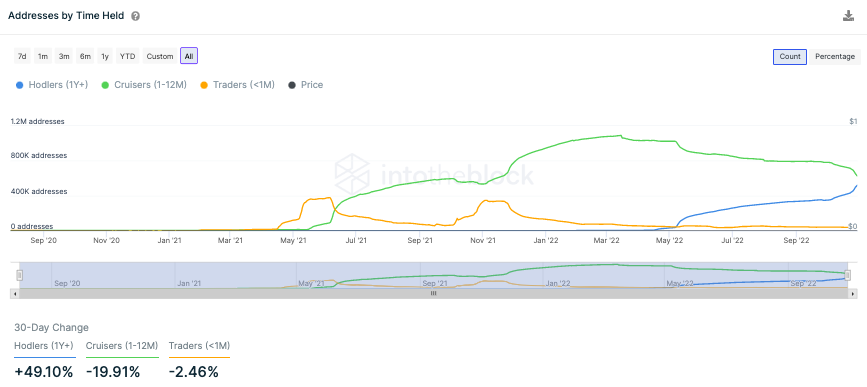 Also Read – Shiba Inu: Shibarium is Coming, Confirms Shytoshi Kusama