VeChain (VET) was founded in 2015 and is one of the world's first blockchain technology companies. It is a software and a cryptocurrency that runs on the VeChainThor blockchain. VE supports two distinct cryptocurrencies and smart contracts.
VeChain is incredibly beneficial for logistical issues and monitoring, which could pique the attention of companies in shipping, retail, among others. Also, it is essential to note that Supply chain and logistic issues are what this cryptocurrency network major in.
How Do You Purchase VeChain in Binance?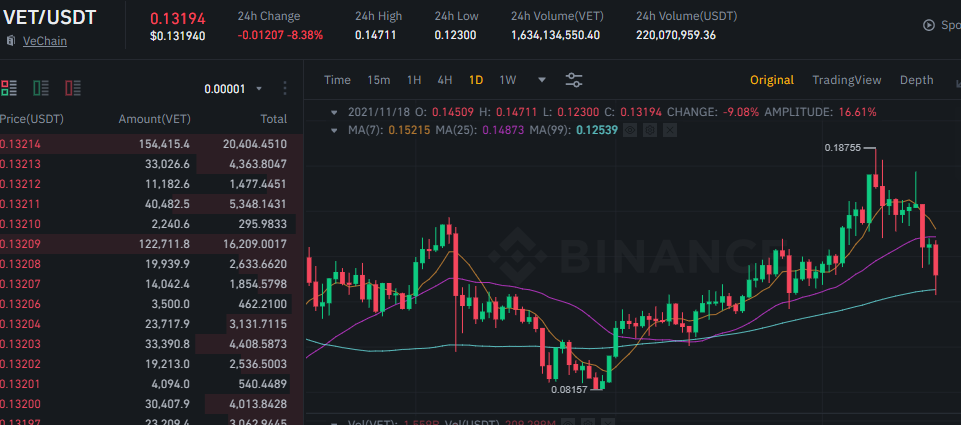 Firstly, it is crucial to note that finding an exchange platform that can handle both fiat and cryptocurrency to ease the purchasing of Vechain. On that accord, Binance happens to have this capacity and is among the best platforms to purchase from. Binance is among the cheapest crypto exchanges and has a substantial fluidity for Altcoins, and has an array of crypto sets.
1. Sign Up For a Binance Account And Verify it
Tether (USDT), Ethereum (ETH), Bitcoin (BTC), and Binance Coin (BNB), Binance's digital asset, can all be exchanged for VET. Create an account on the Binance cryptocurrency exchange if you haven't already. Go ahead and start the process; it usually takes only a few minutes. Users can begin trading digital currencies on the platform by following a few simple steps.
In addition, if the goal is to have higher limits, the process will need to be verified and may take longer to complete.
Furthermore, you'll need to submit some credentials to verify your account. This is through the KYC (Know Your Customer) procedure before having the liberty to use your account. To keep your account safe, set up 2-factor authentication and other security measures.
2. Make a deposit into your account and Await Authentification
This deposit can be made through Bitcoin, Ethereum, Binance Coin(It will assist you in saving 20% for your transaction charges), or Tether. To get started, You will have to fund your Binance wallet. Select 'Funds' from the menu at the top of the page, then click 'Deposits.' If you do not own any of these coins, you could visit either CoinSwitch or Changelly. These are the sites that would permit you to buy them using either credit or debit cards.
With the above in mind, choose the coin you want to trade-in from the dropdown menu. After that, transfer it to the wallet address provided for you. Kindly ensure that you only send the currency that has been specified to avoid losses.
Besides, Binance will notify you within an instant once the deposit is successfully transacted.
3. Find a Crypto Pair and Select the Amount VET to Purchase
At this stage, click on 'Exchange' in the navigation panel, then select 'Basic,' followed by the coin you would wish to trade with, for instance, BNB, and then look for VET. In the end, choose the excellent set.
Put how many VET you want to buy and the price you want to pay in the 'Buy' box below the price graph. You can also choose 'Market' to buy at the current price.
4. Transfer Your Funds to a Safe VeChain Wallet
You can withdraw your tokens from Binance once you have a wallet fully prepared. Choose 'Funds' from the top menu, then 'Withdrawals' from the dropdown menu, and then VET from the dropdown menu. Users can handle their digital assets with standard security on exchanges.