It's been an extremely uncertain week for Bitcoin. After dropping ~11.5% during the 3rd week of August, BTC's current weekly rally stood at -0.42%. With markets remaining extremely choppy, today might be another pivotal episode, which may inflict a bit of volatility for Bitcoin and the rest of the financial market.
Jerome Powell's Jackson Hole speech: What to expect?
Federal Reserve Chairman Jerome Powell is set to give his Jackson Hole speech in a few hours at the annual economic policy conference in Wyoming. The current anticipation is that Powell will continue to lay out his plan to fight inflation; which involves aggressive rising interest rates. The outlook is expected to remain hawkish as the threat of inflation continues to hover over the market.
U.S stock investors managed to register a high as the markets embraced a bit of risk, but now the collective mindset was to sit out the event. Neel Kashkari, Federal Reserve Bank of Minneapolis President, suggested that it was necessary for the U.S central bank to tighten monetary policy, and inflation consolidates near 8-9%. He said,
"So with inflation this high for me, I'm in the mode of wanting to err on making sure we're getting inflation down and only relax when we see compelling evidence that inflation is well on its way back down to 2%."
Bitcoin Investors: Here's What to expect
These events are never easy for Bitcoin since it remains one of the most volatile asset classes. At press time, Bitcoin's plight was already weakening.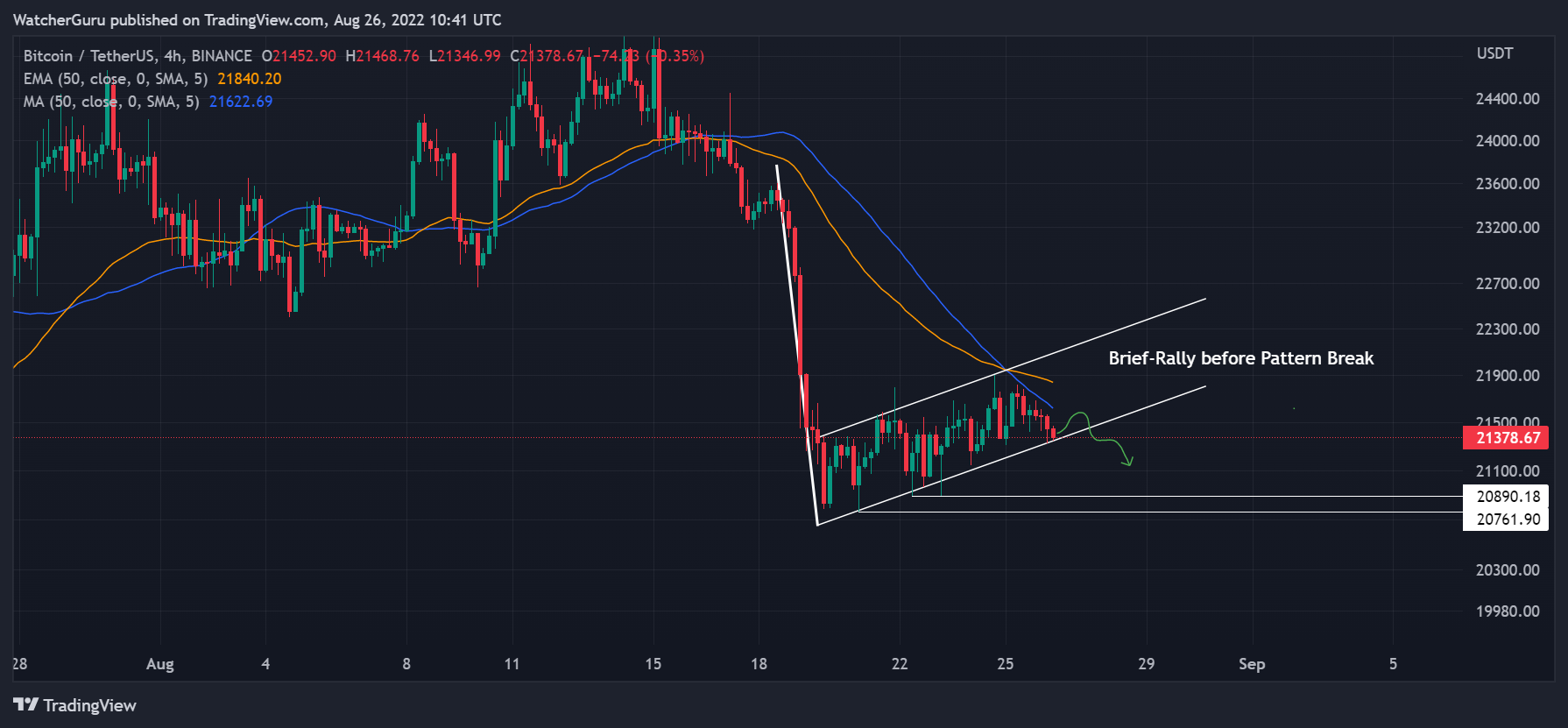 As observed in the chart, Bitcoin is currently dwelling at the bottom trendline of a bearish flag. The likelihood of a pattern break is extremely high, and Powell's speech may accelerate the correction. However, previously BTC registered a relief rally before going down in past interest rate updates. Keeping that in mind, the digital asset might record a quick recovery to $21,500-$21,600 before dropping and swiping Equity lows at $20,890 and $20,760.
The week is set to continue on a volatile end for Bitcoin as the market braces for another hawkish perspective.