Crypto traders in India were left in a dilemma following the Union Budget 2022-23. While some celebrated the fact that the government was recognizing crypto, a few others expressed angst over the 30% tax on the industry. Despite all the efforts by the government, cryptocurrencies seemed to be going nowhere in the country.
In what is considered the highest tax band in the country investors could soon be steering away from the Indian crypto market. However, Indian crypto traders wanted in on all the crypto fun. Accordingly, a petition urging the government to reduce the crypto tax began surfacing. The petition started right after the budget, last week amassed close to 75k signatures.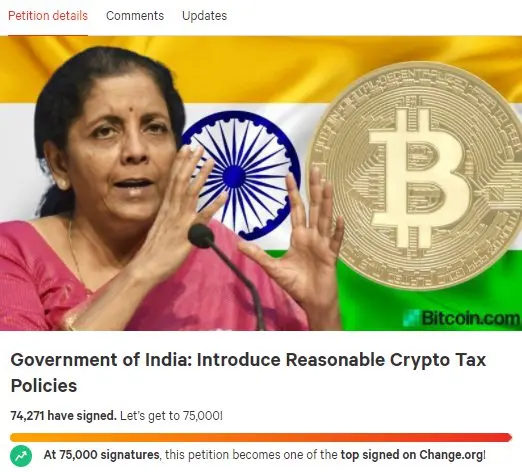 Several crypto enthusiasts from the country spoke up and revealed that they were ready to pay tax. All that they were yearning for was a reasonable percentage. Finance Minister Nirmala Sitharaman seemed to be untethered as she suggested that it was the government's sovereign right to regulate crypto.
Did India just take a 360 degree turn on the legality of crypto?
Crypto traders in India were yearning to be a part of the digital revolution. However, the government wasn't sure if it wanted to join.

The crypto scene in India has always been quite uncertain. Even though the government didn't officially legalize the market, the inclusion of crypto during the latest budget brought some hope to the community. But, Finance Minister Nirmala Sitharaman went ahead and popped this bubble.

On Friday, the Finance Minister proposed that taxing crypto did not mean that they were legal in the country. She said,
"Banning or not banning cryptocurrencies will come subsequently after consultations. Not doing anything to legalize or ban cryptocurrencies."
Yet again, Indian crypto enthusiasts were puddled with uncertainty.
Additionally, the Reserve Bank of India's [RBI] hostility towards crypto seemed to have persisted. Following the budget, the Indian central bank's governor, Shaktikanta Das blatantly implied that cryptocurrencies were worthless.
Not only did he suggest that cryptocurrencies were a threat to India's macroeconomic stability, but it was also a bubble that was going to burst very soon.
While the 30% tax has already got people second-guessing their investments in crypto, the latest comments by prominent financial personalities of India could dement the overall growth of the market in the country.