The state of the broader crypto market has deteriorated over the past day. With Bitcoin and Ethereum trading below $19k and $1.3k at press time, the cumulative valuation of the crypto market stood at merely $915 billion.
The market, as a whole, has been moving in the same direction as Bitcoin. In fact, as highlighted in a recent article, Bitcoin dominance has been holding fast to its 2018 support of late.
Read More: Bitcoin dominance at 2018 support level: Recovery finally?
Is Altcoin Season anytime soon?
At the moment, the Altcoin Season Index reading has been hovering mid-way, at 57. Conventionally, it is called a Bitcoin season when the reading drops below 25. On the other hand, if it climbs above 75, an Altcoin season is said to be in play.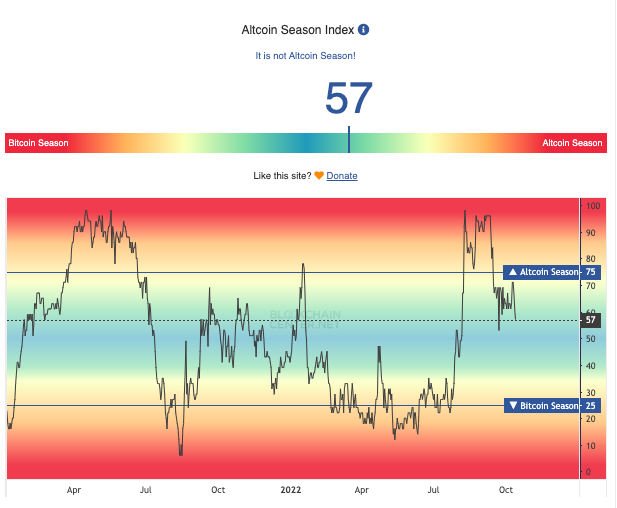 An Altcoin season usually transpires when 75% of the top 50 coins perform better than Bitcoin over the past 90 days. For them to perform better, the buying interest should be on the rise.
Of late, however, that's missing from the market. CoinShares' latest weekly report brought to light the malnourished interest of institutional investors w.r.t. top Altcoins. As illustrated below, Binance's native BNB token registered outflows worth $0.5 million last week.
Solana and XRP were also a part of the same boat and noted negative flows summing up to $0.2 million and $0.1 million respectively. In fact, institutions let go of their Ethereum also, for the weekly flows of the largest Altcoin stood at -2.2 million. With respect to Bitcoin, however, the trend was completely the opposite. Institutions collectively piled up BTC worth $11.7 million last week.
Clearly, institutions have washed their hands of Altcoins of late. And if the said trend persists, we might not get an Altseason anytime soon.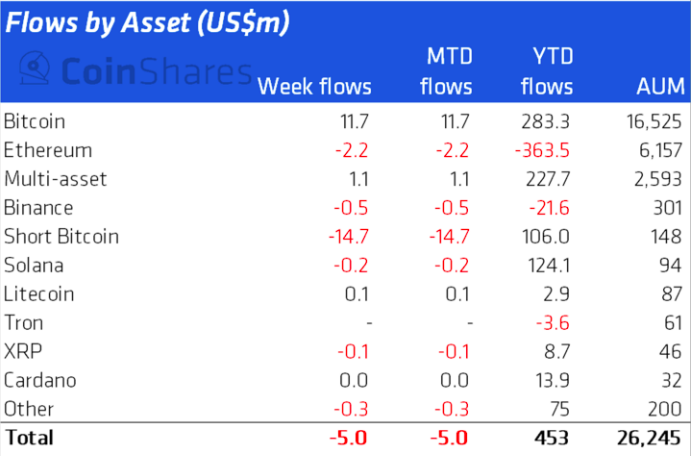 Also Read: Bitcoin Bollinger Bands indicate Imminent Rise in Volatility: Here's Why