HEX cryptocurrency has a history of doubling in price every 48 days since its inception. The coin was launched on December 2, 2019 and shot up more than +10,000% in less than two years.
Early investors of HEX enjoyed fistful of dollars and the returns on investment (ROI) was nothing like we've seen before. Crypto influencer Matt, who runs the 'CryptoHeartBeat' explained in his video that investing in HEX is like winning a lottery in slow motion.
Matt, took people down memory lane on how common people were financially devastated by the people who hold power. Later explained that the financial paradigm is shifting through cryptocurrencies and people are getting to know financial freedom.
HEX Has Doubled 13 Times Since Inception
Investors who took early entry position in HEX saw their returns doubling every 48 days and has occurred 13 times. The coin has reached new all time highs (ATH) in less than two months.
The coin had breached the 1 Cent mark in February 2021, and touched 51 Cents in September. The coin's sharp rise added buying pressure which eventually propelled its price to shoot up. The coin enjoys high 'buy' orders and less 'sell' orders as investors are holding on to it for the long term.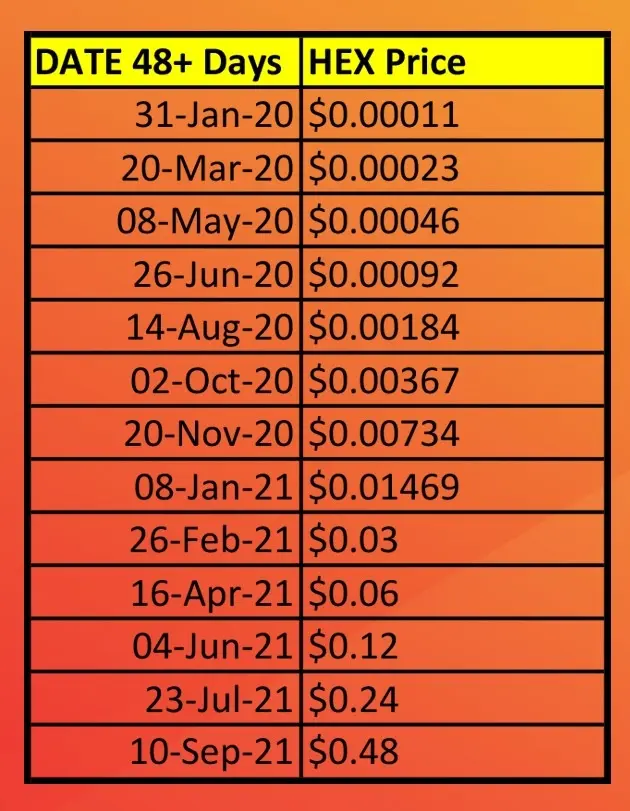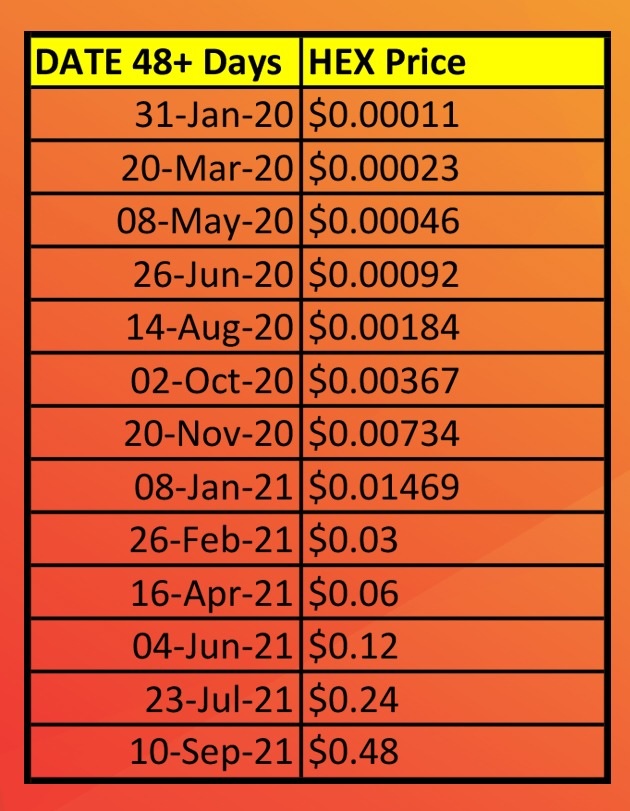 Matt in his video explained that investing in HEX is like winning a lottery but in slow motion. He also claimed that investors of the coin would soon be the new rich.
"Things like HEX is just an example of the mechanisms that are disconnected with the political power. All the people that are part of the HEX community are essentially winning the lottery in slow motion."
Matt further explains the coin's model and its ability to bring in better financial results to the masses. He spoke in length about the Consensus Revolution and how a "new generation of wealthy people will impact the world."
Unknown Yet Most Sought-After
HEX has not hit mainstream and is not being promoted by celebrities. Despite being relatively unknown in the crypto sphere, it has delivered results and doubled its price every 48 days.
It's founder Richard Heart regularly does live-streams, meet and greets, and educates people on why HEX is life changing. He also takes on stock market experts who look down upon the crypto market.
Richard Heart will launch a new coin called PulseChain and reports claim that it will begin trading during December, 2021. However, none of it is confirmed and we'll have to wait for an official announcement.
HEX at the time of publishing was trading at $0.30 and is down -5.6% in the 24-hours trade.