Bitcoin has gradually been decoupling from the broader equity market in the US. In the first half of August, the Nasdaq saw 5.77% gains, while Bitcoin underperformed and fetched its investors only 2.6%. Amid this nonperformance, BTC's correlation to risk assets has flattened and currently stands at yearly low levels of 0.5-0.6. Resultantly, a few from the community have started opining that we are likely witnessing a fundamental alteration in dynamics at this point. Per Arcane Research, however,
"The aforementioned softening correlation forces may not be sufficiently strong to lead to a structural shift in this trend."
One foot is down, but the other foot is up
A recent report from the International Monetary Fund revealed that crypto is currently in sync with Asia's equities. In the pre-pandemic era, the correlation between the performance of the region's equity markets and crypto assets like Bitcoin and Ethereum was almost negligible.
Since 2020, however, things have changed. Outlining the same, IMF noted,
"While the returns and volatility correlations between Bitcoin and Asian equity markets were low before the pandemic, these have increased significantly since 2020."
Even though the Asian market indices' correlation numbers are lower than that of the US, their growth over the last couple of years has been quite prominent.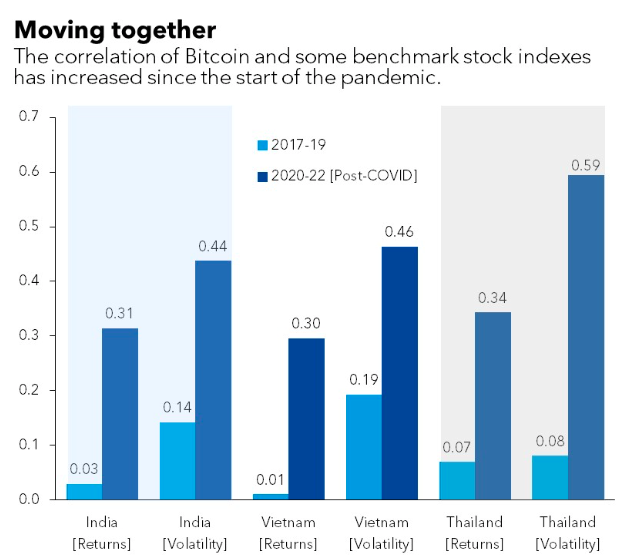 Chalking out the reasons for the rising dependency, the report noted,
"Key drivers of the increased interconnectedness of crypto and equity markets in Asia could include growing acceptance of crypto-related platforms and investment vehicles in the stock market and at the over-the-counter market, or more generally growing crypto adoption by retail and institutional investors in Asia, many of whom have positions in both the equity and crypto markets."
Who controls Bitcoin's price strings?
As highlighted in a recent article, most trade/investing activity for Bitcoin remains to be concentrated during European/US business hours. A noticeable downward change in the percentage of activity during Asia/Pacific hours has been noted alongside [orange to yellow].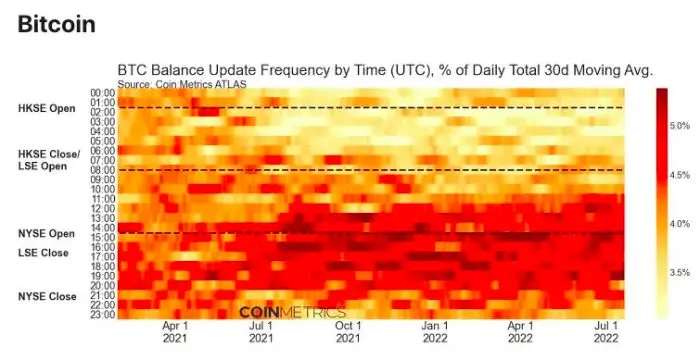 However, things are already changing. On Friday, for instance, Bitcoin and the entire crypto market dipped in value during the Asian trading hours, hinting that the market is becoming more receptive to Asian participants' trading actions. And with the correlation dynamics evolving, it looks like Bitcoin's volatility during Asian trade hours is set to incline alongside.
Read More – Bitcoin, Ethereum, Alts: Are US investors buying the Asian dump?