Dogecoin [DOGE] has been popular for several reasons. The meme coin emerged to popularity following GenZ's interest in the dog-themed coin. But, what really brought in traction into the Dogecoin network was Tesla CEO, Elon Musk's endorsements. As Musk continues to embrace Dogecoin, the community kept asking for a DOGE-Tesla crossover. Taking this into consideration, Tesla dropped hints about accepting DOGE for payments.
About a month ago, Musk announced that Dogecoin would be accepted for payments. He tweeted,
"Tesla will make some merch buyable with Doge & see how it goes."
While the firm did not release an official announcement, a Twitter user noted that Dogecoin was part of the Tesla payments page. This was even found in the source code and was confirmed by Twitter user @KBluezr. The tweet read,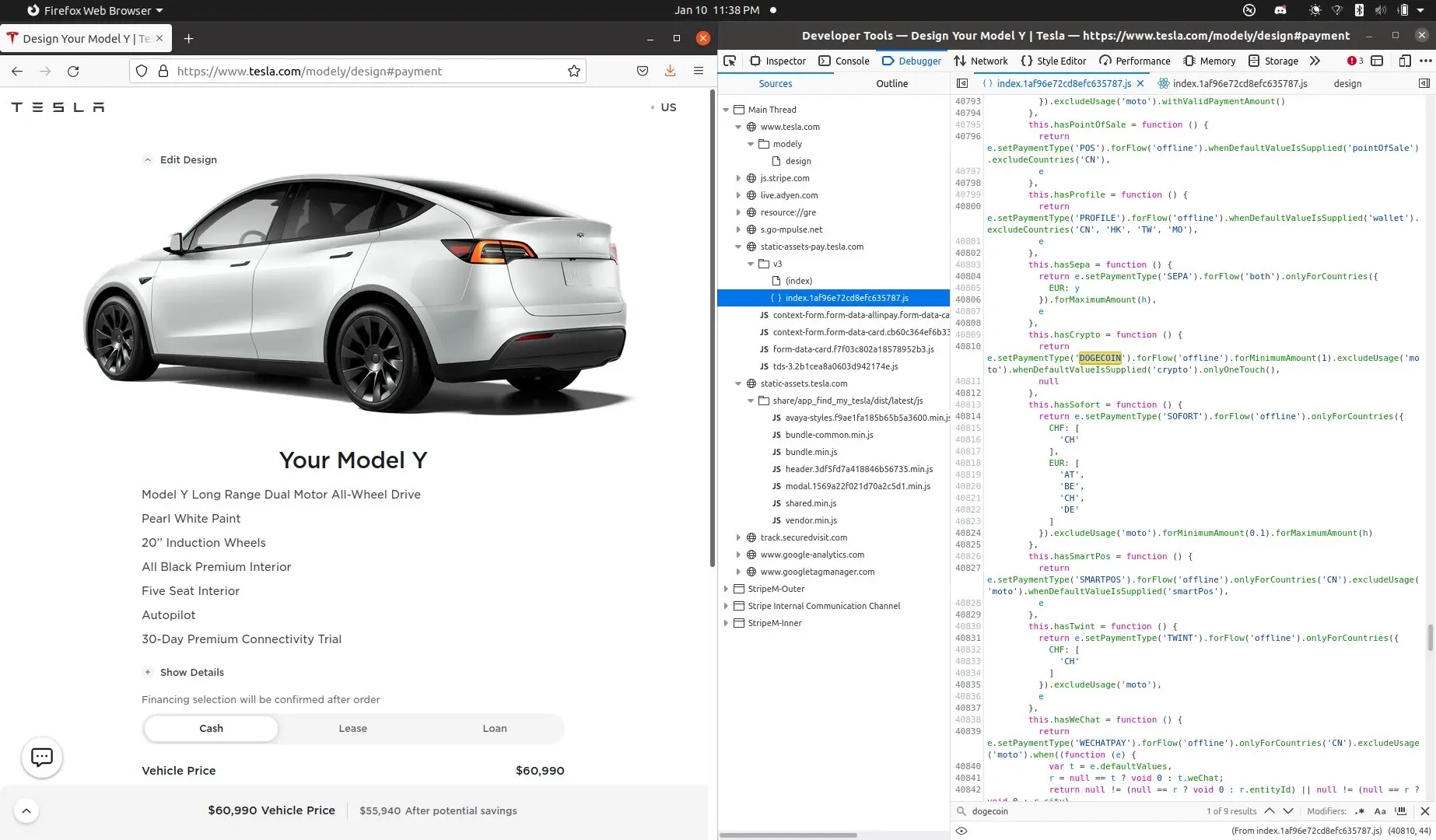 DOGE was noted among other payment modes like Apple Pay, direct debits as well as cards. Following this, the DogeArmy was ecstatic. However, they didn't get too excited. Here's why.
Dogecoin Army awaits confirmation from Tesla
Not too long ago, Tesla added SHIB to its payment code. Several suggested that Tesla was testing out Dogecoin payments under the code "SHIBA". This paved the way to increased confusion.
Users' efforts were heckled while they tried to pay with Shiba. The entire community assumed that Shiba Inu was supported by Tesla, only to further learn that it was DOGE masked under the "SHIBA" code.
This code wasn't a part of Tesla for too long. Therefore, the DogeArmy was awaiting official confirmation from the firm.
While almost all the coins in the crypto market were bagging gains, Dogecoin was the only asset that was in a slump. DOGE was drowning in the red sea while its counterpart, Shiba Inu continued to snag profits. During the time of writing, the meme coin was trading for $0.1552 with a nearly 4% drop over the last 24-hours.
A possible confirmation of accepting DOGE from Tesla could certainly push the meme coin to the top.