Elon Musk changing Twitter's logo to Dogecoin's (DOGE) symbol caused an explosive price rise. DOGE made gains of up to 33%, decoupling from other cryptocurrencies. However, the inorganic pump has begun to cool off. DOGE is currently down 5.4% in the last 24 hours. However, is there any more room for further price increases?
According to a report by Santiment, there were plenty of signs that the local top was reached, and big players were moving out. The crypto analysis firm pointed to three metrics that spiked together, signaling DOGE's decoupling. First is the trading volume and transaction volume, which was the highest since last November. The second is the active addresses & circulation, and the third is whale transactions ($100k+).
All these three metrics reached their highest levels in nearly 5 months. As Dogecoin (DOGE) decoupled from the other crypto assets, the signs were clear that a local top would form.
Can Dogecoin prices increase any further?
According to Santiment, altcoins enter the "danger zone" when the 30-day MVRV goes above 20%. However, for DOGE this metric is only at 11%. Therefore, there could still be some wiggle room for a potential price increase.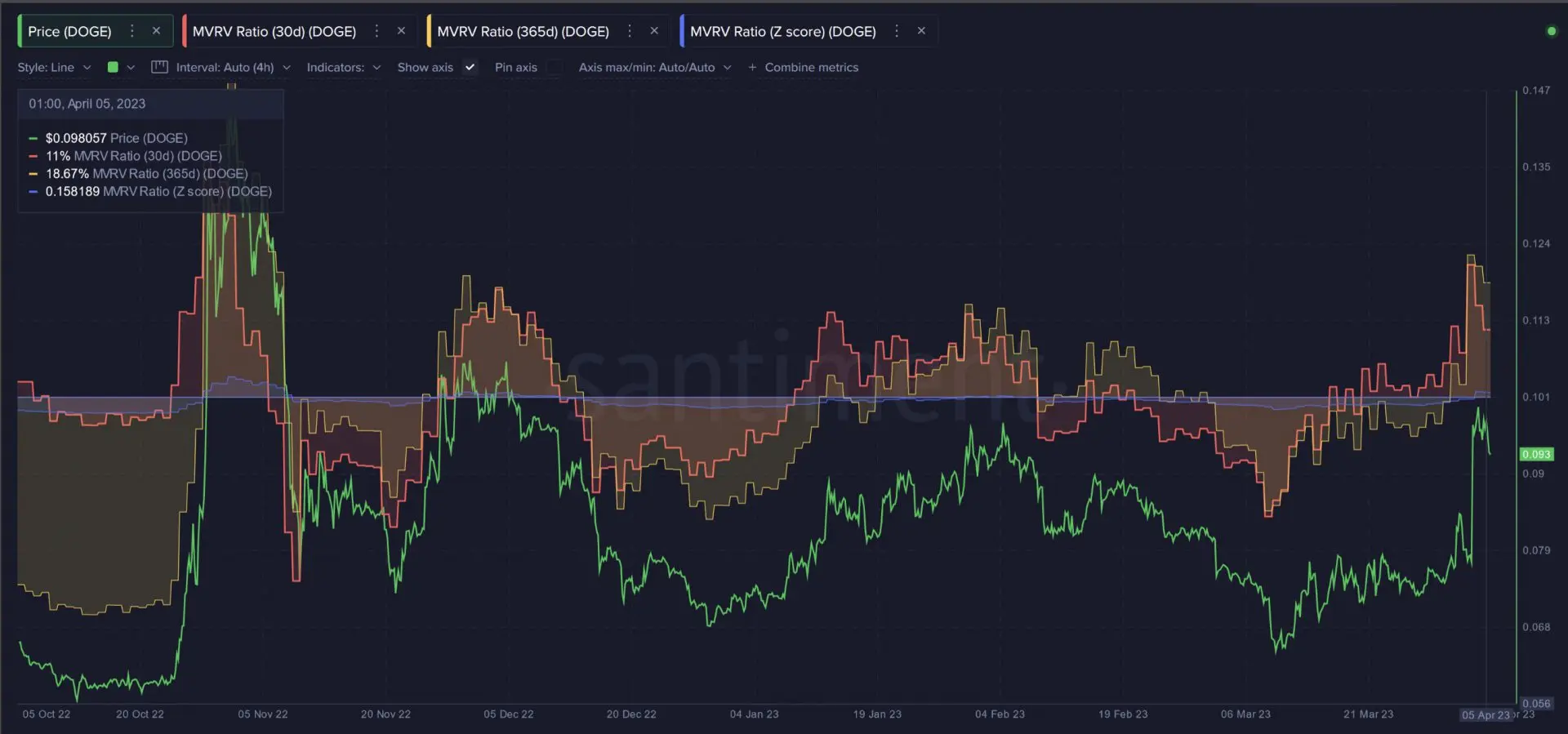 The crypto analysis firm also analyzed Dogecoin holders, from small to big whales. The holders are categorized into Fish (0-10 DOGE), Dolphins (10-10K DOGE), Sharks (10K-10M, DOGE), and Whales (10M or More DOGE).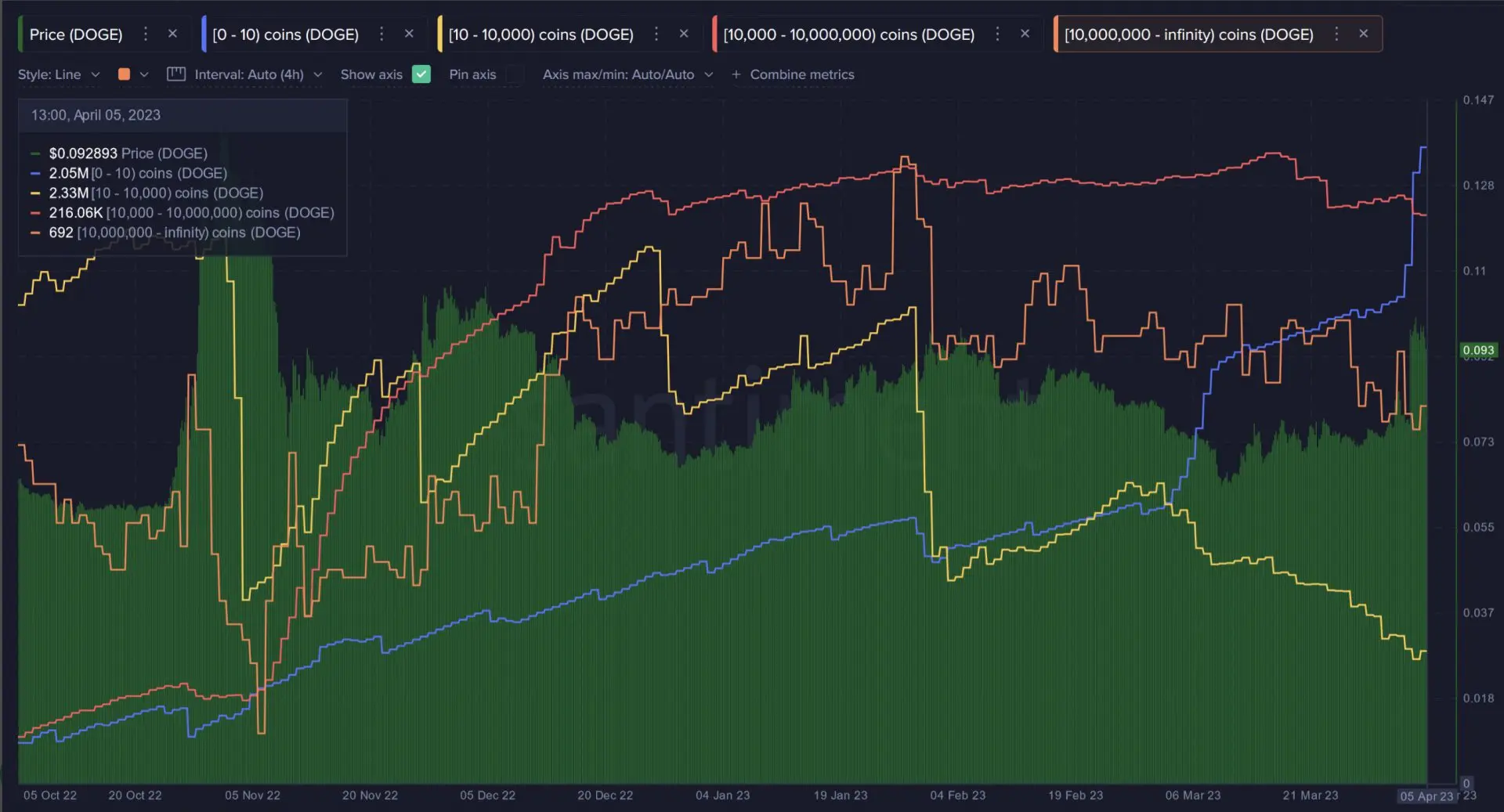 Right as the price peaked, the tiniest fish addresses (blue line) moved aggressively. This is a common occurrence and one of the signs of a price peak.
The dolphins (yellow line) didn't really exhibit any evidence of participating in the rally, and they have kept losing ground, similar to the past six weeks. The sharks (orange line) are acting similarly to dolphins and don't appear to be moving upward.
The whales (red line) also appeared to be exhibiting some interest in the very slight buildup before Elon changed the DOGE logo on Twitter. It was probably something that large DOGE holders knew. However, that is pure speculation at the moment. After the price spike happened, whales (red line) dumped their holdings and booked a profit.
DOGE currently faces resistance at $0.09649, with support at $0.07870. If current resistance levels are broken, DOGE could face fresh resistance at $0.11160.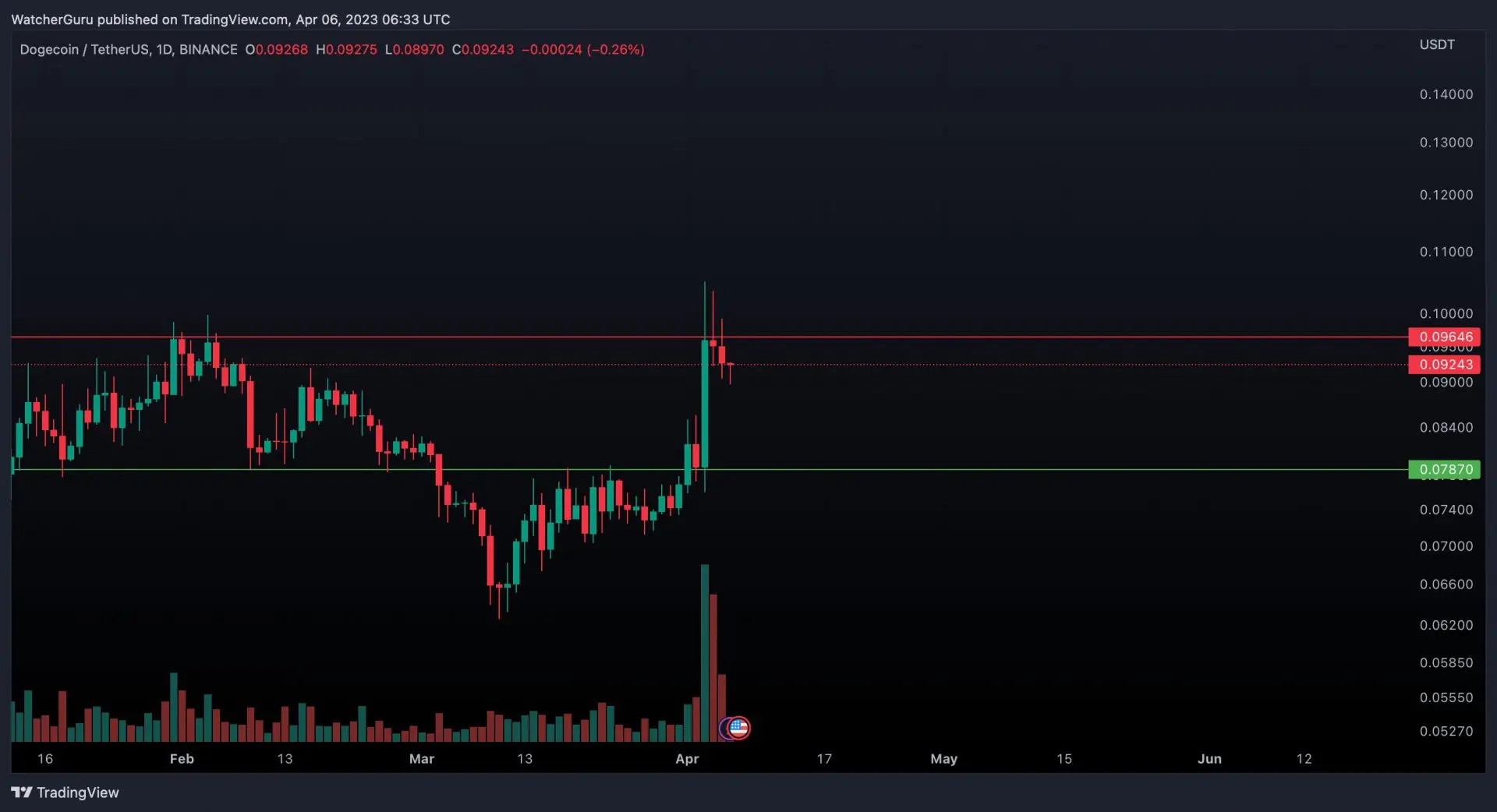 At press time, DOGE was trading at $0.092470, down by 5.4% in 24 hours.