In a recent turn of events, Justin Sun, founder of TRON, is being blamed on social media for the recent drop in Shiba Inu (SHIB) prices.
SHIB proponent, GossipShib, took to Twitter and called out Sun regarding the same. He has not responded to the allegations as of yet.
The massive selloff in the global crypto market has continued, with the crypto market value falling 16.06% to $1.19 trillion in the previous day.
The worst selloff in crypto history affected all of the world's major cryptocurrencies, including Shiba Inu. SHIB's value has been plummeting over the week with up to a 50% drop in the 7-day chart. At press time Shiba Inu was trading at $0.00001051, a 15% drop in the 24-hour chart.
According to Etherscan.io statistics, the mystery BNB whale sold a total of 5 trillion SHIB worth $52,900,000 ($52.90 million) in two large transactions over the previous 24 hours, causing a steep drop in SHIB pricing.


Following the whale's enormous selloff, speculations began to circulate that this strange wallet belonged to TRON's founder.
Is Shiba Inu still a favorite?
Even though massive liquidations have hit the crypto markets, SHIB continues to amass new holders.
Shiba Inu recorded 15,805 new holder addresses between April 10th and May 10th, according to CoinMarketCap statistics. On April 10, CoinMarketCap counted 1,131,043 token holders, which rose to 1,146,848 on May 10th. This resulted in an average of 3,951 new token holders every week, or 527 per day.
The total number of holders has since increased to 1,150,959.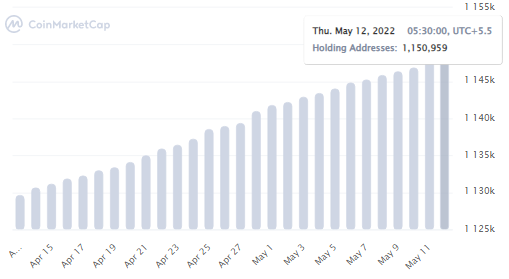 SHIB is notably a favorite among Ethereum (ETH) whales, who usually do not sell their SHIB, until today's massive Shiba Inu selloff.
According to the data provided by Whalestats, SHIB is the second most held token by dollar value among ETH whales, with the FTX token taking the top spot.