The Shiba Inu [SHIB] ecosystem has time and again proved to have a loyal fan base. The fairly new altcoin has managed to veer into almost every industry. From food to fashion and even real estate, SHIB's adoption rate is impeccable. The altcoin landed several spots thanks to its community. Members of the SHIB Army have been seen urging platforms to onboard the altcoin on several occasions. This community-driven project, however, hasn't been able to get a hold on its price. Despite the asset's latest dip, its community is proving to be stronger than ever before.
Drowning in the red sea, every cryptocurrency in the market had bears dancing all over its market. Bitcoin [BTC] was hit so hard that it plummeted right below $30k. While LUNA is on the verge of going to zero, other assets were noting two-digit drops. This included Shiba Inu as well. The altcoin had been moving intending to eliminate a zero from its price. But its latest fall would make it rather difficult.
During press time, SHIB was witnessing a daily drop of 28.13 percent while its price dived to $0.0000108. While the rest of the market is witnessing an aggressive panic sell-off, Shiba Inu was welcoming more holders.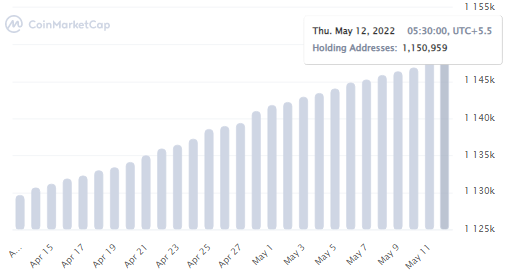 The above-seen chart notes that the Shiba Inu holder count had surged to a monthly high of 1,150,959. This was surprising to many as the altcoin was on a downtrend. However, it could also mean that people were buying the dip.
Who is holding Shib Inu?
The Ethereum whales have extensively purchased Shiba Inu over the last couple of months. Now, with the price of the asset extremely low, the whales have decided to HODL. According to WhaleStats, the top 2000 ETH whales were holding around $643,590,152 worth of SHIB. This was the second most held asset after the FTX token.
Surprisingly, these whales weren't really buying the dip. The Ethereum whales seemed to be focused on buying ETH as Shiba Inu wasn't a part of the top purchased asset.