September wrap-up: How did Ethereum and Bitcoin-based products fare?
Ethereum, Bitcoin AuM see a major breakdown in September: Details
This Ethereum-based product lost 83.9% of its AuM in September
Ethereum, Bitcoin: Avg. ETP daily volumes drop below $100M this month
September was quite a rough month for the crypto market. Ethereum's Merge failed to instigate any recovery, and demand for crypto and crypto-related products remained sloppy.
A recent report from CryptoCompare brought to light that the assets under management of Bitcoin-based digital asset products fell 10.7% to $15.6 billion. As a result, its market share declined to 69.4%.
Meanwhile, Ethereum-based digital asset products witnessed "one of their most challenging months," per CryptoCompare. The assets under the management of Ethereum-related digital asset products fell 19.3% to $5.49 billion. Retrospectively, it now accounts for a 24.5% market share.
The overall picture also remains bleak. Per CryptoCompare,
In September, the total AUM across all digital asset investment products fell 12.7% to $22.5bn (as of the 26th). This is the fifth double-digit monthly decline this year, with a 48.6% drop from the beginning of 2022.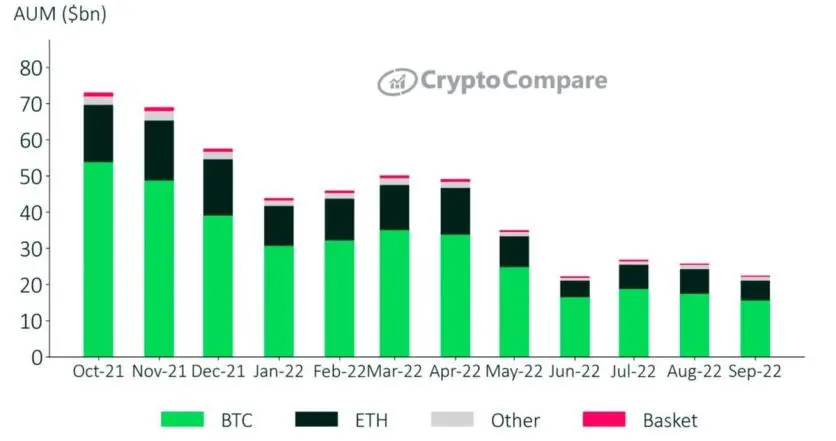 For the first time since September 2020, the average daily volumes for all Exchange Traded Products (ETPs) listed in CryptoCompare's report slid below the psychological $100 million level, falling 79.9% from 2022's high recorded in January.
Contributors to the drop
The breakdown noted by Ethereum product was led by 3iQ CoinShares ETHQ, for it lost 83.9% of its AuM in September. Consequentially, its market share declined from 1.89% in August to merely 0.35% in September. Per the report,

This is most likely related to the Merge and the fact that investors can benefit from staking their ETH and earning a yield on their investment, a property that ETNs and ETFs do not provide.
Alongside the drop in the assets under management, it should be noted that investors have also been bearing losses. When compared to last November's $24.3, ETHQ's price has dropped to $7.4.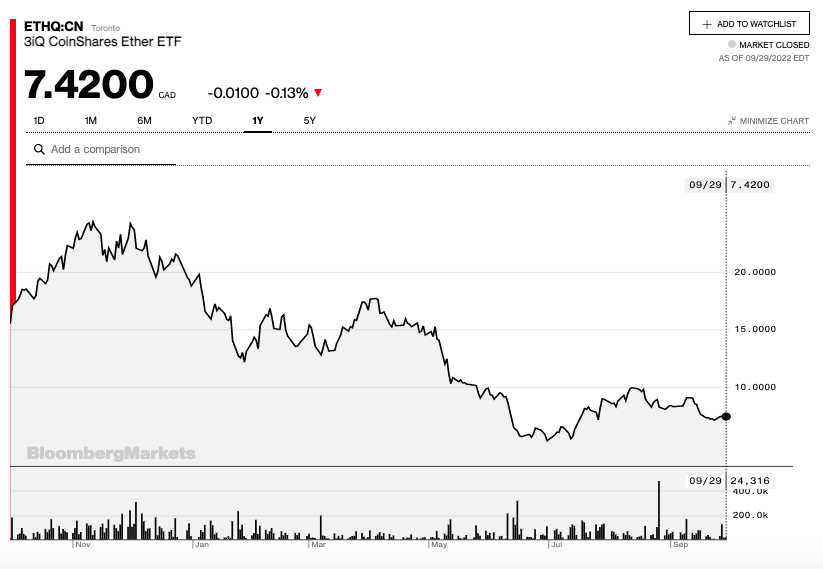 People from the space, however, expect a turnaround going forward. Talking at the Token2049 conference in Singapore, BitMEX CEO, Alexander Höptner said that institutions will be purchasing and storing cryptocurrency assets since adoption for the banking business has a long horizon. He further emphasized that institutional investors were bullish on Ethereum.
Read More: Ethereum Institutional Interest will Increase, says BitMEX CEO
Bitcoin-based products also did not fare well this month. Grayscale Bitcoin Trust accounts for the lion's share of cumulative Bitcoin product AuM. Per CryptoCompare, the trust product saw its AUM decline 10.7% to $12 billion in September.
Alongside, as reported in a recent article, Grayscale Bitcoin Trust shares' discount hit rock bottom in September, for it was hovering around its all-time low level of 35.18%.
Read More – Bitcoin: GBTC discount widens as Institutional Interest remains low