A recent survey conducted by JP Morgan revealed that institutional traders intend to stay away from the cryptocurrency markets this year. Roughly three out of every four respondents said that they had no plans to trade this asset class in 2023.
Around 835 traders from 60 different locations were surveyed by JPMorgan's 'e-Trading Edit'. The respondents weighed in on multiple fronts right from macro factors like the recession risk and inflation to technical developments related to AI and machine learning.
As for the cryptocurrency trend, the report highlighted,
"72% of traders surveyed 'have no plans to trade crypto / digital coin', with 14% predicting they're not currently trading but plan to trade within 5 years. 8% are currently trading and 6% are not currently, but plan on within 1 year."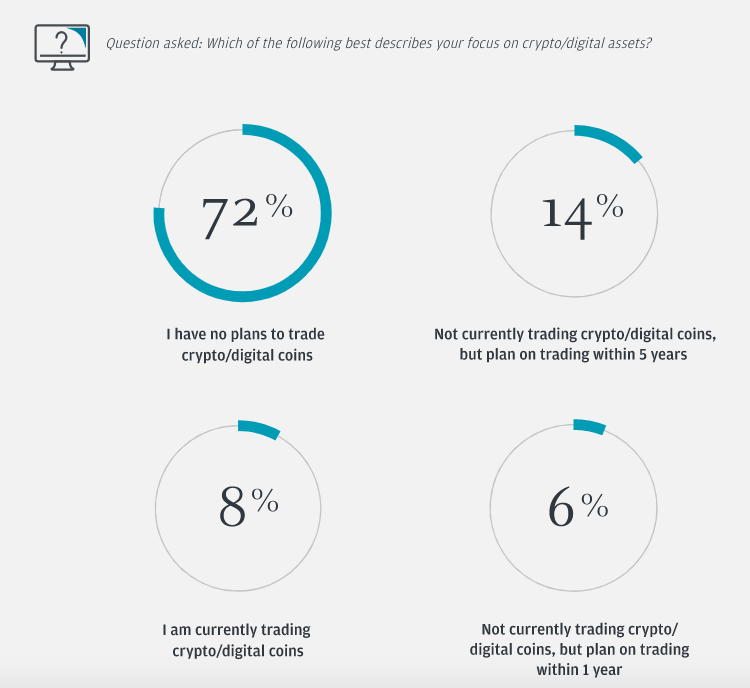 As Bitcoin recovers, institutional inflows increase
Leaving aside the survey result, JP Morgan executive Jamie Dimon is a renowned critic of the digital asset class. Last month, he claimed that Bitcoin is a "hyped-up fraud" in a CNBC Squawk Box interview. He also claimed it to be "a pet rock" and "a waste of time."
Despite the pessimism, it should not be forgotten that the Nasdaq Crypto Index is up by more than ~38.7% over the past month. The said index tracks a basket of top digital assets. To a fair extent, it serves as a proxy for their collective performance.
Alongside, Bitcoin individually had one of its best Januarys ever in 2023, echoing the same recovery narrative.
Also Read: Bitcoin On Track for 'Best' January in 10 Years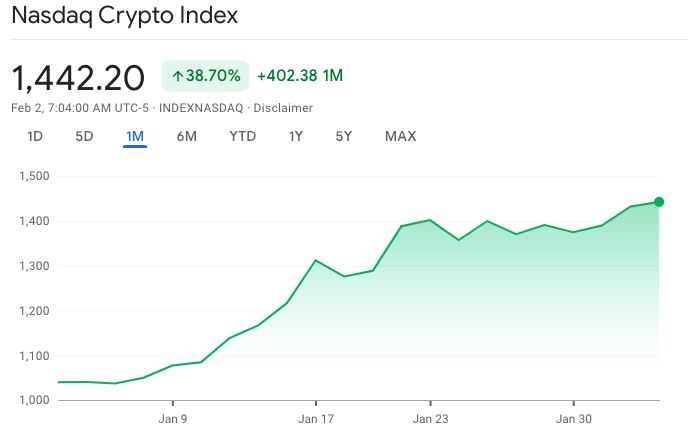 From a practical perspective, institutions have been taking part in the market. As reported recently, cryptocurrency investment products recorded weekly inflows of $117 million last week. The same was the highest since July 2022. Bitcoin grabbed the spotlight and registered $116 million in inflows.
Read More: Crypto Asset Inflows Hit 6-Month High With Increased Focus On Bitcoin
The tech tangent
With respect to blockchain technology, the survey respondents did not show much optimism. More than half of them were inclined towards AI or machine learning technology and felt that it would be the most influential in the next three years. The recent rise in popularity of Open AI's chatbot ChatGPT serves as an exhibit of the bubbling hype.
On the contrary, only 12% vouched for blockchain or the DLT.