The NFT market is booming. Thanks to all the increased celebrity activity in the space. However, American rapper, Kanye West wanted to steer clear of this trend. Well, at least for now.
NFTs or non-fungible tokens grew to immense popularity this year. Some bagged massive gains, while some others amassed exposure they deserved. However, there was a group of people who did not seem to understand the fervor around NFTs. The fact that NFTs were almost intangible caused a lot of commotion among a certain group of people.
Nevertheless, everyone wanted to hop on to the trend. The NFT spotlight turned towards Kanye West following his recent encounter with the paparazzi at the Miami Airport. The rapper was seen educating the paparazzi about NFTs while asking them to split royalties of the pictures they click. Soon after this, the community speculated that Ye was interested in NFTs. Putting an end to all rumors, he shared a post on Instagram.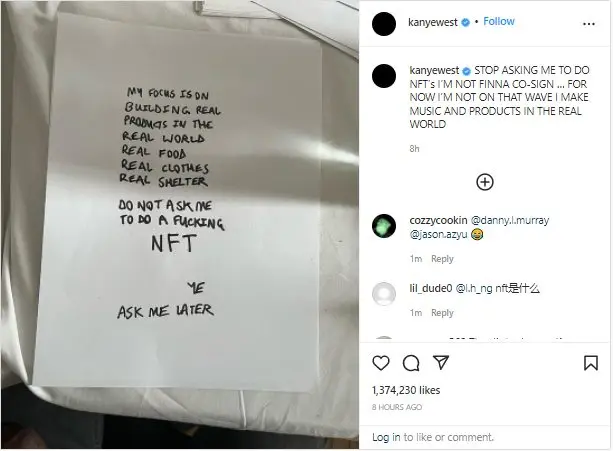 Taking a dig at how NFTs don't exist in the real world, Ye said,
"My focus is on building real products in the real world. Real food. Real clothes. Real shelter. Do not ask me to do a f***ing NFT."
Will Ye ever jump onto the NFT bandwagon?
Towards the end of his post, Kanye West was seen adding a note that read, "Ask me later." This could mean that the rapper wasn't entirely appalled by the idea of NFTs.
With most of his counterparts embracing NFTs, Ye was time and again bombarded with questions regarding his entry into the NFT space.
Celebrities like Justin Bieber and Eminem were seen pouring their money into the NFT market. However, rapper Lil Yachty went ahead and sued an NFT seller for "maliciously" employing his name and likeness to pocket more than $6.5 million through venture capital funds. The lawsuit alleges that the images of the rapper were used without his consent.