A leaked video shows Binance opening the 'deposit' option for BabyDoge Coin sparking fresh speculations that a listing is on the way. Reports of Binance listing BabyDoge Coin has been doing the rounds for close to four months now. However, Binance has not made an official statement about getting BabyDoge on board for trading.
READ ALSO: BabyDoge flips Ethereum Again!
"Leaked Video Babydoge Coin @BabyDogeCoin deposit on @binance @cz_binance Listing soon," a user tweeted with the recording of the video.
Even the official handle of BabyDoge Coin retweeted the video calling it "pretty exciting". "We haven't confirmed if this is true but pretty exciting!" they tweeted. However, the tweet is now deleted.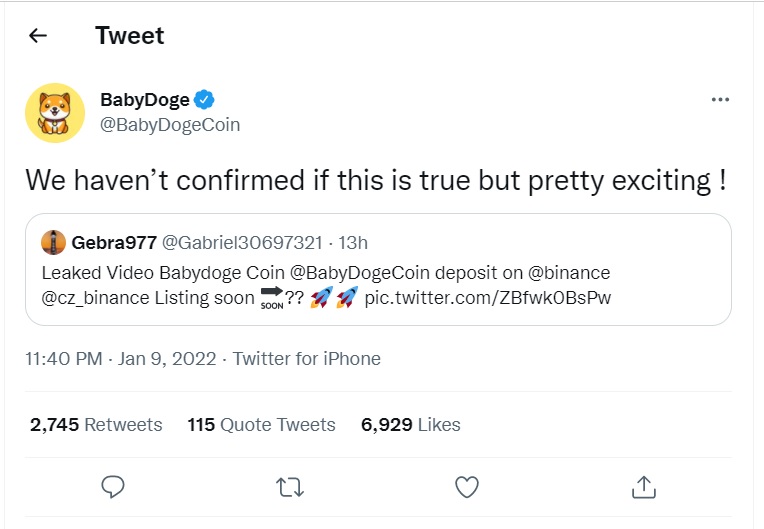 Binance CEO Changpeng Zhao, known as CZ, revealed in an interview about the exchange platform's criteria to list certain tokens. As per CZ, the number of holders plays an important role in getting listed on Binance.
"If a coin has a large number of users, then we will list it. That's the overwhelming significant attribute. Consider for example meme tokens, even though I personally don't get it, if it's used by a large number of users we list it. We go by the community, my opinion doesn't matter," said CZ to Forbes.
BabyDoge Coin breached the 1 million holders mark in December 2021 making it a strong contender for a Binance listing. The meme-token also has a larger-than-life fanfare with a strong community believing in the token's future.
READ ALSO: BabyDoge Coin's daily trading volume exceeds $100 million
A Binance listing will open the floodgates to new investors into the meme-token and could make its price spiral upwards. Therefore many investors are taking an early entry position in BabyDoge hoping that a listing is on its way. Early investors could be rewarded handsomely with larger returns if Binance and BabyDoge listing go through.
BabyDoge Coin Delivers Stellar Results
BabyDoge is among the handful of meme-tokens that traded in green while the crypto market faced a bloodbath. The meme-token is up close to +20% today and is up +26.2% since the last 7-trading days. Also, in the last 30-trading days, BabyDoge is up +157.8% and is displaying extreme bullish sentiments.
However, it reached an all-time high of $0.000000005890 on July 2021 but is now down -36.8% from its ATH. At the time of publishing, BabyDoge was trading at $0.000000003743 and is up +19.2% in the 24-hours day trade.