Litecoin (LTC) underwent its third halving event yesterday. The halving took place on block 2,520,000. LTC rewards are now halved, down from 12.5 LTC to 6.25 LTC. Although price gains usually follow halving events, LTC did not witness any such developments. Instead, the popular crypto asset is down by 5.9% in the last 24 hours, and by 20% in the last 30 days.
There is no clear reason why Litecoin did not see a price rally post-halving. It is possible that because the larger crypto market is in a slump, the event did not garner enough interest from investors. Several macroeconomic developments, such as interest rate hikes and job data, might have kept the crypto markets at bay.
Also Read: Litecoin Halving Countdown: LTC Sees Last-Minute Slump in Value
Moreover, the halving event seems like another "sell the news" event. This is similar to what happened during Ethereum's transition to a Proof-of-Stake consensus method, which did not lead to any significant price movements. The anticipation for the halving led to a higher price movement than the halving event itself. In the week prior to the halving, LTC's price went from $88.73 on July 25 to $95.20 on July 30. However, the tide soon changed, and the price nosedived to below July 25 levels.
Is a Litecoin rally imminent?
Historically, LTC has seldom rallied after its halving. A rally usually follows after a few months, sometimes even after more than a year.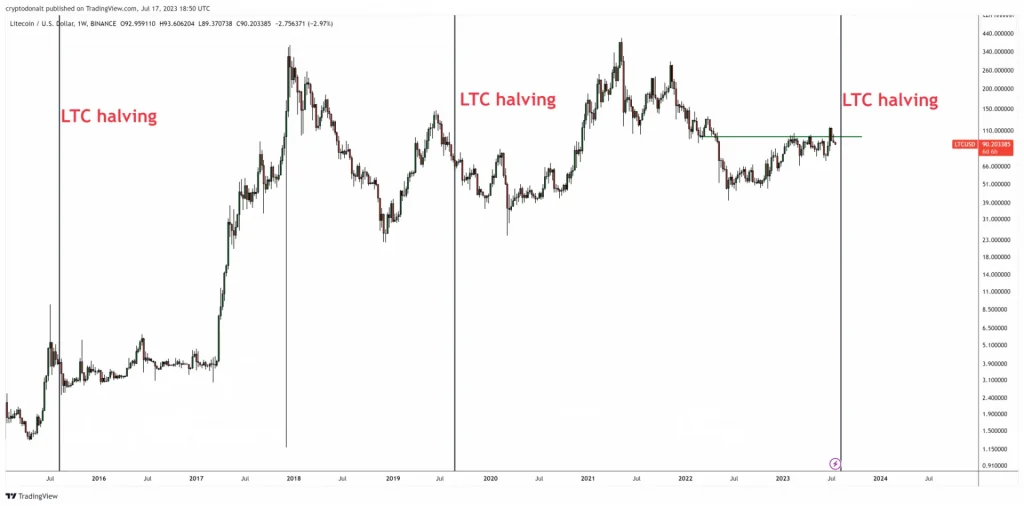 Going by the above graph, we may see a Litecoin (LTC) rally sometime later in 2023, or maybe even in 2024. However, the U.S. Federal Reserve has said that there could be another rate hike in September, which could lead to more volatility in the market. Hence a rally could also be thwarted by macroeconomic developments. This brings the focus to 2024 when many experts predict that the crypto market will enter another bull run.
Also Read: Next Cryptocurrency Bull Run Could Begin in 2024, Predicts Analyst