NFT marketplace LooksRare is launching a novel rewards program to boost liquidity. Under the same, users would be rewarded for listing NFTs on the platform. Per the official announcement, 250,000 LOOKS per day would be distributed among everyone with eligible listings.
Whenever artists list NFTs from the top 25 collections, they'd earn points every 10 minutes. Then, the list of top collections would be updated in real-time based on the volumes, and once a day, the points accumulated would be converted into LOOKS rewards.
The liquidity factor
Logically, the more the NFTs sell at a reasonable price, the more people will use LooksRare. At the moment, LOOKS can be earned either via staking or NFT trading rewards. However, the platform wants "more." Shedding light on its overt motive, LooksRare noted,
"But we still want more volume, and increasing liquidity— the number of NFTs available for purchase—makes sure more buying and selling takes place on the platform."
With respect to the essence of the new reward system, it said,
"Not only that, but the liquidity also needs to be within a good price range, or collectors may just go elsewhere to buy at better prices. That's why we've designed the listing rewards program to promote listing at a price close to the global (multi-market) floor price."
Where will LooksRare's rewards be funded from?
During its launch, LOOKS had released a document outlining how its tokens would be allocated. Per the same, a set percentage had already been dedicated towards community rewards.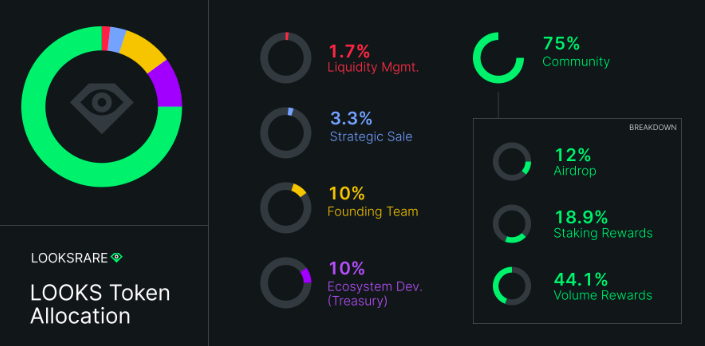 From that very share, the rewards would now be funded. Outlining the same, its announcement noted,
"LOOKS' Tokenomics have always been intended to encourage trading volume. Since the listing rewards are also volume incentives, we're directing 250,000 of those 1,361,587.5 daily trading rewards to the new program."
Post the initial rollout, if things go well, the listing rewards program would be adjusted using tokens from other sources at a later date.