Amid the buzz about a potential charity boxing match involving tech heavyweights Mark Zuckerberg and Elon Musk, the CEO of Meta has shared his thoughts. Zuckerberg believes it's time to shift the focus away from playful banter and towards more meaningful things. This follows a series of exchanges initiated by Musk's proposal and Zuckerberg's interest in a legitimate competition.
Musk and Zuckerberg's Friendly Fight
The friendly rivalry between Musk and Zuckerberg has caught the attention of their followers for some time. Musk initially suggested a charity boxing match, and Zuckerberg responded by proposing a genuine event for a charitable cause. This idea gained traction when Dana White, well-known for his involvement with the Ultimate Fighting Championship (UFC), expressed interest in organizing the match as a charity fundraiser.
Also read: Voyager-Coinbase Token Shift Spurs Fear of Mass Sell-off
However, the momentum surrounding the proposed match faced uncertainty as Musk's level of commitment seemed to fluctuate. According to the Meta CEO, initially he didn't confirm a specific date for the match, citing various reasons. Later, he mentioned that Musk cited the need for surgery, and most recently, he suggested the idea of a practice round in Zuckerberg's backyard instead of a full-fledged contest.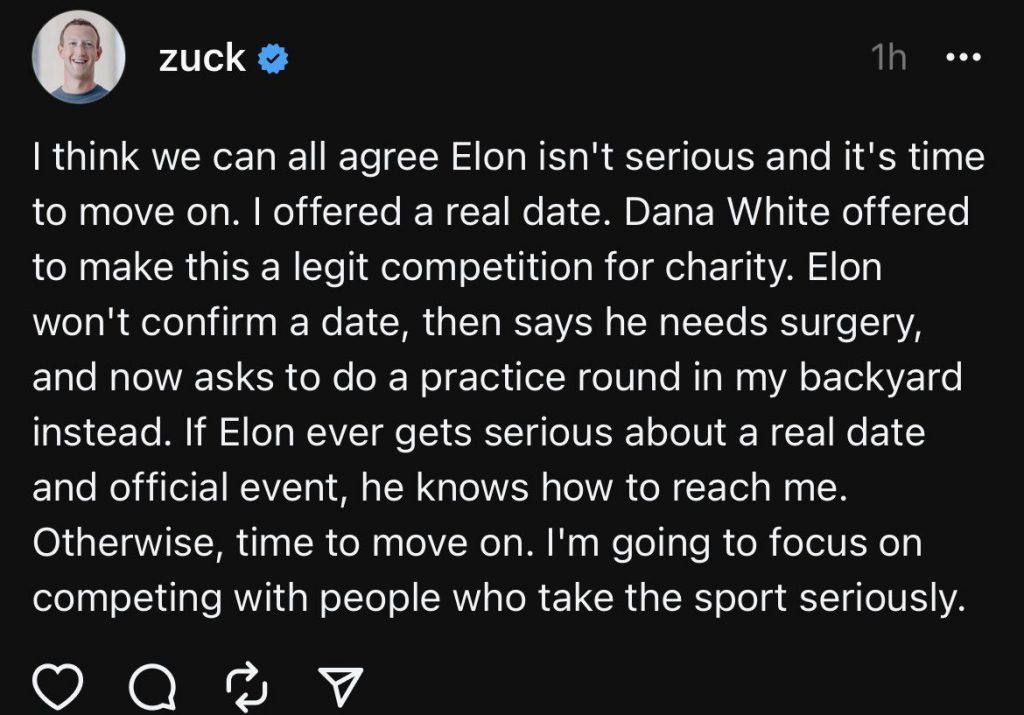 Zuckerberg reaffirmed in his Thread's post his readiness to participate in a serious event. The Meta CEO emphasized that if Musk truly wants to pursue the boxing match, he knows how to reach him. However, if that's not the case, he suggests it might be best to move forward and focus on people who take sports seriously.