Bitcoin [BTC] mining has stayed a rather contentious topic. From mining firms being ousted from countries to the environmental perils of the Proof-of-work [PoW] mechanism, BTC mining has been the talk of the town. The focus, however, seemed to be shifting from the energy consumption of BTC to the noise that the process emits.
In a similar case, a Bitcoin miner had to face legal repercussions over noise complaints in Tennessee. Red Dog Technologies was slapped with a lawsuit back in May 2021. BrightRidge a local utility that provides land and power to the Bitcoin mining facility was also hit with a lawsuit.
Bitcoin suffered a setback as a result of the noise concerns. The mine was found to violate zoning laws by the Washington County Chancery Court. Bitcoin mining facilities, according to Chancellor John Rambo, would not ordinarily be permitted to operate in that sector.
The neighborhood was ecstatic following the ruling. The County Attorney Allyson Wilkinson said,
"The people in the Limestone area have been living with this unpermitted use … in their community for over 300 days, so we're very grateful that this court was able to make itself available and put in the time and the thoughtful consideration to make the ruling based on Tennessee law."
Further leaving some hope for the Bitcoin mining facility, Chancellor Rambo agreed to an appeal. However, this is expected to take several months.
Bitcoin's brief surge and retracement
The world's largest cryptocurrency, Bitcoin [BTC] has been finding it hard to attain support at $40k. As a result, it seemed to slip back below this zone. In a similar failed attempt to move beyond $40k, BTC rose by nearly 5 percent within a small time frame.
Bitcoin surged to $41K and during press time it plummeted to $39,176.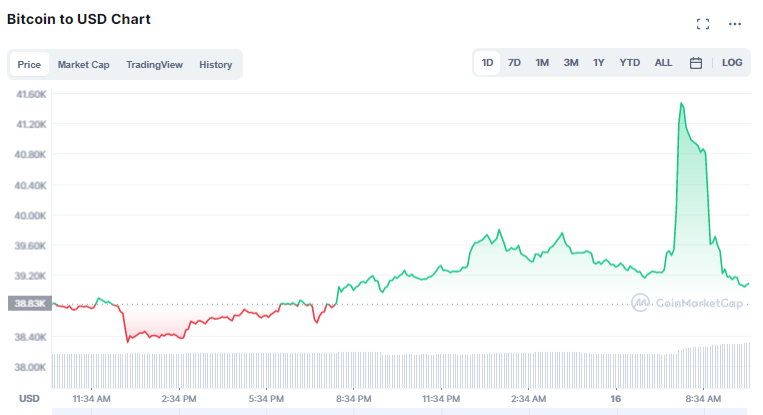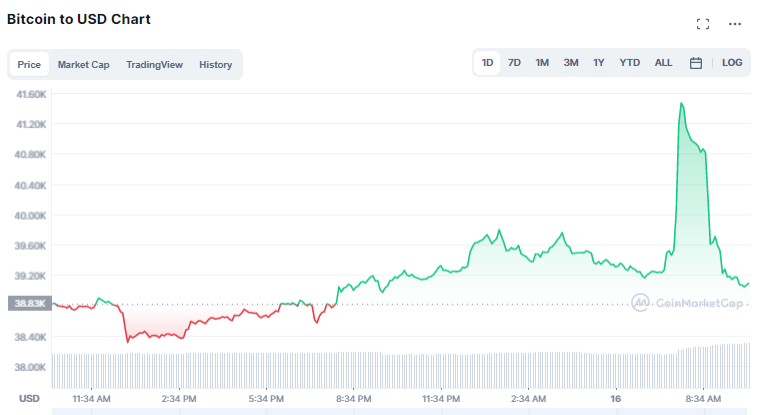 Furthermore, this abrupt volatility was linked to Russian billionaires who were purchasing and selling Bitcoin in large quantities.