The Binance Smart Chain (BSC) has announced its monthly stars for MVBIII. The winners of the competition (AKA monthly stars) are to receive $1.5million in BUIDL rewards. The Most Valuable Builder III(MVBIII) is the latest BSC competition program. The competition is among different projects on BSC. The best projects get a share of the BUIDL rewards.
So What is MBVIII Monthly stars
Monthly stars is a whole new Binance's idea. MVBIII program helps to identify consistent and best-performing projects. In their announcement, Binance denoted that the monthly stars (winners of the project) will be announced every second week of each new month. The MVBIII competitions began in August and will end in October. The announcement for the August monthly stars winners is already made.
MVBIII BUIDL Reward Program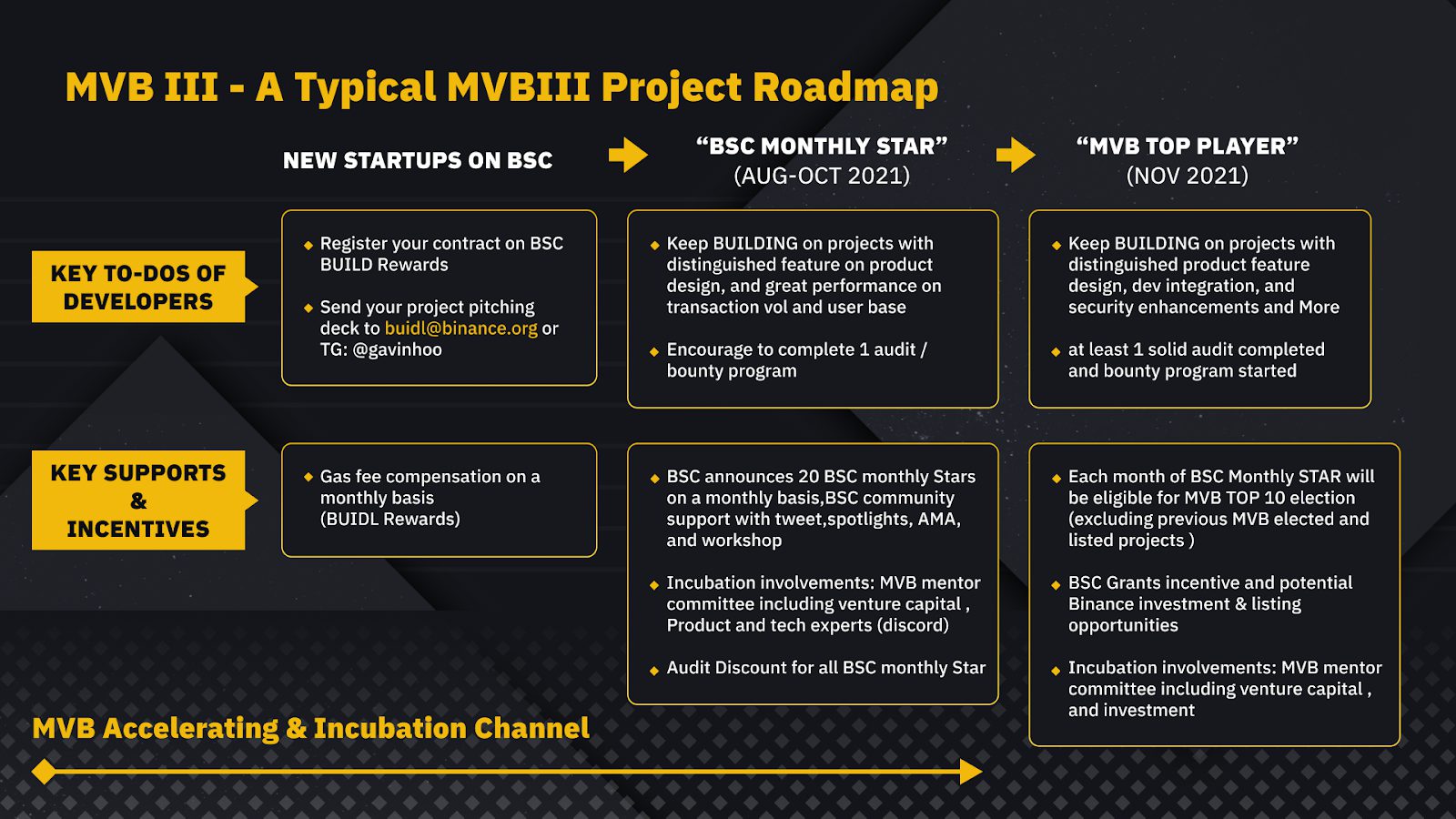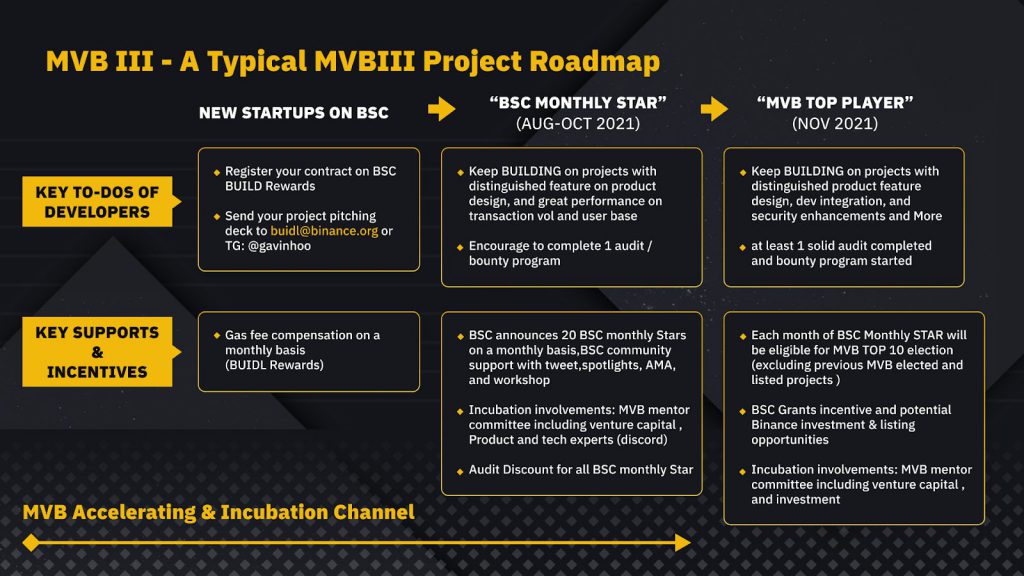 Binance created the BUIDL reward program to encourage the development of the dApp ecosystem on BSC. According to Binance.com, the reward will be part of the $100 million DeFi accelerator fund. The monthly stars are eligible to win $15million worth of BNB paid to the developers of the projects in phases (thus the word BUIDL) each month.
MVBIII program considers you a participant when you follow these guidelines.  First, you are required to own a smart contract on Binance Smart Chain(BSC).
Secondly, you must register the contract function from the deployer address. for example, MOBOX and Alpaca (winners of MVBII competitions).
Lastly, you must verify the contract registration. This provides a face to face contract for creators. The works of the creators are to confirm that the information is correct.
Furthermore, each winning project will receive; BSC community support. Secondly, they will have access to the MVBIII incubation program. Lastly, they will be given discounts for Smart Contract Audits. Binance will distribute the monthly reward to the registered reward address on the 15th day of the succeeding month. However, the accumulated reward contract should not be less than 2 BNB.
What are the Benefits of MVBIII?
MVBIII has a pool of benefits aligned to it. Among these are the increased community influence and the capability of securing funds for the development projects.
Who Are The Winners of the MVBIII?
So far, the MVBIII has over 150 first time participants who participated in previous projects. The fast BUIDL reward was reimbursed in August (3656 BNB). The month of August saw 17 projects identified to recognise their innovation activity and user base.
However, in the subsequent months, only 20 monthly stars will be identified. And announced as winners. Only 10 projects will qualify for the top monthly stars. The announcement of the best winners will take place in November. The August winners are also eligible for top players positions. They will also get full audit pay of up to $10000.
What's Next?
Every month MVBIII aims to raise the bar of innovation and the significant areas for the further adoption of blockchain. MVBIII will also focus on high-performance infrastructures, NFTs and gaminFi and advanced DeFi legos.