A large anonymous investor recently purchased a massive $444,000 worth of Shiba Inu, fueling speculation as SHIB prices rally.
According to transaction data, the unidentified whale account obtained 60 billion SHIB in a single transaction. This occurrence brought the wallet's total holdings to over 73 billion SHIB, valued at $541,350.

Remarkably, this account made its very first Shiba Inu acquisition just one month ago. Yet in that short timeframe, it has amassed half a million dollars worth of meme-inspired cryptocurrency.
SHIB now constitutes nearly half of this investor's portfolio, which totals $1.38 million in digital assets. The willingness to allocate such a large percentage to Shiba Inu signals bullish conviction.
Also read: FTX's Bankman-Fried to Testify in Fraud Trial, Proclaim Innocence
SHIB burn rate plummets by -70%
Recent data from Shibburn indicates a notable decrease of -74% in the burn rate of Shiba Inu over the past 24 hours. The data reveals that during this period, only 28 million SHIBs were transferred to inactive wallets.
Also read: CFTC Commissioner Says Market is Ready For Spot Bitcoin ETFs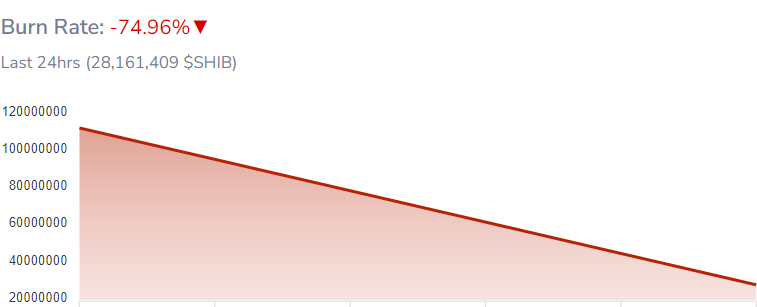 The burn rate of Shiba Inu has shown a consistent decline in recent weeks. However, the launch of Shibarium hasn't proven to be very effective in ramping up the burn process.