For the first time in nearly two years, GameStop registered a quarterly profit. For the quarter that ended Jan. 28, its net sales dropped marginally to $2.23 billion from $2.25 billion in last year's fourth quarter. However, the company posted a profit of $48.2 million [roughly 16 cents a share] relative to a loss of $147.5 million [roughly 49 cents] a year ago.
Consequently, the video game retailer's share price started soaring. On Wednesday, March 22, it glided up by 35.24%, closing at $23.87. In fact, even during the pre-market hours on Thursday, March 23, a bullish extension was in its formative stage. The stock was up by around 0.6% and it was priced at $24.01 at press time.
As a result, GameStop has been the talk of the town. According to the social intelligence platform LunarCrush, GameStop "has been on fire" this week. It managed to register the second-highest social activity across all stocks. Moreover, GameStop's social engagements per hour inclined up to 18.93 million. Parallelly, it had around 2.45k mentions per hour.
Also Read: Shiba Inu: Top Japanese Exchange To Start 'Handling' SHIB
It is also interesting to note that Shiba Inu also continues to be a buzzing topic. As reported a day back, the number of SHIB social contributors measured recently surpassed 47.88K, reaching a new quarterly high. Dogecoin's social state, on the other hand, continues to be underwhelming. Over the past week, its mentions, engagements, dominance, and contributors have all dropped by 13%-18% each.
Also Read: Institutions Dump $126 Million Bitcoin & Ethereum But Buy Solana, XRP
The meme-asset YTD picture
Thanks to the latest surge, GameStop's year-to-date returns stand at around 38.7%. Meme coin investors, on the other hand, have fetched comparatively lesser returns. The first month of this year was quite eventful for the crypto market. However, the bullish momentum de-escalated right after and dragged the market into its correction phase.
At press time, SHIB investors' portfolio was up by ~33.7% on the YTD timeframe. Dogecoin's numbers, however, were quite malnourished and stood at ~8.6% at press time. So, for now, the baton remains with the OG-meme asset, GameStop.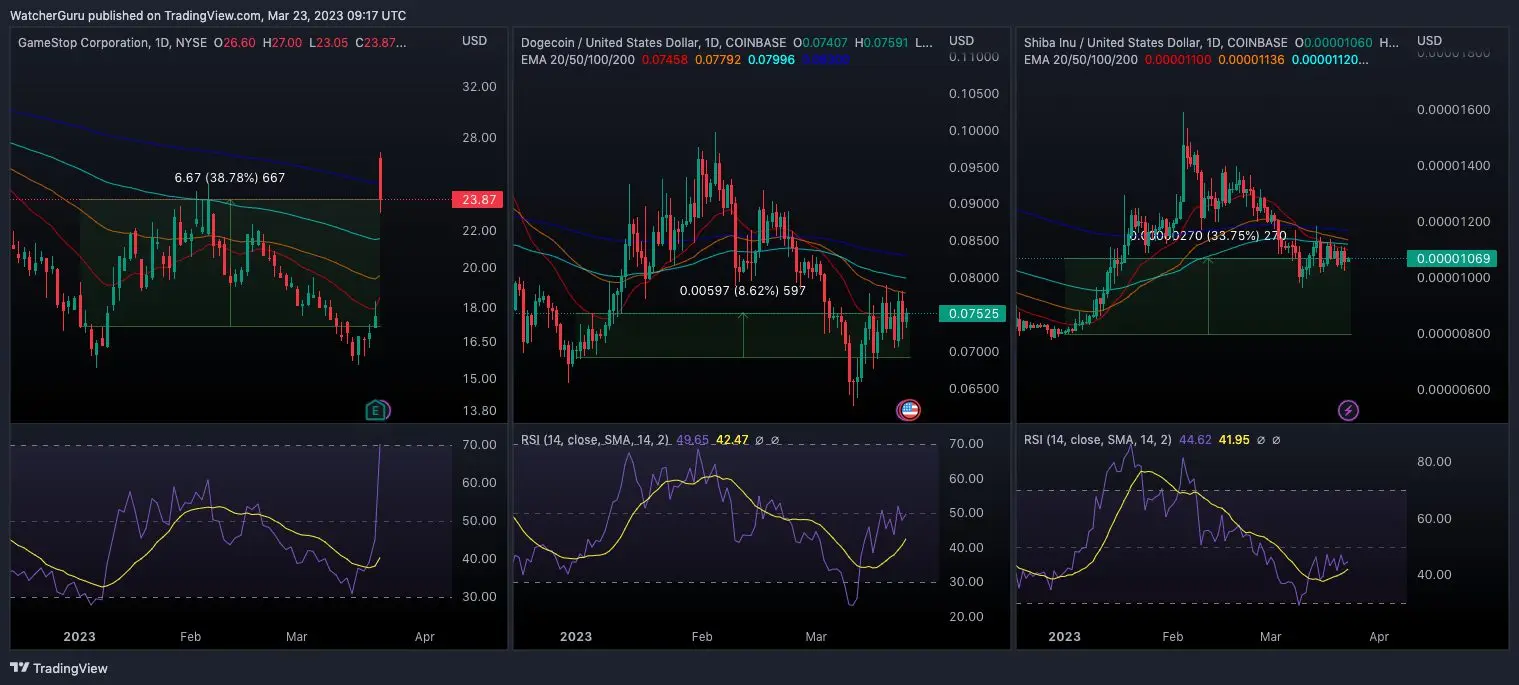 Also Read: Shiba Inu: Who Has 'Burned' the Highest Number of SHIB Tokens?