Cryptocurrencies continue to thrive, despite the wobbly macro-environment. However, institutions have not yet joined the celebrations. Last week, Watcher Guru reported that digital asset investment products noted outflows for the fifth consecutive week, totaling $255 million. The same equated to the largest single weekly outflows on record, representing 1% of total assets under management.
Well, the same outflow tale has been renewed at the moment. According to the latest data from CoinShares, institutions continue to ditch Bitcoin and Ethereum. However, they are collectively betting on Altcoins like XRP, Solana, Litecoin, and MATIC instead.
As illustrated below, roughly $113 million worth of Bitcoin and $13 million worth of Ethereum have been sent out by institutions over the past week. On the other hand, they added Litecoin, Solana, Polygon, and XRP worth $1 million in aggregate.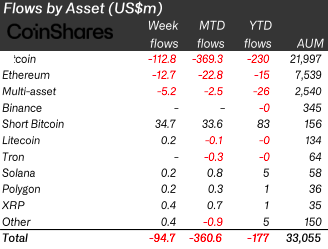 Also Read: Bitcoin Could Reach $100,000 Within 12 Months: Messari Founder
This behavior is quite peculiar because top coins are currently setting the trend. In fact, owing to their latest surges beyond $28k and $1.8k respectively, the broader perception is that the market is in its transitionary phase right now.
Most notable rallies in the past have stemmed from the support of institutions. That said, their current dumping is, perhaps, an indication that the imminent bull market could slightly be different from the ones that the market has seen before.
Retail and other participants continue to add to their bags. In fact, the number of non-zero Ethereum addresses reached an ATH of 95,827,325, while Bitcoin also achieved the same feat by claiming 45,029,318 recently.
Also Read: Why "Ethereum to $2000" May Soon Become a Reality
The dominance game
Market cap dominance is the ratio of the market capitalization of a particular asset to that of the rest of the cryptocurrency market. A rising figure usually indicates that the asset is adding value to its market cap at a faster pace and vice versa.
Bitcoin's dominance is currently hovering around its 2023 highs, while Ethereum's number has been more closely revolving around its YTD lows. Alts' dominance, on the other hand, continues to drop consistently.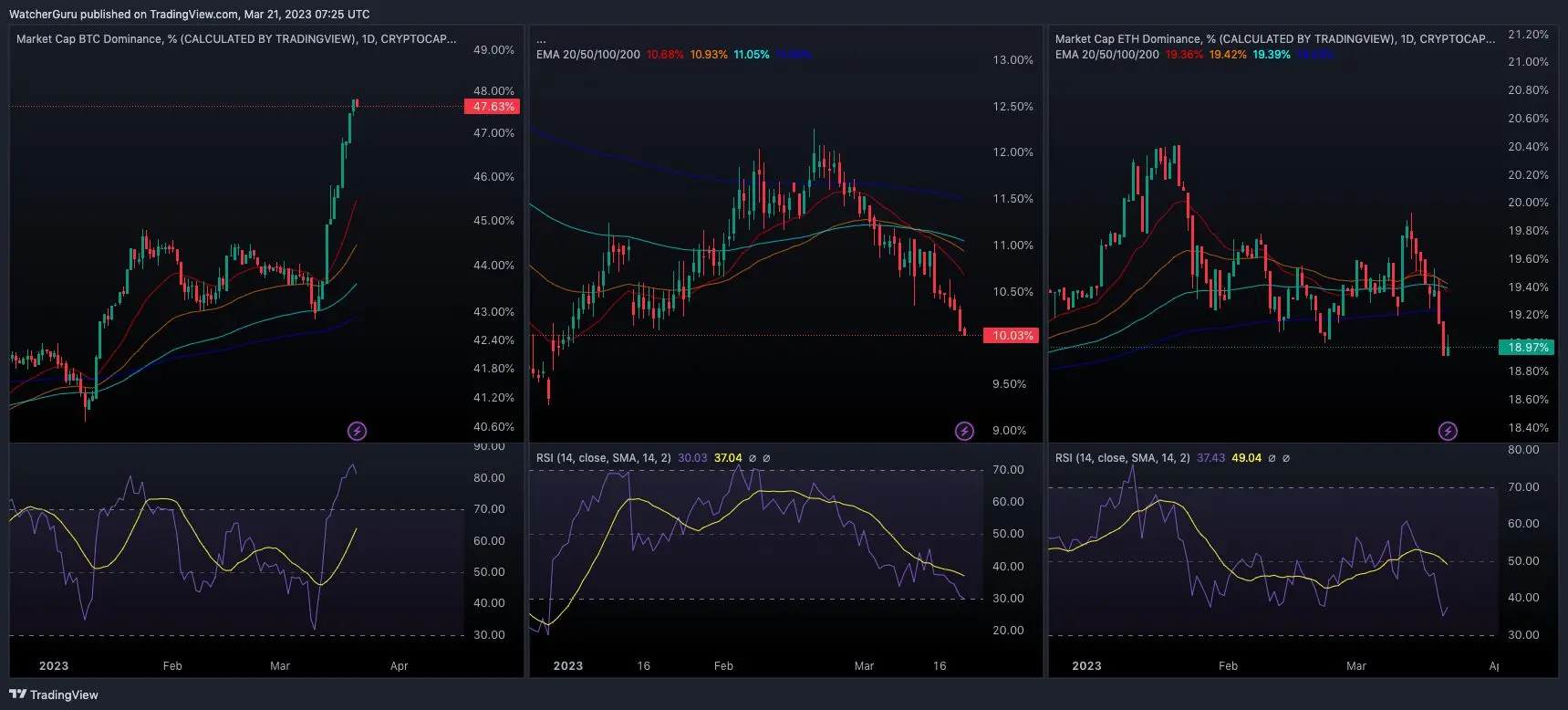 Altcoins like Solana, XRP, Litecoin—and Ethereum also, for that matter—currently share a correlation as high as 0.7 to 0.9 with BTC, indicating that they will continue to walk in the shadow of the king-coin. So, if Bitcoin continues to sustain its rising dominance, Altcoins would not necessarily decouple, but would rather tag along. However, if BTC.D drops, then Alts would feel the strain too.